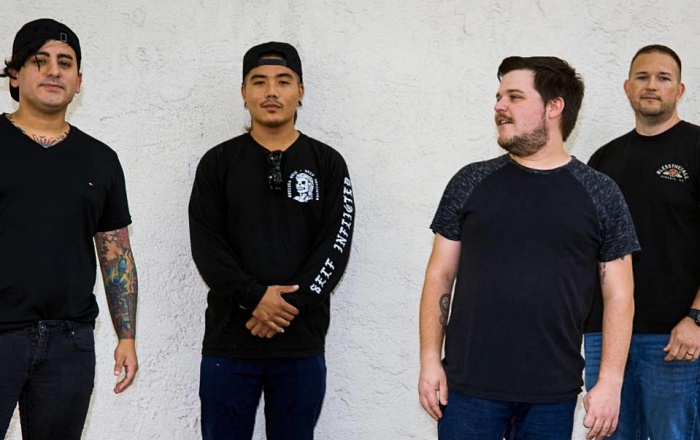 After considering several options, "It just clicked," says Broward County babes, Royal Hearts, of their name. Having just met in October of 2018, it would seem that ease in pairing is often the case. This graceful concurrence was apparent early on for the band who wrote their first two songs, "Second Chances" and "Mistaken," at their very first jam session.
Their synchronicity has not gone unnoticed, with one of their earliest shows playing as openers for metalcore band, Oh Sleeper. This, so far, is what the boys consider their greatest accomplishment. That said, they are looking forward to a creative and inspired new year.
I was lucky enough to stumble across them at Pompano Beaches' Lozer Lounge, where melodic singing met unshakable screams. Following an engaged and interactive performance, I was left reminiscing about the bands I loved from the early 2000s.
The sound is like the child of hardcore, with an emo uncle who leaves his slight, but noted, mark with each family gathering. Self-defined as a blend of classic post-hardcore and metalcore, their sound reminds me most of groups like Silverstein and Finch:
Royal Hearts is Ryan Camuto on vocals, Luis "Chambers" Vegas on guitar, Nelson Tran on bass, and Mike Summers on drums and back up vocals. The quad is currently working on finishing their first upcoming 5-song EP. Camuto saying this is now a primary focus of the band as it will help to "establish their style and sound."
With their last show of the year upcoming as part of a sick lineup at Poorhouse in Fort Lauderdale December 27th, you are invited to close out the year in style. If you do happen to make it out, as you should, tell them Bateman sent you.
Royal Hearts social media pages: Facebook | Instagram | Bandcamp
***
Donate a few bucks to help with No Echo's operating costs:
Tagged: royal hearts