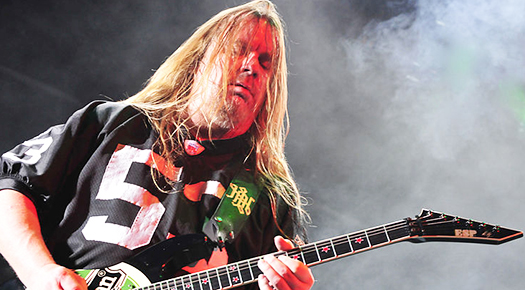 Slayer guitarist Jeff Hanneman died a year ago today, May 2, 2013. His health had been beyond bad for two years, but as far as the public knew, he was getting better, not worse. His sudden demise was a shock even for fans who feared the worst. After all, he had taken the stage with his band just once in the previous two years.
The guitarist's untimely demise rocked us, and the only comparable reaction I recall was the sad and equally unexpected death of Ronnie James Dio. That shows the tier of talent—and personality—Hanneman was. As with any kind of band, team, or institution that has been around for over 30 years, Slayer has seen some bad days, and Slayer has seen some good days. But when it was time to harshly assess the latest developments in the Slaytanic world, nobody ever blamed the group's shortcomings on Hanneman.
Hanneman hated the spotlight. After the '80s ended, he remained behind the curtain as much as he could. Right or wrong, his reticence and talent cast his public image as the band's soul. Fans accurately thought of him as an artist who cared about the music, and who couldn't be bothered with the trappings of stardom. Without his affinity for punk, Slayer might have been another variation on Judas Priest's all-steel, twin-axe attack. With hardcore pulsing in Hanneman's veins, Slayer became a uniquely ferocious figure in music's upper echelons, a reliably extreme presence in the past four decades.
"By all accounts," singer-bassist Tom Araya told Guitar World reporter Jeff Kitts after Hanneman passed, "he was the band."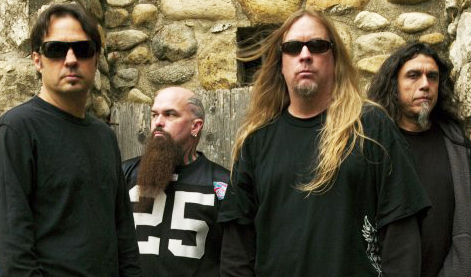 Jeff was the band's most prolific songwriter. By my count, Slayer's 11 studio albums (10 original, 1 dominated by covers) contained 116 original songs. Those tunes had a total of 281 credited contributions from band members, representing both music and lyrics.
Singer Tom Araya is credited with 36. Drummer Paul Bostaph, two. Drummer Dave Lombardo, zero (which doesn't seem right, but that's a whole 'nother topic). Guitarist and band captain Kerry King receives 118. Hanneman has 125.
Hanneman was Slayer's best and busiest songwriter... in the early years, at least. In no way does this discount his contributions, but as I put together the indexes for my second book about the band, I was surprised when I counted the credits. I wasn't surprised that Hanneman had the most credits. I was surprised how little he wrote by himself, and how little he wrote in the second half of the band's career.
Hanneman was Slayer's most prolific writer, but he only wrote 13 songs by himself. (15 if you count the two original songs from 1996's controversial punk platter Undisputed Attitude, though he originally penned them for the short-lived side project, Pap Smear.) Twice, he didn't write a full song (lyrics and music) by himself for a two-album stretch: He didn't have a true solo composition on 1990's Seasons in the Abyss or 1994's Divine Intervention.
After dominating 1998's Diabolus in Musica, Hanneman didn't write an entire song on 2001's God Hates Us All or 2006's Christ Illusion. Again, this doesn't detract from his presence in the band. To me, it proves Hanneman and King were a dream team. "Raining Blood," the band's other signature song, was a collaboration between the guitarists. Hanneman had no end of talent, but he was at his best when a teammate was pushing him. (Certainly, the same can be said for King.)
So it's surprisingly rare to see a song credited entirely to Hanneman. To me, that makes those all-Jeff songs an uncommon window into the world of the guy who left the largest stamp on the purest thrash band.
Here are my favorite all-Hanneman Slayer moments:
5. "Angel of Death," Reign in Blood (1986)
"Angel" is probably the most infamous metal song, and it closes every Slayer set, and it totally rules, and it's so obviously Hanneman's most popular moment that I won't even bother making the obvious move and ranking it #1, since we both know it belongs there. When metal lyricists were obsessed with demons and horror movies, Hanneman researched World War II history and found the true face of evil. The resulting song, as Mastodon's Brann Dialer said in my book about Reign in Blood, "broke the speed barrier."
4. "Bitter Peace," Diabolus in Musica (1998)
Diabolus is widely regarded as the least essential original Slayer album, but in that period, it was the best release from a Big Four thrash band. Most Slayer albums' first songs have a moment that kick into gear and just take your head off. For me, that moment is the "Bitter Peace" guitar solo.
3. "Psychopathy Red," World Painted Blood (2009)
This sick, barbed riff was Hanneman's final ripper. Clocking in at two-and-a-half minutes, it shows that punk never left his system. And, as even, he could put together a helluva solo. It's the true climax of the classic lineup's last album, and the group sound like they'd spontaneously-human-combust if it lasted another second.
2. "Die by the Sword," Show No Mercy (1983)
This track is metal as hell, but it's a seamless mix of everything Hanneman was into. The riff has a feral hardcore ferocity, in addition to a mathematic quality, plus the groove that would come to dominate metal over the '90s. It's none of the above, and it's all of the above—it's Slayer.
1. "Postmortem," Reign in Blood (1986)
"Postmortem" is a masterpiece of tension-and-release. The riff is an inescapable march toward certain doom, and "Taste your blood as it trickles through the air" is about as badass as lyrics get. I tried like hell to get the band to discuss this song in some depth, but they didn't have much to say about it. As artists, they're like athletes: They don't talk about the great moments; they just make them happen. The music does the talking. And that's how it should be.