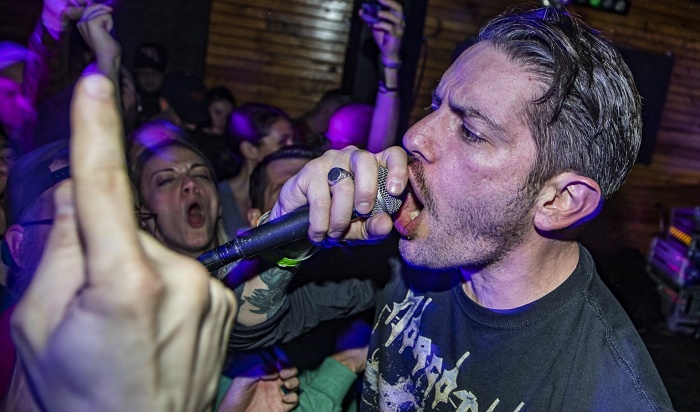 As Friends Rust may have broken up in 2002, but not before leaving behind a discography featuring releases on such labels as Doghouse Records and Equal Vision Records, including 2001's critically acclaimed Won album. The group was founded in Florida back in 1996, and originally featured musicians from the hardcore scene there who had also played in such outfits as Culture, Morning Again, and Shai Hulud.
Since then, As Friends Rust have reunited sporadically for both one-off shows and festival appearances, including shows in the US and Europe in 2019. Most recently, the band announced a slot on the upcoming Furnace Fest in September along with Poison the Well, Jeremy Enigk, Eighteen Visions, and others.
Today, No Echo is pleased to bring you the premiere of "Up from the Muck," the first new song from As Friends Rust in 18 years:
"The song was written to be a hopeful message to everyone struggling to keep up or stay afloat, who may at times feel that they're alone in their battles against financial, physical or emotional demons," As Friends Rust vocalist Damien Moyal tells No Echo. "It's a reminder that, sadly, each of us is at war with something, and regardless of our circumstances or differences, we're all strangely united in those shared experiences of smallness and vulnerability.
"When these lyrics were written a few months ago, life was relatively normal. But today, standing at the dawn of a global pandemic, the song feels even more fitting. Our battles will be amplified in the days and months to come, and it's absolutely imperative that people, especially in their isolation, know that they're not facing these feelings or fears alone.
"We hope that sending this song into the world (the first new As Friends Rust song in nearly twenty years) will, at least for a moment, inspire some sense of togetherness."
All digital outlets will have "Up from the Muck" available for streaming/purchase this Friday, March 27. Stay tuned.
As Friends Rust on social media: Facebook | Instagram
***
Donate a few bucks to help with No Echo's operating costs:
Tagged: as friends rust