"Gridfailure is the opposite type of bands I'm used to being in; standard bands with full-time members, practice and write songs a couple times a week, put dues into a fund, hung mics in the jam spot or booked studio time to get a demo done," musician David Brenner tells me about his ongoing Gridfailure project. "With this, I create everything, with random collaborators sending in submissions. It's more like art class than band practice. It's more like pulling your actual fears out of your head and spreading them out in front of you. While many people like to relax and meditate/pray away their negativity and harsh vibes, I lean into the paranoia, anxiety, tension, apprehension, pain, stress, vengeful thoughts, regrets, self-loathing… whatever it is. It's the sound of turmoil and demoralization; a sub-cinematic immersion in reminding you how fucked you are."
David's latest journey finds him joining forces with musician Morgan Y. Evans, aka Walking Bombs. "I based the whole band concept off Notes From the Underground by Pigface meets like solo Lou Barlow, sometimes acoustic songs and sometimes random collabs," says Morgan when I ask him to describe Walking Bombs. "It ended up being this nourishing if not lucrative spiritual journey where suddenly I would have an acoustic song about gay rights or suddenly Nate Hall from USX is doing a sick trippy solo over my shitty grunge song or I am making an industrial or goth tune because I was listening to Christian Death that week and Jørgen Munkeby from Shining is on it or VOWWS."
Walking Bombs and Gridfailure have teamed up for Suicide By Citizenship, an album that finds the Hudson Valley, NY-based artists collaborating with such musicians as Thomas Andrew Doyle (TAD, Brothers of the Sonic Cloth), Laura Pleasants (Kylesa, The Discussion), and Brett Netson (Built to Spill, Earth, Snakes), among others. Gridfailure and Walking Bombs first worked together on the new project in late 2017 at Bohemosphere Studios in Saugerties, NY, with studio owner and Morgan's musical counterpart, Jay Andersen.
One of the tracks on Suicide By Citizenship—"Bleeding Out—features none other than Mike Score, vocalist of All Out War. Check the song out below:
"I have been trying to collab with Mike Score for years," Morgan says. "A while back, I almost got a song with him and Paul from Blackguard happening in a former project, but it didn't pan out. I used to see All Out War and Hatebreed often at the Chance in Poughkeepsie with the Jerk Magnet dudes, when real metalcore shows would sell the entire venue out. People heard All Out War and the Kreator and Slayer influence and flipped out!"
David—who is co-owner of Earsplit PR—has worked with Mike and All Out War as a publicist, but their relationship goes deeper. "I grew up as a fan seeing All Out War in the '90s, and when the band started working with Organized Crime Records—one of my clients at Earsplit—I started working with Mike and talking to him regularly. He's one of the most down to earth real people out there; a dad, a teacher, a scene lifer. Morgan suggested hitting him up about guesting on the record and we reached out; he instantly said, 'YES, absolutely' and we hooked it up."
I ask David what was it about Morgan's work with Walking Bombs that made him feel that it would be a good collaboration. "We knew going in we were merging things that 'shouldn't work'—it was basically the point of the album. I packed up some guitars, synth, three pedalboards of crazy setups, and drove up to Jay's spot in Saugerties, and the three of us— Jay, Morgan, and myself—just jammed, schemed, and edited for a few hours, coalescing ideas Morgan and I had schemed for the concept, and it just caught fire organically."
Morgan tells me his feelings on David's musical work: To me, Gridfailure is like the new Godflesh where every release is hugely cool and pushing boundaries but goes over people's heads sometimes because they need to be spoon fed. First we did a heavy song together called 'Demagogue' with some other musicians for my Peace Quest EP, an anti Trump tune. Then I knew we could do more work together as soon as I heard Dave's release Dendritic with Megalophobe, where the boundaries started combining with weird melodic sounds and borderline post rock but more ambient sounds. Then I knew Dave would be more open-minded and not just want me to record myself jumping off a building. Which is also fine.
"But for real, I super admire Dave's desire to always push his artwork forward and making time for it, even while spending so much of his day working hard to support countless other bands on tours and with promotions. I am in awe of meeting someone who sleeps even less than I do and still can form semi-coherent sentences and release 67 albums a month. Rock on, Dave!"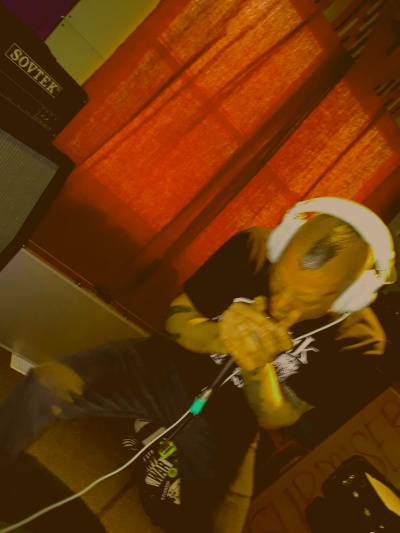 Before I leave them both off the hook, I ask Morgan and David for their upcoming plans beyond Suicide By Citzenship collaboration album. Morgan goes first: "I am just trying to stay positive and vocal and keep making inclusive art. I have a song with Gaylord on Woman 3, the antifascist comp out soon on Bandcamp, about The Man in the High Castle and being non binary. Anal Trump, Svalbard, Globelamp, Kosmogyr, Racetraitor and many other great bands against racism. And I have a new full-length about being non binary with drums from Nate Kelley of Shabutie/Coheed/Laterals fame and other guests like Globelamp, Nina Lava, metal artist Stormland and a few lesser-known trans musicians who I can't wait for people to hear. That should be out later this year on Nefarious as well."
Finally, David updates me on his projects: "I've always got around 10 Gridfailure releases currently in the works at any one time; fully solo releases, collaborative albums, and so on. I launched the multi-album Sixth Mass-Extinction Skulduggery concept series; the first installment is out on Nefarious Industries, who is releasing the rest of the titles in the series as I complete them throughout the year. There is a self-titled fully solo album in the works. My first vinyl release is confirmed; a super limited 5" lathe through Anti-Corporate Music. A collaborative album with Fyrhtu (Leila Abdul-Rauf from Vastum, Cardinal Wyrm, etc. and Nathan Verrill of Cardinal Wyrm) nearing completion. A fully audio/visual collaboration with Pornohelmut (Neil Barrett from Novel Concept TV, ex-Black Ops) underway A collaboration with Chrome Waves in the works. The third Gridfailure and Megalophobe album is under construction. A collaboration with Christian Molenaar from Those Darn Gnomes nearly completion as Brenner & Molenaar, and a subsequent collaboration with Those Darn Gnomes will happen later.
"I'm producing a rap album of sorts for Thorne from Virginia. Also a compilation track or two, some other splits and collabs still unannounced, and some highly classified projects hopefully being announced shortly. Besides recording, I'm making artwork and videos for most of these albums as well as for other bands, working on booking more shows, and much more." I'm not sure about you guys, but I'm exhausted just reading that!
Walking Bombs & Gridfailure's Suicide By Citizenship album will be out on eco-wallet CD and all digital platforms via Nefarious Industries on April 26. Find pre-orders at the label webshop and via Bandcamp where album tracks "Armchair Expert" and "Supply and Demand of the American Soul" are both streaming.
Upcoming Gridfailure shows w/ Zud:
May 1 - Manchester, NH @ The Bungalow Bar & Grill
May 2 - Kingston, NY @ Tubby's
May 3 - Harrisburg, PA @ B. Lovedraft's Micropub w/ Voarm
May 4 - Washington, DC @ Atlas Brew Works w/ Voarm, Radamanthys
Tagged: all out war, gridfailure, walking bombs