"The original lineup of Broken Vow met at the Hartford, Connecticut date of the Terror tour with Magnitude and Restraining Order, which was was about a week before everything shut down due to COVID." I'm speaking with Broken Vow vocalist Tommy Harte as the hardcore outfit is about to drop their latest release, a split with Canadian outfit, Set Straight.
But let's stay on the Broken Vow origin story for now. "After we met, we communicated online with each other and talked about starting a band influenced by the '90s sound led us to meeting up and jamming and subsequently writing the songs that became the demo and the EP." Tommy's referring to the Connecticut group's 2020 demo and last year's killer Sane Minds End:
How would Tommy describe Broken Vow's stylistic lane?
"The bands we pull influence from most are Earth Crisis, Strain, and their New Age Records contemporaries. I think we've progressively gotten heavier and more tuned in to the metallic elements of our sound. For some of our newer material we're drawing from bands like xRepentancex and Fear Factory, in addition to our usual influences."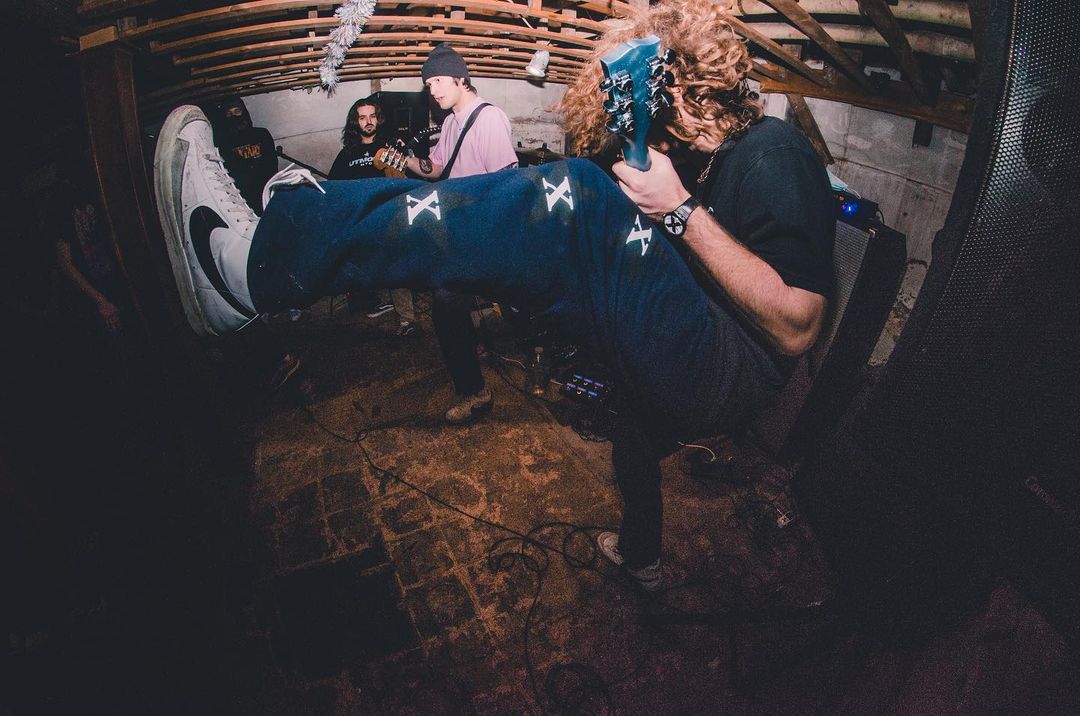 Our chat shifts to the subject of Broken Vow's lyrics and what Tommy has written about so far: "I wanted an unbridled, borderline stream-of-consciousness presentation of the way me and my generation views the world we've been given and the issues that define our time. The failure of our leaders to keep their promises, and the failure of our culture to care for humanity over money."
So, now that this Broken Vow x Set Straight split is out, how did the collaboration come about? "The connection between our bands formed when guitarist Colby Tio and I connected about hardcore on the internet some time around September 2020. This connection trickled out to the rest of our bands becoming friends with each other, and as we live in separate countries, and formed our friendship during a global pandemic, the most obvious path of collaboration between us was to release a split.
"Having that idea come to fruition almost a year and a half later feels very good, especially when each side is said bands best material. Growing and progressing alongside your friends is what hardcore is all about. New England and Calgary youth unity."
Check out the new Broken Vow x Set Straight split EP below:
Tommy and his Broken Vow bandmates will be heading out on a run of dates next month with One Step Closer and Soul Blind. I love the diversity of that package. I ask the vocalist if playing mixed bills like that go over well for Broken Vow. "Yeah! One of my favorite gigs we've ever played was at the Wamleg in Connecticut. It was a large bill with a couple hard bands, a few pop-punk and post-hardcore bands, and some more middle-of-the-road hardcore bands (including us).
"It's very cool seeing a diversity of reactions to our sound and getting to play gigs with bands we like who might not be entirely similar to us in genre. One Step Closer and Soul Blind are two of my favorite bands out right now and sharing a stage with them is a huge honor and excitement."
As I always do when I interview someone for No Echo, I ask Tommy about his take on his local hardcore scene. "New England hardcore is very strong and important right now. The bands that are coming out mean something with roots in the past and eyes towards the future.
"Listen to Wreckage, Ill Comm, Adrienne, Pummel, Zipper, and every hardcore band coming out of New England."
Broken Vow on social media: Twitter | Instagram | Bandcamp
***
Help Support What No Echo Does via Patreon:
***
Tagged: broken vow