A new offering from Cincinnati's Treason, the EP titled True Believers out now on New Age Records, is a natural continuation and evolution of the band's style first laid down on their No One Is Safe EP in 2017.
In the three years' time since their debut, Treason has obviously spent time further honing their specific sound and niche within the world that is heavy hardcore today.
In a field that can seem crowded in 2020, True Believers cuts through with five blistering new tracks that follow in the footsteps of some of the mainstay historical acts within this realm of hardcore, immediately conjuring memories of Beyond Repair-era Throwdown and The Blind Leading the Lost-era Until the End.
Like both of those bands, Treason makes sure their ethos is front and center, a fact that is immediately apparent upon first glance at the album art for this release, which shows a hooded figure in a classically styled TREASON STRAIGHT EDGE jacket squaring up against four snarling, truncheon wielding riot cops under cloudy skies.
The standout track is apparent in the closing song of the record, "Balaclava", which gradually builds with ominous lyrical content and crisp riffs, to the record's punishing conclusion.
Now and again bands will materialize that lean heavily on the impressive résumé of members that have taken part in influential past projects, and while members of treason could easily do the same and boast about their past powerhouse groups like Culture, Blood Has Been Shed, and Suffocate Faster, it's not necessary; Treason stands on their own two feet with no need for name dropping. This fact is further reinforced by their already impressive list of shows played to date, both as headliners and direct support for big names in the worlds of metal and hardcore.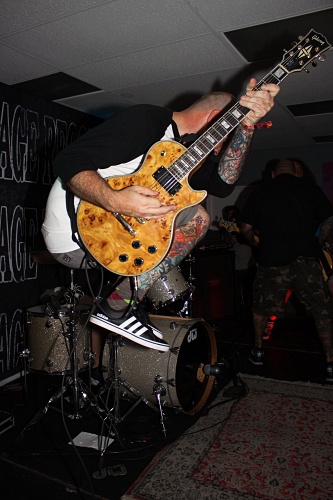 All in all, pedigree and history aside, if you're a fan of mean, teeth-gritting, straight edge hardcore of the heavy variety, look no further and grab a copy of this EP while you can.
Get It
Tagged: treason