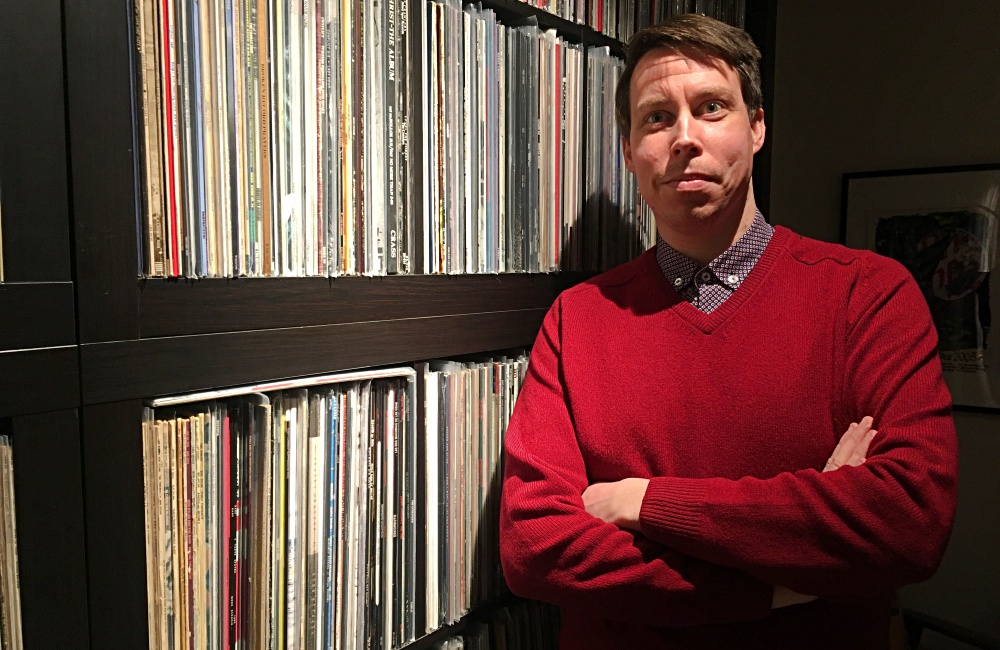 Jan-Pieter Daems is a music fan who lives with his girlfriend, Hazel, in a Weesp, small historic town about 10 kilometers outside of Amsterdam. The 36-year-old works for the second largest labor union in the Netherlands, as the head of its policy department. Aside from his career responsibilties, Jan-Pieter also sings in Open Wounds, a band influenced by all the classic '80s American hardcore bands. Open Wounds have a 12" out on Refuse Records, and are currently recording a new LP.
Today, Jan-Pieter joins the esteemed Record Collector club.
How long have you been collecting records?
I've always been around music and records. When I was young it were my dad's records that I listened to. So, I grew up mostly on a diet of classical music and some folky/'60s stuff (The Beatles, Donovan, Simon & Garfunkel). Around 12/13 I started to more and more develop my own taste in music. First it was '80s hard rock like Bon Jovi, Guns & Roses, Queen, but then I got into Nirvana, and soon after that I discovered punk around 1995 by way of Green Day and The Offspring. From then on I was pretty much hooked on "loud" music and started searching for more and more music. I grew my hair, played in a grungy rock-band in high school that I started with some friends. We started going to gigs at local youth centres, etc. In that period all the music I bought was on CD. Most of the stuff I listened to in those days was '90s skate punk. All the bands on Epitaph, Fat Wreck, you know the deal. I gobbled up all of that stuff. Slowly that led me towards finding my own taste in music. It also made me reflect critically on the world and in that way the music and the lyrics helped me to more and more develop a worldview of my own.
It wasn't until a few years later, I think around '99, that I bought my first vinyl records. I'm pretty sure it were some 7"s of bands like Millencolin, Descendents, NRA, and Rancid that I bought while on a trip to Amsterdam. When I moved from the small town in the south of the Netherlands where I was born and grew up, to Leiden in the west of the country to go to university in 2000, the definitive switch came from CDs to vinyl. The fact that vinyl was usually, especially for punk/hardcore records, cheaper (!) than CDs in those years was definitely a big draw. Plus, I was getting to know a lot of new music and learned that a lot of the stuff I was finding out about was only available on vinyl and wasn't even available on CD.
In that period I was also switching from more melodic punk stuff to hardcore. I was increasingly finding out about older punk and hardcore bands (Minor Threat, Dead Kennedys, Crass, 7 Seconds, Youth of Today, BGK, etc.) and current bands (Seein Red, Betercore, Mihoen, Dropdead, Los Crudos, etc.) that made great music (a lot faster and more agressive than what I was used to) and also had tons of insightful things to say. At that point I became a serious record buyer and collector. Haven't looked back since. In the years since, my musical taste has broadened a lot. It's definitely not all fast hardcore and punk anymore, though punk and hardcore are still very prevaillant within my collection. But I also buy loads of post-punk stuff, goth, jangle pop, indie and also folk, singer-songwriter and '60s music. There's just so much great music out there waiting to be discovered.
Where/how do you usually find your records these days?
My favorite thing is still to go to physical recordstores to browse. Preferably used stuff. It's just a great way to find records plus you're more likely to take a chance on something you don't know just because it looks interesting, you've heard the name before or because it's on a label that you usually like. Luckily Amsterdam has some cool stores. Some of my favorites are Distortion, Concerto, RecordFriend and City Records. I also really like to take the train for the 1.5 hour trainride to Nijmegen every couple of months for an afternoon of digging at Waaghals and VinylArchief. I don't know what it is about Nijmegen, but I always find cool stuff there; whether it's punk or indie or folk, I never leave empty handed.
My other main source of records is online. Discogs of course, but there's also some good online distro's that I frequently buy from, like Sorry State in the US, Per Koro and Bis Auf's Messer in Germany, and Don't Buy Records and Gummopunx here in the Netherlands. I used to buy a lot of records from distros at gigs, but I definitely don't go to as many gigs these days as I used to because of being so busy with work. And also distros at shows seem to have become more and more a thing of the past.
What is the most you paid for a single record, where/how did you obtain it, and what was it?
I try to not spend ridiculous amounts of money on a single record. For me, the most important thing is to own the music on vinyl. So, if there's a good reissue available of some classic record I want, and the originals are costing in the double digits, I have absolutely no problem settling for the reissue. On top of that; the amount of great music that is out there and is still coming out all the time is so immense that I'd rather spend my money on multiple releases than on one very expensive single record that I can also get as a reissue. So, while I definitely enjoy finding first or early pressings of records, I'm not the type of collector who only goes for first or rare pressings. I buy what I run into, what I find for a decent price, etc. As I said, owning the music on vinyl for me is the most important thing.
Having said that, of course there's records that I'm willing to spend money on. There's some box sets, like the recent Hüsker Dü box that I've spend like 80 euros on or something, but as far as single records go, I do try to keep it under 50 euros. I can't really remember what my most expensive record is. I recently bought a copy of Aufführung In Berlin by The Chameleons, one of my favorite bands, for 40 UK pounds, without shipping; so that's up there as far as expensive records. I also just ordered a copy of the Go Betweens' Very Quick on the Eye = Brisbane, 1981 and also recently bought a very crisp copy of the first The Bats LP, both for around 40 euros. And I own a couple of Swans records that were around that price. So all those would probably count as some of my most expensive records.
For EPs, my most expensive one in recent years might have been my copy of the Chairshot Politics EP by Gordon Solie Motherfuckers. It was one of those records that was on my wantlist since the early 2000s, but that I just somehow never came across. Well, I came across one once but that got lost in the mail. Aaarrrggh. Very frustrating. One of those records that's not even super super rare, but just manages to elude you for years and years. I'm sure everyone has a bunch of those. I was able to pick up a copy for 30 euros around 5 years ago. Jumped at the chance, even though to some it might sound like a bit much fort hat particular record.
If you to pick one record label you feel had/has the best track record of quality releases, who would that be and what are some key titles you love?
Such an impossible question to answer! There have been, and still are, just too many great record labels that it's impossible to pick one. If I do have to pick just one, I'll pick one of my favorite "sub-collections" within my record collection: Crass records, and than in particular their 7" EPs.
It took me quite a number of years to get those together but these days I'm nearly complete. What I love about those records is both the sheer quality of a lot of them (and sure there are some less than stellar ones in there as well, but most of it is really, really good and some of my favorite punk EPs of all time are among those records), while at the same time the individuality and diversity in the sound of those bands. And esthetically I just love how they look. They all have that typical Crass-style look: black/white image with the Black circle on the front containing the bandname and title of the records, yet at the same time they all have their own unique feel and imagery.
My absolute favorite ones are Zounds Can't Cheat Karma/War-Subvert, The Mob No Doves Fly Here, Rudimentary Peni Farce and the Crass/Poison Girls split EP. Other gems are Anthrax Capitalism Is Cannibalism, Flux of Pink Indians Neu Smell, The Alternative In Nomine Patri, Lack of Knowledge Grey, Omega Tribe Angry Songs, Dirt Object Refuse Reject Abuse. And that's not even all of them. Also I love that they released the UK pressing of MDC's Multi Death Corporations EP with slightly different artwork then the US pressing to match the rest of the EPs on the label (they added the aforementioned black circle). As said, some of my alltime favorite punk EPs are among the records mentioned above. But the whole roster is high in quality.
Of everything in your current collection, what is your most prized record and why?
You sure know how to ask difficult questions! The reason I find this almost impossible to answer is that there's just so much good music out there. And I consider myself lucky that there's so much good music that found it's way into my collection over the years. So, there's difficulty number one. Also, my favorite record really depends on my mood. Sometimes it's a certain folk record that I play a lot for weeks and weeks on end. Than after that it's a classic hardcore record that grabs me and yet on other days it's a post-punk gem that I would pick as my favorite record from my collection.
There's just too much to choose from really, but I'll give it a go and mention a few things that are dear to my heart. I really treasure my The Sound records, for example. Brilliant band that is still terribly underrated in my opinion. I don't own all their EPs yet, so these days I'm slowly but steadily hunting those down. Same goes for another brilliant post-punk band in much the same vain that I've mentioned before: The Chameleons. I'm happy to own quite a few of their records, but there's a couple hat I'm still looking for. Their debut album, Script of the Bridge, is actually one of the few records that I own multiple copies of, both a few orginals as well as reissue from a few years ago. Whenever I see a copy for cheap I just can't resist and take it home. Weird.
There's also some hardcore records that I would be very hard pressed to part with. One record that comes to mind is Dead Nation's Dead End LP. One of the best hardcore records of the past 20 years, and a record that holds a lot of memories for me. It was a huge part of my soundtrack to my early years in university. Also, a record I somehow own three copies of by the way. I have a similar love for the records by Tear It Up, the band that was started right after Dead Nation. Very formative band for me in the early '00s and also the very first band I ever interviewed when I made my very first fanzine. Other than that there are a few The Mob (the UK one, not the NY one) records that took me a while to find/track down. Love that band and definitely cherish those.
Is there anything that frustrates you about the current record collecting scene?
No, not really. Aside from prices going up and stores thinking they should ask top Internet prices for items they're selling in the store. I like it when a store prices their records in a way where you're actually able to walk in, browse, and find something you didn't expect for a price that makes you feel like you got a bit of a deal. Those are my favorite record buying experiences and make me want to return again and again to a shop. I mean, I understand that you have to make money, and apperently people are willing to pay it, but my favorite stores are the ones where I sometimes find great and unexpected deals. Other than that there are some aspects of record collecting that I don't really get or aren't for me, like collecting all 50 different versions of a single record, but hey, if that's what you're into, than who am I to judge. Most of the time, record collecting is just great fun. It's great to find records, discover music you didn't know yet, discuss records with friends, etc.
Which records are still on your want list that you've had a tough time tracking down through the years?
The records that are highest on my wantlist are mostly (not all) records that haven't yet been reissued on vinyl and are either impossible to come across or are way out of my budget when I do run into them. I'm still hoping to run into decently priced copies for example of:
The Rats, In a Desperate Red (although I'm still hoping this will get a reissue on Mississippi records like the first two Rats records did some years ago. Same goes for Dead Moon Destination X LP)
The Go-Betweens LPs from the year 2000 and onward as I only have them on CD
N.O.T.A., S/T LP on Rabid Cat
Tear It Up, Zero to Suicidal EP
The Mob, Crying Again 7" (I have the 12" version, but would love to complete my The Mob EPs with this one)
Rudimentary Peni, Pope Adrian 37th Psychristiatric LP
Indirekt, Op Oorlogspad LP
ALL, Mass Nerder LP
The Sound, Physical World EP
Liliput, S/T LP
For Against, Autocrat/It's a Lie 7"
***
Follow Jan-Pieter on Instagram.
Tagged: record collector