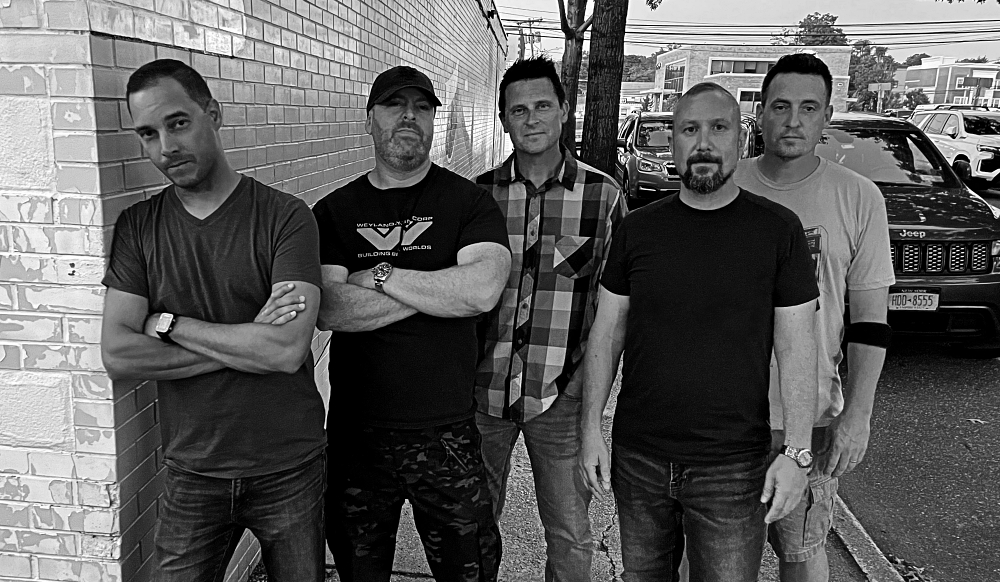 Forming in 2019, The Rook is a young band. But that belies the members' lengthy experience in bands from the nineties through the early millennium. With that balance of experience and modernity, The Rook cultivates a sound that crosses eras. It's a songwriting style that is as much reflective of the emo and indie rock influence of At the Drive-In as it is the moodiness of LIHC bands like Mind Over Matter. They recently released their third EP with Dead on Arrival, and it's a banger. It's the follow-up to their 2021 Six More Weeks LP.
As prolific as it is to have four releases in under four years as a band, singer Mike Garcia sees it as more of a result of their collective experience. "Thankfully, the songwriting and arranging responsibilities have been shared equally amongst the five of us, which really lends itself to a constant flow of diverse concepts for songs. We have a lot more ideas in various stages on a shared drive in the queue to work on.
I also think that the fact that we are all in the back-nine of our lives (hopefully still on the 10th hole to use a golf analogy), and have experience being in several bands before The Rook, also helps with songwriting," offers Garcia.
That diversity is felt on the new EP's first track "Say You Owe Me." Clocking in at just over a minute in length, the song bends the typical fast-tempo one might expect out of that brevity. Instead, the song rocks along with offbeat vocal cadences and Quicksand-esque guitar riffs. It's a great opening track for the EP because it's powerful but not overblown, and it introduces the listener to The Rook's balance of unconventional vocals and driving guitars:
"Name Your Tribe," the EP's third track, opens with a very cool thumping drum beat that segues into an ambient and cavernous guitar and vocal melody. What follows is a powerful bass lead that brings the song back to that pocket of ambient and grooving melodies. I know that's a lot to process. But that's a good thing here.
The Rook doesn't pretend to stay in any one sonic corner. They have a large palette from which to create, and they make great use of it. Mike Garcia's vocal cadences shine particularly bright on this track, offering layers of vocals that complement the song's music while also showing his range as a singer.
Garcia comments, "I distinctly remember Kevin coming at us with the drum beat to "Name Your Tribe" and the music and arrangement was written around his drum beat. In fact, the name of .wav file he sent around via text message when he first introduced this idea to us was "Tribal Beat", which sort of inspired and informed the song title and theme." It's refreshing to hear of bands whose music comes from all members and who are empowered to stretch the limits of their sound.
Garcia's singing ability is also heightened by his lyrical content. Having both grown in up in the Levittown, New York area, I had to ask him about the EP's fourth song, and he responded, "'Paper Crown of Levittown' is about the megalomania of youth and the introspection and personal growth that comes with getting older.
"As you know, we both came from the 'mean streets' of L-Town, and I feel like my priorities and goals back then have changed significantly, yet I've still retained a piece of my youth. Mostly thanks to a love of music and the music that came from the time/place from which we grew up. This song pays homage to that upbringing, laments the loss of the way my world was then, but at the same time celebrates and appreciates the world I live in now as an adult, husband and father of four amazing kids."
There are levels of introspection to the lyrical content here that really offer something for every listener. From the young hardcore kid thinking about their own town to the over-the-hill hardcore dad (yikes!) whose worldviews changed because of their family. The song itself drives with grinding and dissonant guitar tracks that give the track a bittersweet mood. There's a very cool see-sawing vibe to the music here that hooks the listener in too.
Dead on Arrival is a dynamic and utterly compelling musical offering. It doesn't quite fit in any one genre, and that's a wonderful thing. There are Inside and Glassjaw-inspired melodies throughout. But there is also a measured aggression reminiscent of Kid Dynamite and Silent Majority throughout. The EP's closer, "Rest Easy," a lamentation of the loss his Tio Mike, only further cements the breadth of Garcia's thoughtful lyrical content.
Point is, The Rook isn't messing around. They're writing powerfully dynamic music, and you should be paying attention. While full-on touring isn't in the cards, their live show is absolutely worth checking out too if you're in the New York area. But first, give Dead on Arrival a few listens.
The Rook on social media: Instagram | Bandcamp
***
Help Support What No Echo Does via Patreon:
***
Tagged: the rook