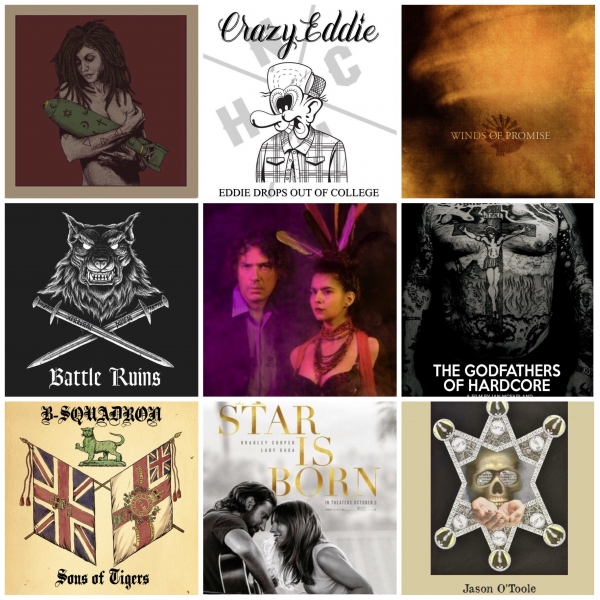 No Echo will always be indebted to Freddy Alva for his contributions to the site early in its earliest days. With the year coming to a close, he put together a list of his favorite releases (music, books, and movies) of 2018. As you'll see below, Freddy has eclectic tastes. -Carlos Ramirez
***
Winds of Promise, Winds of Promise (Unity Worldwide Records)
OC meets DC in this brilliant mix of the '85 Revolution Summer sound with Unity and Uniform Choice vibes created by hardcore lifers.
Tribu, Círculo
Swirling psychedelic shoegaze hymns with haunting female vocals, straight out of Perú, South America. Read my full review here.
A Star Is Born film soundtrack
I'm not a big Lady Gaga fan and reluctantly went to see this. I stand corrected; loved it and the soundtrack rules: cool '70s singer-songwriter songs plus hard rock jams from Gaga and Bradley Cooper (!) Kudos to my wife for dragging me to the theater.
Spear of Stars, by Jason O'Toole
History, myth and the never-ending mystery of creation resonate in every finely crafted line from this poetry collection by Life's Blood singer Jason O'Toole. Pick up a copy here.
Canonized, Message In a Bombshell EP (The Essence Records)
Old friend Gavin Van Vlack (Absolution, Burn, Pry, Die 116, Big Collapse) is a ridiculously talented musician and he wrote, sang, and played (with studio backing) on this raging 3-song EP that showcases his melodic and hard-hitting sonic sensibilities to the hilt. Highly recommended and available here.
The Godfathers Of Hardcore, Directed by Ian McFarland
Lyrical, moving, and poignant are not adjectives usually associated with anything NYHC-related, but put aside all preconceived notions, watch this wonderful film that at its core is about friendship and living life on one's terms.
B Squadron, Sons of Tigers (Rebellion Records)
Classic British Oi! done in the best knuckle-dragging, aggro style. I could do without the 4-Skins/Combat 84 covers, as good as they are. I'd rather hear original songs but this is a minor quibble with this collection of high caliber, boot-stomping tunes.
Crazy Eddie, Eddie Goes to College (self-released)
No pretense, just straightforward, short, fast, and loud hardcore punk that could've easily come out in '83, but it's 2018 and the beat goes on. Bless these 5-borough boys for that. Download the entire album for free.
Battle Ruins, Glorious Dead (Rock 'N' Roll Disgrace)
Call this NWOBHM meets Oi!, as if a band on Neat Records recorded for No Future in 1982. The band features the potent weapon of Brendan Radigan (Lovely Lads, Mind Eraser, The Rival Mob), one of the best singers in any genre, retro or modern.
Righteous reissues:
Verbal Assault, Trial (Atomic Action!)
Poison Idea, Feel the Darkness (Vinyl Solution, American Leather Records)
Lima 13, Los Suenos No Mueren (Muki Records)
Moving Targets, The Other Side - Demos and Sessions Expanded (Boss Tuneage)
Stimulators, Loud Fast Rules (Frontier Records)
Hellbent, 1983-1984 Demos (Radio Raheem Records)
Tagged: battle ruins, canonized, crazy eddie, poison idea, stimulators, verbal assault, winds of promise