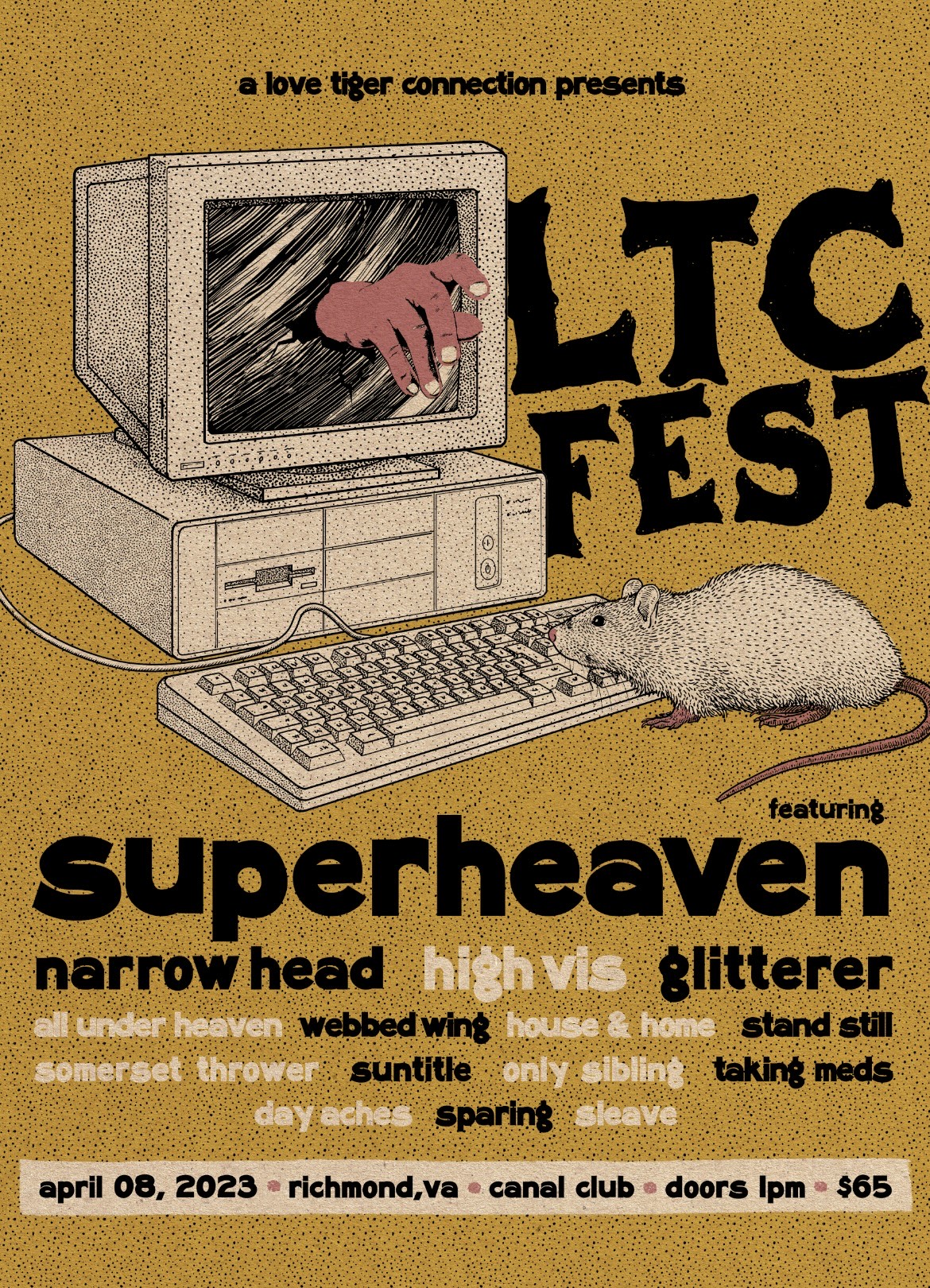 Jesse "Jetski" Brinkley has taken the whole "one-man operation" to another level.
Having launched Love Tiger Connection in September 2021, the Richmond, Virginia-based Brinkley has tirelessly promoted hardcore and all things adjacent. Be it from the stage or from the other end of the flyer, so to speak, he typifies industriousness. That certain relentless ambition has manifested itself in the form one of the year's most stacked bills.
The inaugural LTC Fest, slated for Saturday, April 8th in RVA's long-running Canal Club is a veritable who's who of modern tastemakers. Culminating with what's sure to be a monster set from Superheaven, who are not so coincidentally celebrating the ten year anniversary of "Jar" but a few weeks later.
Somehow finding the time to dish on all things LTC Fest, Richmond, and more, Jesse was kind enough to let me pepper him with some questions.
What's up, Jetski?! The last time you graced the virtual pages of No Echo was on the back of your debut EP with Guardrails. How's the year been for the band?
Guardrails is on pause for the time being. I have another band/project I'm working on called Jailbird and should have more info on that in the near future.
Previous bonafides aside, I'd imagine a number of readers have likely seen the announcement for LTC Fest in Richmond this spring. The floor is yours, my friend. Spill all the details!
LTC Fest is an insane lineup. I've only booked shows for 1.5 years, so I'm probably in a bit over my head but everything has been going great so far. I'm always trying to push myself to do bigger and better things. What's bigger than a festival? Maybe a 2-3 day fest is bigger, but I think with my resume, a one-day fest is a great start.
I think doing two days would be a little too much for me to juggle, considering I'm doing this all myself. I had picked every band on the fest, so it's also nice to have a fest of bands I picked my self & back 100%. From top to bottom, all these bands rip. Everyone has been super easy to work with so far, so that's great.
Speaking of RVA, I can think of few cities with a richer history of punk and hardcore. How has the area changed informed your pathway into DIY culture?
I've lived in Richmond for seven years about, and I do my best to reevaluate myself. I've been doing a lot of watching & learning in the past year or so when I started booking shows. I had to swallow a few tough pills and my own pride, to say the least.
There was a time where I was putting so much pressure on myself to make things look polished and clean (not very DIY or punk so to say). I took a lot of the fun out of it for myself. Watching Richmond has taught me a lot about myself and I'm excited to see how I grow in the future.
The area certainly has a rich legacy with United Blood and other fests. What was the impetus for putting this together? In a lot of ways, this is kind of a dream lineup that manages to stand on its own and avoid overlap with the litany of hardcore fests that continue to pop up. What was the impetus to put together this fest and the lineup itself?
My original plan was to do a one-day adjacent fest in the Spring, and a one-day hardcore fest in the fall. Just a straight up "ass beater" of heavy bands. While I'm not opposed to doing a hardcore fest in the fall, I think I need to get through this one first and evaluate everything. Learn from my experience during this time and learn from any potential mistakes that could happen, etc. It's definitely had some bumps in the road but nothing I can't handle. We'll see what Fall/Winter 2023 will bring for LTC.
On the lineup itself, there are far too many highlights, but getting both Webbed Wing and Superheaven on the same bill is wild. Stand Still and High Vis are two of my favorite bands going. Not so much a question, haha, but sound off on it.
I've either seen, shared a stage, or hosted 10 of the 15 bands on this bill. Every band on this bill has an upward trajectory going for them, and I want to help grow that. I feel like the team mom that wants everyone to have a good game and have fun. When I started this fest my first question was who can I get that will have people go "Holy Shit! They're playing in Richmond?" Superheaven was that band that came to mind.
The last time Superheaven even played on the eastside of the US was the second to last Balance & Composure show (which I was at). I thought it was a long shot but saw they played Sound and Fury and Outbreak so I thought "What the hell, lets send it".
Sure enough, I got them locked in and the rest kind of filled itself out. Again, I've only been booking for a year and some change, so I'm kind of just sending Hail Mary emails every day. I think the line up is sick. It scratches a lot of different spots in the alt/adjacent music and I haven't really seen a fest like this.
Assuming I've properly done my homework, the community-oriented Love Tiger Connection is you and only you? Give us the wizard's peak behind the curtain. Where's the time and energy come from?
I'm not sure. I work six days a week, have a band, etc. Lots of sleepless nights. LTC is a one-man show. I like having full control, but it can also feel kind of lonely / by yourself when things don't work out well at times. I have a lot of passion and energy when it comes to music. I went to college for Music Production and got my bachelors in that.
I never thought I would be booking shows for people, but I enjoy doing it, meeting new people/making friends, etc. I'm sure anyone reading is going to roll their eyes, but in the future, I would like to do a podcast through LTC for whenever bands I book come to town and so on, but I need to build my audience more. I don't really have time and energy for everything so it's kind of crazy that I want to add more. For the time being though.
For anyone on the other, much warmer coast, sell them on Richmond as a destination, fest aside. What're some rad food spots, record shops, and generally cool places to hit when in town for the show.
Richmond has a lot of cool places. Come early and get your hair cut at High Point (shout out my barber Chris Miller). Also, go get a tattoo at Absolute Art, Heroes & Ghosts or Black Rabbit if you come early or stay an extra day after.
Go see Bobby and friends at Vinyl Conflict. It's the best record store in Richmond and the staff is very friendly and helpful. They all also have great music recs.
Go eat a Cobra Cabana, Cobra Burger, GWAR Bar (it's exactly what it sounds like), En Su Boca, ZZQ, Nu Vegan, Ipanema Café. For coffee Blanchard's, Lamplighter or River Bend are dope.
Night life, most people will probably head to Sticky Rice, Helen's, Jungle Room or Bamboo after. You can probably catch me down the street at Curbside though.
Go hit up Hollywood Cemetery and then bop over to Rest In Pieces.
We're big list freaks here and I'm gonna give you a specialized one. Top five Richmond hardcore, punk, or adjacent bands of all time.
I would leave too many out if I did all time. My current active favorites though are Blazing Tomb, Division of Mind, Downfall, Enforced, House & Home. No particular order. Richmond has so many good bands, Killing Pace, Mutually Assured Destruction, Wasted Space, etc. The list goes on.
Piggybacking on that, give me a five band fantasy bill for your ideal show/fest.
Trapped Under Ice playing its entire discography. On a real note, I would go with TUI, Incendiary, SPEED, Ekulu, and Combust. If I could get Title Fight to reunite, then I'd throw them in there too.
How can people best keep up with the latest on LTC Fest, River City hardcore, and related show postings?
Go follow your local scene hardcore, bookers, etc. IG page and support your current scene that you are around.
Go follow the Richmond Hardcore IG Page.
Go follow all the bands you like, especially your local teams.
If you have time after that, you can follow LTC on IG.
I'll say while the fest is full, you can still feel free to say what's up, send me your band if you plan on touring through Richmond in the future or just follow for the support.
***
LTC Fest goes down Saturday, April 8th @ the Canal Club in Richmond, Virginia (buy tickets).
***
Help Support What No Echo Does via Patreon:
***
Tagged: guardrails, high vis, superheaven