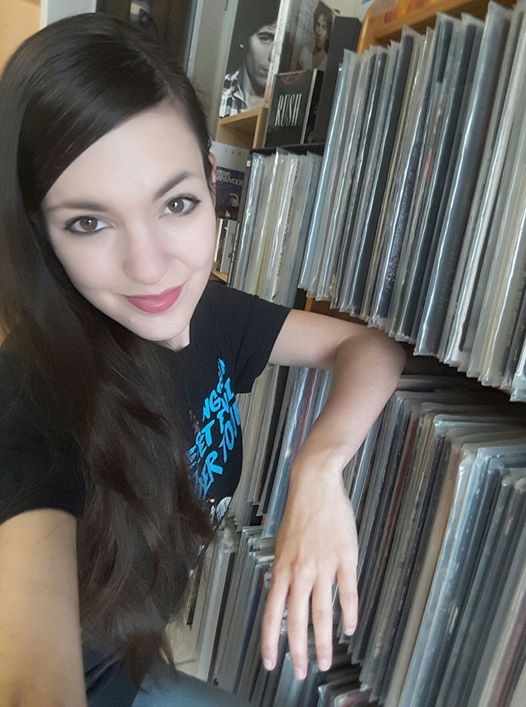 Sandra Schumacher is a 28-year-old Springsteen devotee from Germany. In addition to her love for The Boss, Sandrea also studies Psychology and has a passion for helping take care of rescue animals. Oh, and she also has a kickass vinyl collection.
Thank the heavens for Freehold, NJ, and please welcome Sandra to the Record Collector series.
How long have you been collecting records?
I grew up with parents that always had a big passion for music that they shared with me; I started collecting my own records at a very young age. My father used to show me his record collection, and I still remember how fascinated I was as a child by the beautiful artwork of, for example, Led Zeppelin and Rainbow's Rising (which is still my absolutely favorite cover artwork). That's when my love for classic rock started. At the age of only 9-years-old, I got my first record player. It was a pretty old one, but I could not have been prouder. Music has always played a huge role in my life, and I am very thankful that my parents gave me the opportunity to discover it.
Where/how do you usually find your records?
I used to go to local fairs and selling events, but sadly, it got less and less over the last years in my area. So, now I usually buy my records on platforms like Amazon, JPC, eBay, etc., but in general, I prefer to support small record shops. Sometimes I trade records with other collectors. I am part of several groups on Facebook and I love the vinyl community. You can find real rarities and gems there.
What is the most you paid for a single album, where/how did you obtain it, and what was it?
The most expensive record in my collection must be Bruce Springsteen's The Rising, which I got as a gift some years ago. It is really hard to get, and prices usually start at €250. As a massive Springsteen fan, I am really lucky to own it.
What is your most prized record and why?
That has to be Springsteen again: Darkness on the Edge of Town. It's not an expensive record in a material way, but priceless for personal reasons. That record means a lot to me. Bruce tells a story in every single song, about people who struggle with life's daily problems. It's about anger, desperation, and a lot of darkness. But in this darkness, there is always a glimpse of hope. Like it says in "Badlands":
"I believe in the faith that can save me." I never get tired of listening to that masterpiece.
Is there anything that frustrates you about the whole record collecting scene?
Not at all! The community is wonderful. It's always so inspiring to see other collector's posts on Instagram and I have "met" a lot of nice people there who share my love for music. In general, I think it is a fantastic thing to see so many young people starting to collect vinyl. In this fast world we live in, listening to a record is a gorgeous way to slow down. Unlike listening to an mp3 (don't get me wrong—I do have an IPod as well and use it for example when travelling), you can't delete a record; it's a piece of art. You hold it in your hands, look at the artwork, and listen to the scratchy sound…I just love it. And I am proud to be a part of that scene.
Which albums are still on your want list that you've had a tough time tracking down through the years?
Yes! When I was about 12-years-old, I got into the music of Guns N' Roses and became a huge fan. I started to collect everything I could find, bootlegs, rarities, etc. But there is still one thing missing on my list: their first EP, Live!? Like A Suicide. But I am pretty optimistic I will find it someday!
***
Follow Sandra on Instagram.
Tagged: record collector