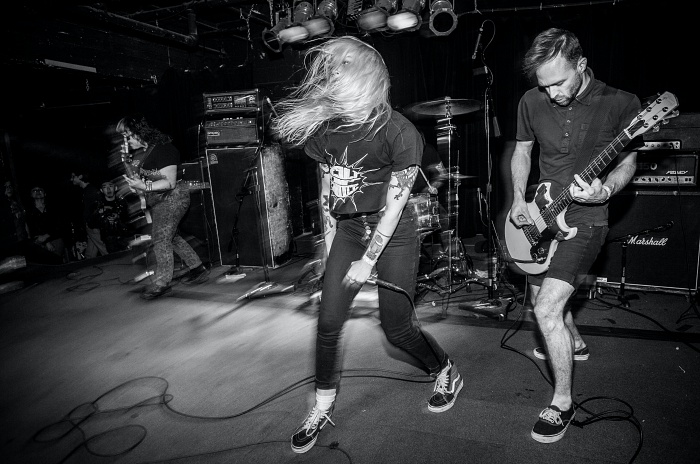 "The band is not near each other so the creative process as a band was pretty much brought to a full halt," says Tørsö vocalist Mae Toone. "My personal creativity has been pretty good. I have been able to write a lot and play guitar for hours everyday and began learning drums when New York went into 'second lockdown.'
"I also was able to get into filming Super 8 with a dear friend who I've been quarantined with."
Mae is chatting with No Echo in advance of Tørsö's forthcoming 7 inch, Home Wrecked.
Recorded by Jack Shirley (Limp Wrist, Oathbreaker), the 7 inch will include two songs tracked during the same sessions that birthed the California hardcore punk outfit's 2019 Build and Break EP, plus a cover of The Faith's "You're X'd."
A theme Tørsö tackle on Home Wrecked is the gentrification of the Bay Area. My friend Dan Lactose (Spazz, Hard Foul) lives up there and one way to get him heated is to bring up gentrification. So, I ask Mae how she would describe the effect gentrification has had on her community there.
"First of all: shout out Spazz shout out West Bay. I think my personal perspective of the gentrification in Oakland and someone else perspective may be different.
"My personal experience of how gentrification in Oakland happened to me and my family was that our landlord decided she could not raise the rent quickly enough to be what the new market value was, so she tried to intimidate my dad into leaving our apartment we moved into in 1995 and now lives in Clearlake, California and commutes to work from there."
The singer continues: "Many bookstores and record stores I loved when I was younger are gone and every time I come home there is major construction in areas that were deemed 'undesirable' in the '90s and '00s (and surely before but I'm just trying to focus on my memory).
"My mother was priced out of her apartment in 2010 and just moved to Pennsylvania. Many of my friends have either left or feel uncomfortable in their homes and have fears of eviction. The homeless encampments seem to double in size every time I come home (I haven't been home since February 2020) and the city seemingly doesn't give a fuck.
"However, there are many strong organizations fighting these things that deserve massive amounts of credit."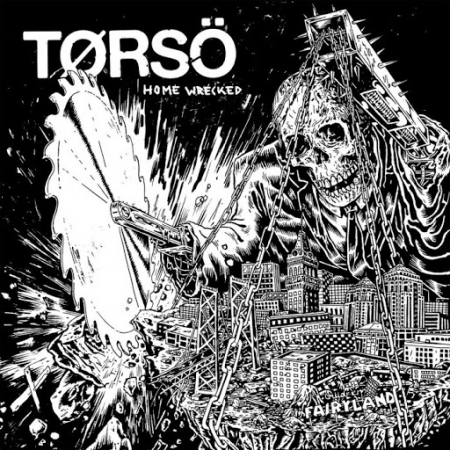 Seen above, I think the cover art for Home Wrecked perfectly captures the spirit of the music it represents. "We all got to the point of having to discuss the art to go with the music.
"We wanted an evil entity that represented vulture developers, big tech overlords, and politicians who assist these forces to take the culture and livelihood of the Bay Area and rip it to pieces so it's something they want instead of what the already existing population has created."
So, who is behind the art? "Johannes Stahl did an incredible job with the direction we gave! I am extremely proud that art is on something we created."
Mae is carefully optmistic about Tørsö getting back to work: "Unfortunately for this band, we will have to see how quickly vaccines are distributed as well as how quickly travel and shows or even the 4 of us being in the same room will be safe. We are just at the mercy of this process and that's ok and something we all have to accept."
Home Wrecked will be out on January 29th via Revelation Records. Pre-order the vinyl here.
Tørsö on social media: Facebook | Instagram | Bandcamp
***
No Echo has launched a Patreon with 3 tiers offering all kinds of hardcore-related goodies to help support the site:
***
Tagged: torso