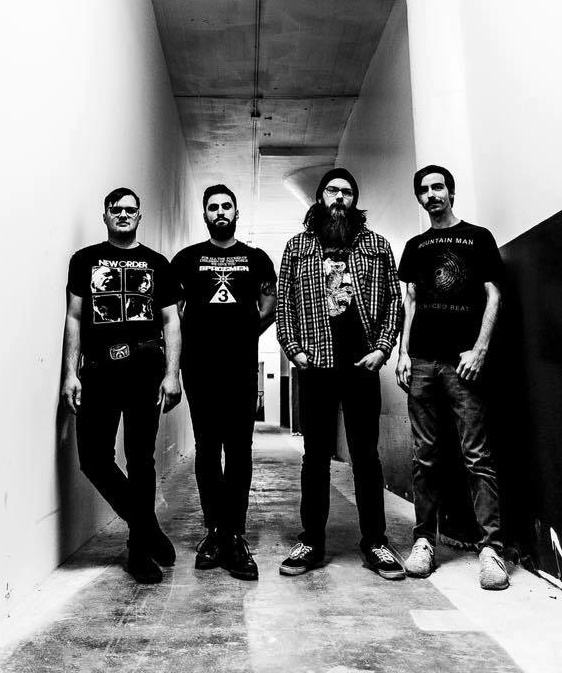 Listening to Druse for the first time last week, I found myself agreeing with some of the stylistic comparisons included in the band's press materials (Touché Amore, Young Widows), but I also heard elements that weren't as easy to pinpoint. There's a meditative kind of feel to some of the more instrumental moments from the Rochester, NY combo. "We try not to be too militaristic about our songwriting process but in the case of this record there was so much going on that just about everything had to be meticulously mapped out," Druse vocalist Alex Jones tells me about their songwriting process. "Of course you're going to have some off-the-cuff improvisation and happy accidents in the studio once you actually start recording, which we definitely had our fair share of, but leading up to that it was undoubtedly an intricate process."
Formed in late 2014, Druse is gearing up for the release of debut full-length, Honey from the Rock, which the group tracked and mixed with engineer Jon Markson (Drug Church, Husbandry) and the band feels best represents their sonic outlook. One of the album's standouts is gorgeous track called "Annalisa," and I'm pleased to premiere it here for you today.
"'Annalisa' is a song about watching someone you love suffer through a debilitating illness and attempting to heal them with something greater than empty platitudes," says Alex about his lyrics to the track. "It's about connecting with someone on a largely intangible level that tends to only reveal itself in times of crisis. It's about drawing from every consistent and familiar source you know — your shared heritage, your belief in naturalistic healing, your confidence in the strength of the human spirit — and hoping against hope that something will make it all work out.
"Too many songs take on a cynical and self-obsessed viewpoint when it comes to communicating the pain of those close to you (I'm very guilty of this myself). 'Annalisa' is an attempt to shift that focus toward something more transcendent - more compassionate without also feeling defeatist."
While doing my research for this piece, I learned that Honey from the Rock references a passage in the Bible, so I nudged Alex for some insight. "As a title, Honey from the Rock isn't really a biblical reference (although it is undoubtedly pulled from Psalm 81:16) and is more an homage to the book of the same name by Lawrence Kushner, which I encourage everyone to read. It was recommended to me by a very important person my life, and it's essentially a beginner's guide to Jewish mysticism and the more nuanced, philosophical aspects of Jewish theology, which are subjects that really eclipsed my life while we were writing this record.
"As a Jewish person who has always had an interest in my heritage and cultural history but never truly acted on that curiosity, that book served as a catalyst for a pretty substantial period of self-discovery and self-actualiztion that inspired a great deal of the record's lyrical and thematic content. With all that being said, I think it's important to distinguish that Druse is not a 'religious' band and Honey from the Rock is by no means a 'religious record — it's a record about viewing present crises, struggles, and triumphs through the lens of your history and discovering your place in an incomprehensibly large human system."
Honey from the Rock will be released on July 13 via Head2Wall Records and can be pre-ordered here.
Tagged: druse