My initiation rites took approximately one putrid second after hearing "there is no god," the matter-of-fact sample leading the heretical charge on "Numb"/"Blind to Faith," the 1-2 opener of Ringworm's The Promise LP, still stands as the most appropriate launch pad for three decades of metallic hardcore tyranny. Replete with the frenzied bellow of James Bulloch, aka Human Furnace, the righteous blasphemer at Ringworm's helm, their reign has somehow managed to reach an otherwise impossible milestone for such a furious project.
2019 marks 30 years since Rustbelt restlessness begat rage begat Ringworm. Long armed with cred not only within hardcore and metal, their firebrand take on Holy Terror has long aligned them with fellow long-distance runners Integrity. Their equally uncompromising discographies mark not a foot race but an alliance of forces, decimating their assigned parallels. Never content, they first took Ohio and won't stop until their unholy cacophony cuts faultlines. Though I'm far from surprised, Death Becomes My Voice is an otherworldly combustion engine of fiery indignation and venom that parallels the finest moments of their seemingly faultless catalog
If 2016's "Leave Your Skin At The Door" off the hyperbole-inducing Snake Church didn't sufficiently conjure Hades himself... you needn't dress in layers (or dermis) when entering the Underworld. The devilish baker's dozen herein will gladly flay what remains of the brittle husks we call bodies.
Unlike other legacy acts, with whom I'm loathe to align them with, Ringworm has dedicated themselves to the life of an ever-evolving parasite. Surviving countless eras without once bending to suit the mainstream, you can count their collective missteps on a fingerless hand. Managing to avoid the perils of leaning into nü-metal territory like many of their peers, Ringworm has stayed the course… that of the grotesque anti-missionary. Much like the aforementioned parasite, they've subsisted by taking what they want, pillaging their subconscious for blackened riffs and the art of non-belief. Meanwhile, they've somehow continued to strengthen and become more economical as the years pass.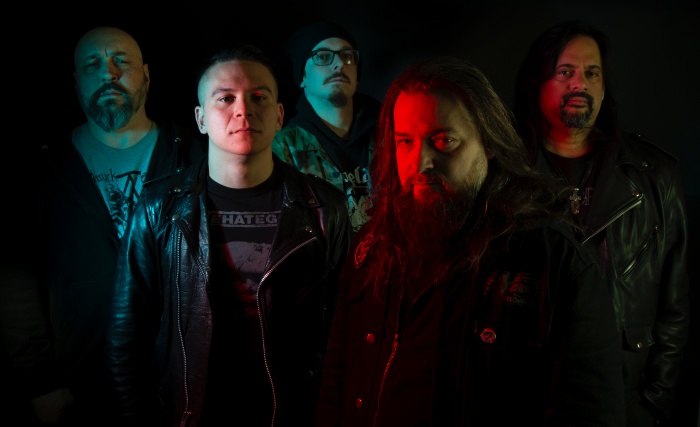 On Death Becomes My Voice, the thrash riffs are sharper and barbed, the vocals more immediate and harrowing, and the rhythm section more ground and pound than ever. Both 2014's Hammer of the Witch and the aforementioned Snake Church found Clevo's finest further cementing their place in the annals of hardcore, this LP representing as fine a run as perhaps they've had. One listen to the opener on their most recent long-player is sufficient to readily admit their slaughter is completely without compromise. I'd argue that they've continually ratcheted up the attack, trading the rusted knives of their early output for that of sword wielding mad men. If Birth Is Pain was a stick-up, the new full-length is armed robbery.
Recorded at both Mercenary and Spider Studios, mixed by Taylor Young (Nails, Disgrace) and mastered at Audiosiege, this marks, to me, the circle's closure of the Relapse trilogy. Arguably, Ringworm's strongest output has come in the last 5 years, a feat for any band. More impressive is how angry and pissed the band sounds this deep into the game. It plays like souls (had they any) being torn asunder. Death Becomes My Voice is a violent and coercive catharsis.
The album's title track was its initial single, meant to whet your vamipiric appetite, and it's fitting to have it preview the pummeling proceedings. A repeating twin guitar leads evokes a bedeviled Iron Maiden that pairs well with low-end. Once it kicks in with scuzzy bass and thudding drums, the assault is complete. It soon gives over to an absolutely ferocious d-beat charge. Immediately apparent is the perfect mixing job. With music this intense, the vocals can only sit as they do here… square in the middle with no tricks. Human Furnace sounds as horrific as ever and the back half showcases simultaneously evil and triumphant guitar licks that never quite veer into full blown solos. A scathing mission statement of impossibly fierce metallic hardcore and thrashy crust.
"Carnivores" begins with an inhuman roar. Seemingly more unhinged than their 'oughts work, this plays as off the rails as they get. There's a palpable danger to the affair. If you've seen their devastation live, this begs to be an early set rager. The pound is relentless and the pace vacillates between blazing and light speed. The back half has what slides into an ice cold groove that's likely to be a pit opener. This showcases their first mosh part. An unsettling, creepy sound bite mercifully announces the atmospheric end.
Clearly not the classic song from the brothers Gallagher, "Acquiesce" proves that Ringworm have always been the kings of this shit. There's a killer sludge riff tacked on. Moments like this make the album sound so intimidatingly dense and heavy. There's no space to breathe. When a flurry of tom drums carry us into the more frenzied pace of the latter half, Furnace ends with declaring "Acquiesce" that feels more like a demand to the listener to give up. Do not proceed.
After the last sound stole what was left of our breath, we may indeed need at best CPR at worst a syringe of blackened adrenaline despite the anguished instructions of "Do Not Resuscitate." With such an already varied palette, the added blasts sound dirtier, the layered vocals are the perfect match for a grizzly riff.
With a crushing straightforward metal riff, "Dead to Me" kicks the door in. The histrionics are capped by a glorious solo that manages to be both fearsome and triumphant, the effect of which feels like you're standing atop your victim. Ringworm is in classic form here, adorning their corpse with pick scrapes and divebombs.
Midway point "The God of New Flesh" continues to pile on the bad news. Starting with not so much a gallop as a stampede, the songs accumulate like an avalanche. Scarily gathering momentum, they still find time to stop at each village to set the buildings ablaze, rob the tills from the soon to be abandoned rotting churches, and to desecrate the headstones of those you hold dear.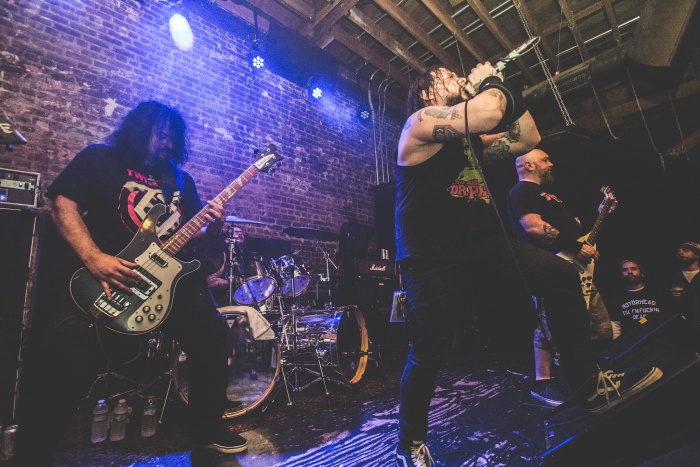 Truth in advertising finds "I Want to Tear the World Apart" immediately embracing blastbeats and soaring guitars that feel cribbed from the ...And Justice for All playbook. There's an inherent horror in hearing someone who sounds thoroughly capable of accomplishing the ominous song's title task. Another devastating track.
"Dying By Design" takes its first steps with a chunky riff of menace and intimidation. The gloriously up front bass is given extra room to breathe. There's a From Ashes Rise-esque mid-section that stands toe-to-toe with the early 'oughts D-beat Renaissance Era. The tiniest tremolo picked passages are tacked onto the crusty canvas, giving the extra sinister edge. It wisely ends with yet another barrage of blasts, the vibe ultimately that of being buried beneath endlessly falling tombstones, a bruised and resigned Sisyphus.
If you thought release was upon you, "Separate Realities" will disappoint. It's both guns blazing intro that drops into a sinister lurch. When these riffs are stretched, it's on the torture device the rack, an agonizingly slow sludge and bending guitar riff set to dizzy and disorient. There's a false start back into speed that maddeningly kidnaps the listener. The wailing guitars evoke that very torture, their bent howls the cries of the entrapped.
The promise of speed so selfishly unfulfilled by the previous track is ultimately a wondrous trick, as the incendiary opening of "Let It Burn" arrives with demented blast beats. They rise from the flames a Phoenix possessed, demanding we get off the cross. Ringworm needs the wood for the fire of a funeral pyre. Everything about it screams devastation. The last minute of this song is an absolute thrillride, a killer metal riff that'd play well over any subgenre's template. It disappears into a wash of ambient unsettling noise, again employing their long used and upsetting pastiche approach.
True closer "Final Division" is essentially a four minute mile that runs us through reminders of every single reason we've ever loved the band. There's blinding leads into a crushing beatdown section, groove all over the place… the noise fade roughly halfway in gives way to holy terror itself. Swirling guitars atop an anvil heavy backbone of extremity beckon a reckoning befitting of its finality. As the song fades, it's not the presence of Furnace's unparalled screams but their noticeable absence that make it's impact. The realization that he screams all over this fucking thing, pausing at times only to let us catch up. Suffocation shouldn't feel this good.
Death Becomes My Voice is out May 3 via Relapse Records and can be pre-ordered at the links below.
Get It
Tagged: ringworm