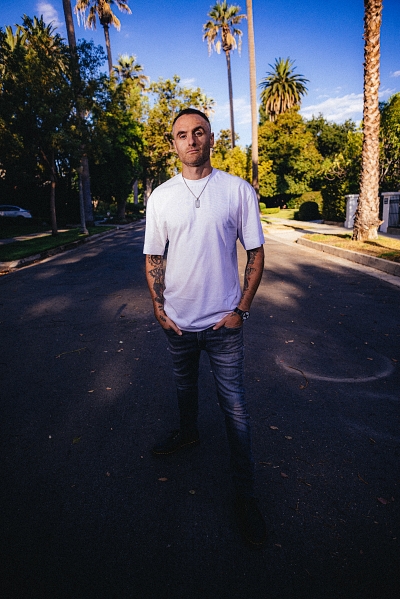 William Thomas Brunet is a very driven, creative, and visionary human being who I call a friend. A native of Lyon, France, he now resides in Los Angeles, California. We met last year when our bands were on tour together in the Pacific Northwest.
We hit it off immediately as drummers with a shared love for a similar style of hardcore and playing fast. His talent was noticeable immediately and as I got to know him, I realized there was much more than meets the eye, hence the need to unpack that in this interview.
So you're from France. Tell me about how you got into punk, hardcore, drums, and speaking English.
Interestingly punk wasn't the music I first started to dive deep into. Hip-hop and rap hit me hard when I was 11. More specifically with Tupac Shakur, his Greatest Hits album was the first record I ever purchased. I ended up buying all of his records from when he was alive. At that time, I was just starting to play drums and I would go skateboarding every day. My parents tried to get me to play piano, but it didn't work out and one day my dad asked me if I wanted to play drums. I said yes. The following day, coming back from school, there was a drum set in my room. I jumped behind the kit and tried to play hip-hop grooves right away.
Punk suddenly entered my life when I was 14 when in that same year, I discovered The Offspring, blink-182, Rancid, and NOFX by reading magazines and watching MTV (having cable back then was a rare thing in France). My dad taught me some English but I think I learned the most when listening to my favorite bands. Then I did a language trip at 13 in Conway, Arkansas, where I spent two weeks at school there.
I remember how surprised they were when I'd say I was listening to Tupac and blink-182 [laughs]. My English got a little bit better when I lived in Berlin as I was sharing an apartment with my bandmate who's from NYC. Now I feel I can finally understand and speak properly, even though speaking is always something challenging to me, no matter what language for some reason. So I'm still working on it!
What is the hardcore/punk scene like where you are from?
There are some very good bands merging out of a slow crowd in France, and very creative. Sometimes more creative than here in Southern California, I feel. The longevity of the bands is too often shortened by the hardship of being consistent, especially at the early age of a project.
The only band I like from France is Birds In Row. Honestly, I lost touch with what's currently happening in that scene over there. That being said, I'm gonna take the time to check. The culture is just different and that has a strong impact on the punk and hardcore scene. Luckily Belgium, Germany, Sweden, and of course, the UK constantly have new bands and great labels that keep the scene well and alive.
When we had breakfast together one day on tour, someone asked, "What brought you over here?" and you simply said, "Hardcore." Is there more to it than that or is that really it?
Alright, so here are you opening a door to something I'm glad I can share. My response [at that time] was right, but I wanted to make it quick too [laughs]. The hardcore punk scene is huge here and I was always drawn to it. I just love this raw energy and the history that this music has here. The very first reason is that this is simply a dream of mine to pursue my passion in a country that has been inspiring me from day one.
When I was 25, I remember committing to the idea of moving out of France with the strong desire to work and live in the US and the desire to play in a hardcore punk band in the US and was part of it. So in some ways yes, hardcore was one motivation for me to be here.
Ever since that age, I evolved as a drummer in all music genres. Being a drummer and a music producer in a country that inspires me every day, would be the more realistic response to it. As I reply, I'm realizing that I made it happen. We should always go after what we desire the most. It gives us a good reason to be a good person.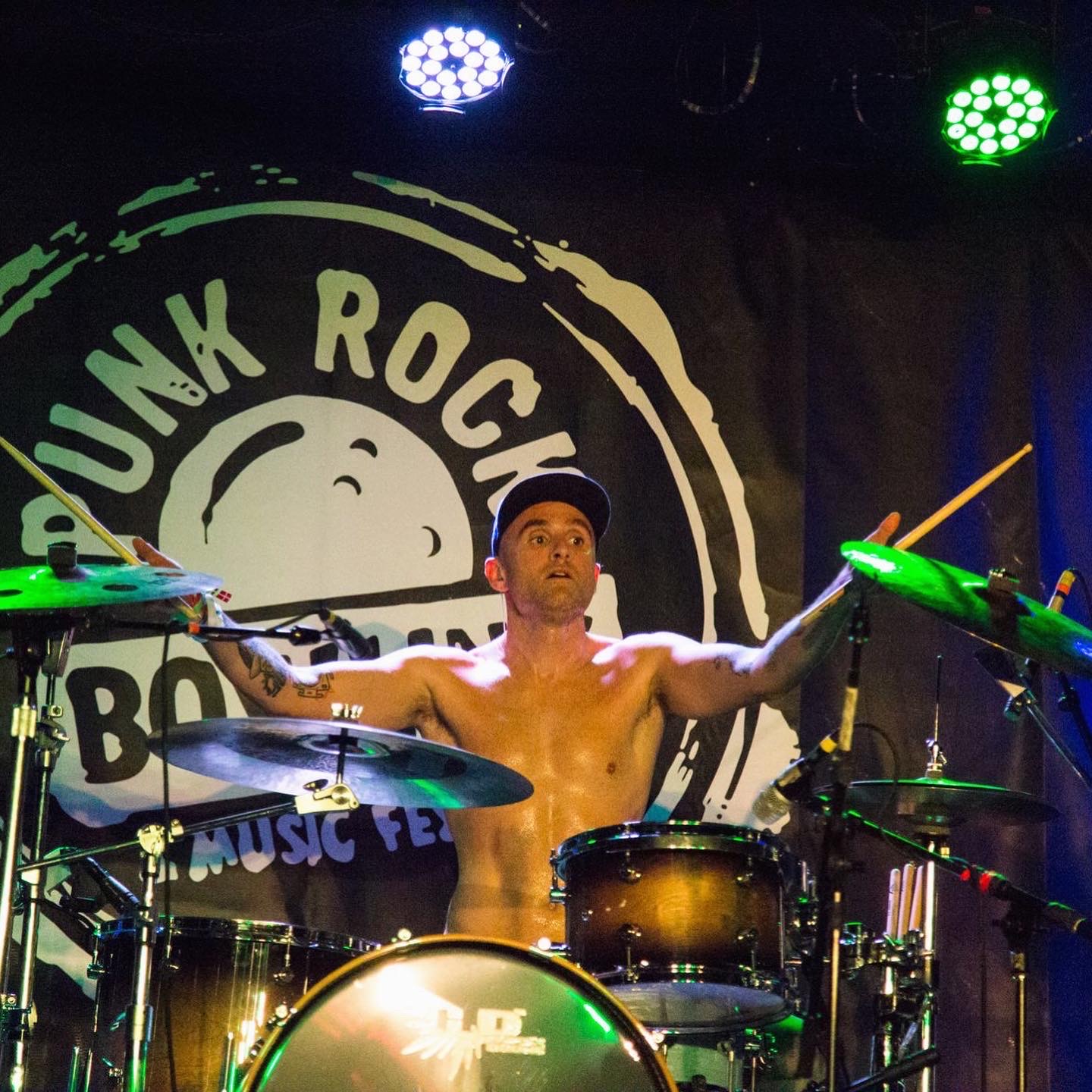 What are some aspects of American life that can be easier or more challenging?
It's amazing how easily people give you a chance here. I never feel any arrogance from people who succeeded at something significant, whether towards me or others who are still trying to figure things out. They simply stay more open and receptive, than where I'm from. I find it refreshing and it keeps me motivated. Here when you fail, you get respect for trying and you are often given another chance. This will always attract a lot of creative and resourceful-minded people from other countries.
The fact that anyone can easily create a business or something valuable and contribute to the communities or the state while growing as an individual, is a chance. This is not that obvious in France. Of course, it has its downsides and can have people focusing too much on money but in response to that, I see individuals creating small communities to support each other. Although it can be challenging sometimes to see so much poverty and so many homeless in such a rich country, I hope this will be fixed eventually, and I believe that this will be possible when everyone will stop blaming each other's opinions and actually unite and act together.
On a lighter note, living on the western coast of the US can be challenging for some from Europeans, simply because of the distances between cities. Going to work can be a long trip every time. I'm glad I like driving!
You play drums in Overexposure (one of the coolest new bands from Southern California!). How did you meet Ryan and what was your role in the songwriting process?
Thanks for the nice words [laughs]. All band members of Overexposure will appreciate that!
I met Ryan for the first time at a Pressure Cracks show (one of his other bands with Jason Aalon Butler), but that night, I mostly spoke to Jose who plays guitar in OE. He's the one who messaged me later on and talked to me about this project he had going on with Ryan for years but they never got the chance to find a drummer who would commit to it I guess. We started jamming, things were going well, then COVID hit.
We used that time to push through and wrote something like 16 songs (a lot of them were already demos). Ryan and Sean (the second guitar player) reworked them and Sean wrote two of the songs that are on the album California '98. For my part, I learned the songs by trying to stick as much as possible to the structures and the grooves, to have the process going as fast as possible. During the recording session I was directly coming up with some licks and different ideas for Ryan who was producing the album, so he'd have a great number of options to choose from.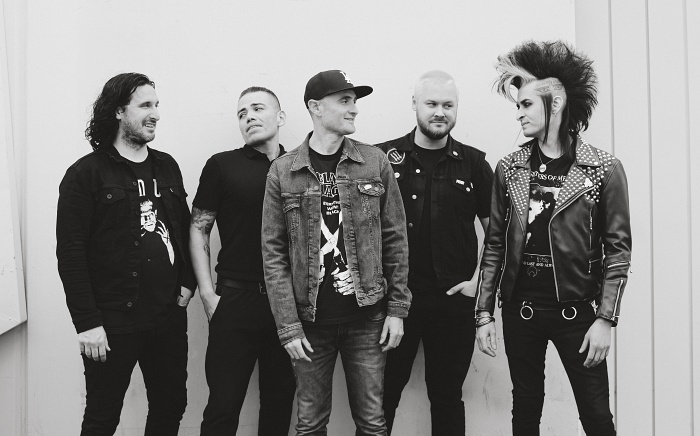 Overexposure has been playing a lot since you started last year—Punk Rock Bowling, opening for bands like Slapshot, Negative Approach, and Pressure Cracks plus dates on the entire west coast, and southwest runs. How do you like being on tour and what do you do to occupy your time in the van?
Playing with these iconic bands from that scene was surreal for a young band like ours. I enjoy being on tour. I like to be in a new city every day and this is a great way for me to experience working in the US. Meeting new people is always a great time and everyone is welcoming.
Being on stage is also a fulfilling challenge that gives us a feeling that we can rarely get anywhere else. I'm a non-stop doer so even on tour I work and try to stay productive, do a lot of emails, work on other songs for my other project KillTheTrendy, and schedule some future gigs. That's pretty much what I do between naps in the van or the hotel room.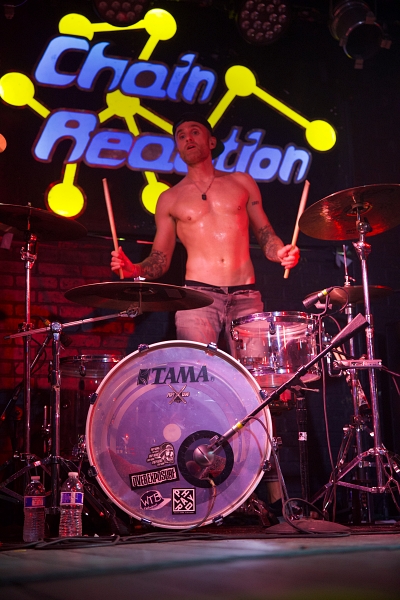 What's next for Overexposure and how has the response to the record been?
We already sold out on the vinyl! A store in the UK bought 40 copies of it—crazy! Between November 2021 to April 2022 we did three tours including all states on the West Coast and the Mountain States.
We are currently in the studio, recording an EP, and will be on tour in October for nine shows on the West Coast again. Next Spring we should hit the road more inland, towards Texas.
You mentioned another project called KillTheTrendy. Can you tell me about that?
Yes, I've been working with this unique rapper Trakcixs since January of this year to create something that mixes the music that inspires us the most. It's called KillTheTrendy because both of us can't seem to fit into any trend, whether it's music, clothing, ideas, or way of thinking. We are just different from any crowd, I believe. I produce the music and Trakcixs write the lyrics.
We went recording the first song at my friend Ulysses Noriega's studio (The Offspring, Korn, Deathrow Records). I tracked all instruments the first day and Trakcixs did the vocals the following day. Then we got Eric Talaba (Weezer, Linkin Park) to mix it. The song was released on July 15 and received amazing feedback so far. People seem to enjoy the blend of these different music genres and the authenticity that comes out of them.
We are inspired by so many different things that I think this project will surprise a lot of people. We are inspired by the adversity of these days. It forces us to adapt and explore, and be creative in new uncomfortable ways. We are currently working on four other tracks. Two of them will be released this year, and the rest will come on the first EP that will be released in March 2023.
You are a busy guy. Two bands and an apparel company, Play Hard Clothing. What made you want to start a clothing company and where did you get the name Play Hard?
Well, I enjoy putting myself in challenging situations. I never stop trying to be better on drums, as an artist, and as a person. It takes a lot of consistent effort. This clothing line is something that I carry around for myself as a reminder to never stop doing what I love the most and always push the limits for me to always grow. For a little story,
I was in Berlin practicing drums in a building on the ex-Soviet Union side of the city. I had the idea to tattoo Play Hard on my wrists as a reminder, as I was saying. While travelling in the US, I thought of making a clothing line from it, to convey a message. I started the clothing line back in Europe, before I came back to the US to work as a drummer.
***
Follow William on his personal website, Instagram, Twitter, and Facebook pages. Follow Play Hard Clothing on Instagram.
***
Help Support What No Echo Does via Patreon:
***
Tagged: overexposure