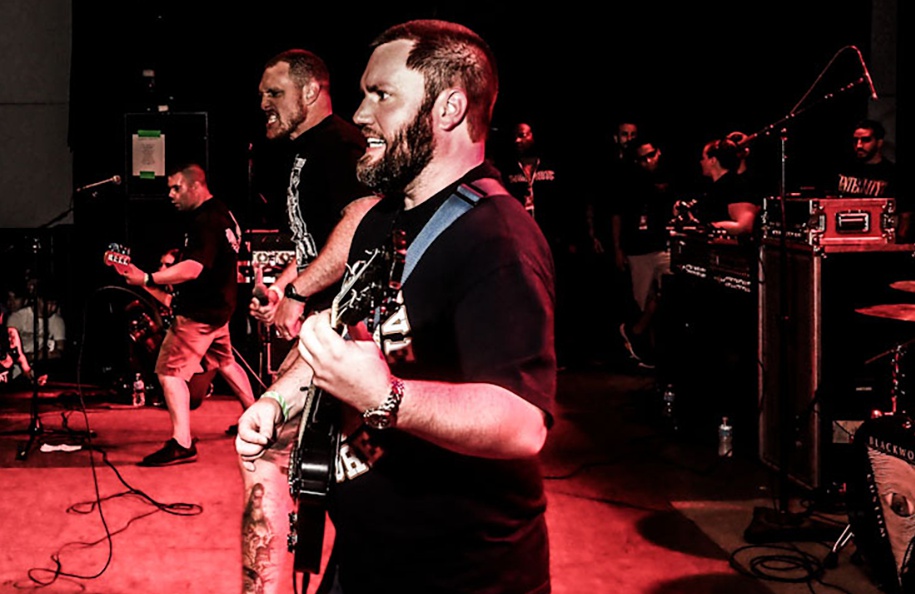 "I think if you take Cold As Life, All Out War, Ringworm, Madball, Napalm Death, and Merauder, put them into a blender, pour it into a glass, and down it like you would a kale shake, then we are the healthy shit you would take soon thereafter," says Reserving Dirtnaps guitarist White Paul when I ask him about the Memphis band's influences. His answer to me when I bring up what scene he thinks Reserving Dirtnaps fits into is even better. "We fit best in the most ignorant of all hardcore, whatever that's classified as. I'm not really concerned with how we're perceived as long as we're connecting on some level with whoever is listening to us or watching us play. That person can figure out the politics of it all if they choose to do so and decide whether or not they're allowed to listen to us or not."
Formed out of the ashes of Clenched Fist, Reserving Dirtnaps have released two EPs to date, and they're gearing up for the release of Look At Us Wrong, a 2-track single that finds them collaborating with Memphis rapper Tom Skeemask. "These two songs represent a lifelong dream of mine to collaborate with a Memphis rapper. I've come close in the past, but nothing ever came to be. We got a chance to meet Tom Skeemask though, and everything clicked. Tom is one of the legends of Memphis rap. His album 2 Wild For The World is one of the all-time great rap albums from this city and is regarded as a classic all over the world."
No Echo has teamed up with Reserving Dirtnaps to bring you the exclusive premiere of the two songs from Look At Us Wrong.
I was curious to how the collaboration happened. "We recorded Tom rapping on the first track on our last EP (Reserving Dirtnaps Part II), which is called "Reserving Dirtnaps," and we had also just written a song at the time called "Blood on the Walls" that I thought had a couple of parts that would be great with Tom over them. And everything worked out perfectly. It was cool because we used all existing material and didn't try to hippity-hoppity up some rap friendly shit for him to flow on. He just came in and did what he did over what we do and the results could not have been better. I'm more proud of this than anything I've ever done in my life."
With the new tracks hitting the Internet today, and a cassette release around the corner for the EP, Reserving Dirtnaps are going to keep the momentum going for the rest of 2018. "We have a show with Mammoth Grinder in Memphis on February, which is the day this preview goes live. We're doing the release show for Look At Us Wrong on March 3rd with Revenge Season, Watchdogs, Paper Trail, Tom Skeemask (doing a set of his own), and us. We'll also be performing the collaboration songs at the end of our set and it's gonna be nuts. That's one people should travel to if they're considering it. We're also going to announce a little run of about 4 or 5 dates in March pretty soon. After that we have a show with Die Young here in Memphis in April and we're going to be looking to travel more in the summer, where we already got some things cooking. In the meantime we're gonna be working up the rest of our existing songs with the new guys and get to writing Reserving Dirtnaps Part III as soon as possible. Life won't wait for you."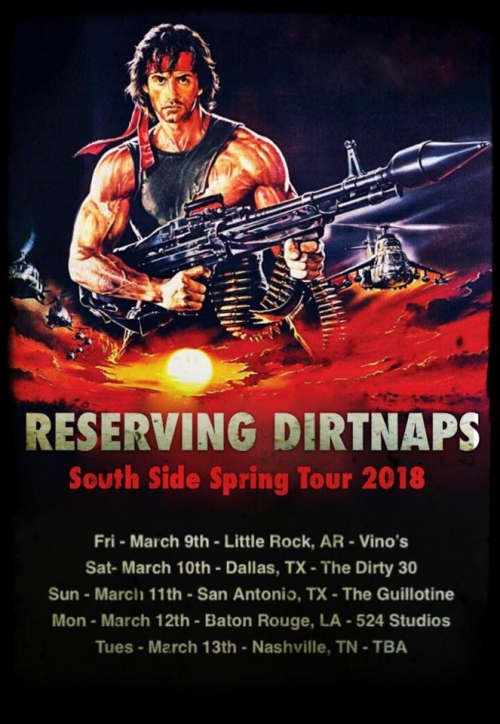 Reserving Dirtnaps can be found on Facebook, Instagram, Twitter, and Bandcamp.
Tagged: reserving dirtnaps