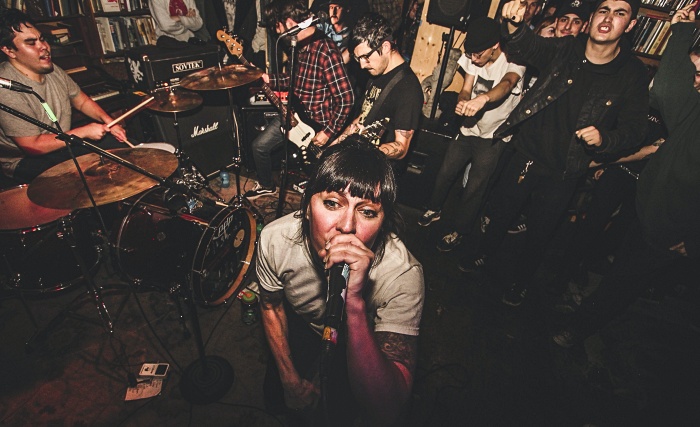 While hardcore and punk have obviously always been inexorably tied to one another, the prior being an offshoot of the latter, there seems to (at least since the mid-'80s or so) be a gulf that has formed between the two. A gap that sees, on one side, music that is usually faster and more aggressive in general; and on the other side subject matter that more openly espouses themes of socio-political protest and activism but is set to a soundtrack that usually favors slower, less aggressive songwriting.
Unfortunately, especially in 2020, there aren't a lot of bands that feel the want or need to bridge that gap, and a lot of those that try don't do so very effectively, meaning most modern bands tend to stick to one side of the divide or the other.
Fortunately for us, not too long ago, along came a band called FAIM.
We know the origin story of the band thanks to previous pieces here on No Echo, along with other sites, and with every listen we become more and more familiar with how they so confidently and capably bridge the gap between the worlds of punk and hardcore.
Seamlessly blending activism with aggression, skillfully crafting release after release, FAIM proves that the rage and political furor that has been woven into punk since its genesis is indeed still woven into the DNA of modern hardcore as well.
The quality of each facet of the experience that is a FAIM show or recording is immediately apparent, and their upcoming LP, Hollow Hope, is no exception. The album features 10 furious tracks that will make about 22 minutes of your life fly by, distracting you from just how fucked up the world seems at the moment by… well… commenting and speaking to just how fucked up the world truly can be, and how we can work together to change it for the better.
In this No Echo premiere, we're thrilled to present the "Division Ave," a scorcher from the forthcoming record. "The song is inspired by the book, The New Jim Crow: Mass Incarceration in the Age of Colorblindness, and learning about the racist history of redlining, with an outro featuring a sadly still relevant clip from James Baldwin," said FAIM via email. You can check the book out here.
For now, listen to "Division Ave" below, which FAIM and Safe Inside Records will be donating all proceeds from digital sales of the single to the Black Sex Workers Collective:
The biting socio-political commentary from vocalist Kat makes it abundantly clear that the band is not (and never has been) solely a musical project, but rather a vessel for messages that expertly address pertinent, immediately relevant topics for the climate of this country at the moment: raging against police and their abusive power ("Bastards"), systemic racism in the US (on the aforementioned "Division Ave," my personal favorite track on the record), and a host of others among which there isn't a single song that you can justify skipping.
Just like the lyrical content, the musical intelligence of FAIM shines through on the entire record, a perfect compliment to the subject matter being addressed on every track.
With masterfully executed riffs and drum parts that perfectly compliment the furious vocals, Hollow Hope is just one more piece of proof that the band has the sure mark of a group that isn't dependent on one sole skilled member who carries the rest, or a couple core "creators" who then coach the others, but rather a cohesive unit that expertly crafts a consistently solid musical product as one.
Hollow Hope will be out in late August via Safe Inside Records and is available for pre-order now. Version City Blues will be releasing a limited edition version of the album on cassette, which is also up for pre-order now.
FAIM on social media: Facebook | Bandcamp | Instagram
***
Donate a few bucks to help with No Echo's operating costs:
***
Tagged: faim