Influenced by likes of Econochrist, Born Against, and Youth of Today, California band Run For Your Fucking Life existed from 1994-2001. The group's deliciously filthy sound appealed to a wide cross-section of underground music scenes, including bills featuring fastcore, crust, straight edge and screamo bands.
During their time together, Run For Your Fucking Life released a 7-inch themselves with help from friends at Hopscotch, and a 45 LP and CD discography on Gloom Records (Devoid of Faith, Monster X).
Next month, the self-titled Run For Your Fucking Life LP will be released for the first time since its initial pressing in 2001, through Three One G Records.
No Echo spoke with Run For Your Fucking Life drummer Jeff Shadoan and guitarist Fernando Cruz about their time together, the different scenes they were part of, and vocalist Jason Weedon, who tragically passed away in 2019.
Run For Your Fucking Life started in 1994 out of the San Diego/Chula Vista area punk community. Can you set the scene for us? How would you describe what was happening musically at that time around those parts?
Jeff Shadoan: Chula Vista didn't have a hardcore scene in '94 since the Amenity/House of Suffering thing had pretty much stopped. Del Mar and Mitch had stopped hosting house shows. That scene, which was kind of a broey skater scene, hadn't really been thrash since the late '80s, and punk rock was out. It got all slow and moshy. Fast hardcore definitely wasn't a thing anymore.
Punk/hardcore bands from San Diego like Heroin had stopped, RICE stopped, End of the LIne was very short lived, Struggle had stopped, Antioch Arrow had evolved into something else. It was kinda like the scene got tragically mature, and made this clever dance art rock stuff, like Drive Like Jehu, etc. We called it "emo" back then. Tit Wrench stayed true, thanks Bob.
In '94, our little scene was on the south side of Chula Vista and it centered around the band Chicken Farm, started in '89. It was a punk scene. Young people, kids really, teens and early 20s, trying to party, make stuff, and have shows in backyards and ditches. No one really skated or surfed. Mostly really cool Mexican rockers, punks, metalheads, queers, skinheads, druggies, loadies, runaways, etc.
A bunch of us realized we had been at the same show before we knew each other: Filth, Econochrist, Infest at Ché Café in like 90/91. I think that's what got us all juiced on East Bay punk and hardcore. It seemed way more diverse and fun than San Diego or Chula Vista at the time. I think indirectly, we were influenced by that scene, or maybe we just knew our thing was different and way more fun than what was going on at the time.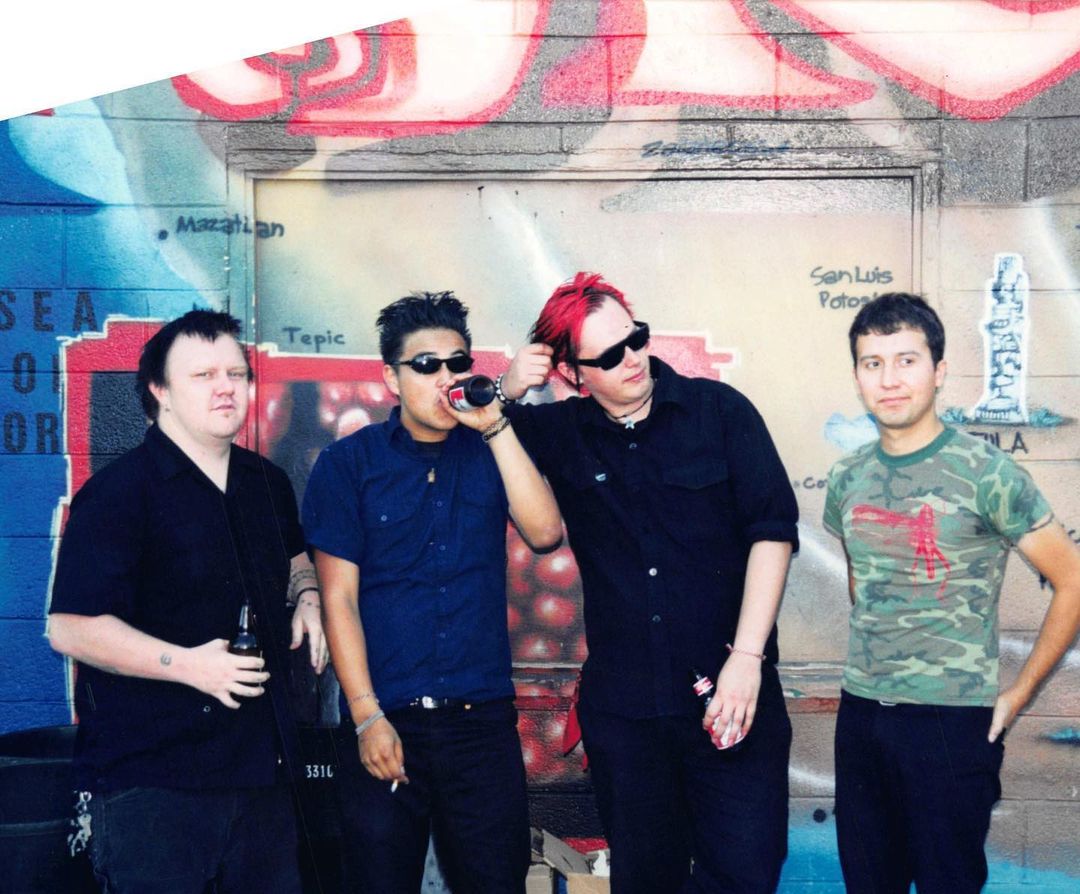 Fernando Cruz: I was 14 when RFYFL started and met the band around the age of 15-16 as I was already playing in other punk bands. For me, I was a big fan from day 1. The band used my drums for the original 7 inch recording, and soon after I was playing in Los Kagados with everyone except Jeff, as he had moved to Texas around '96-'97 and Albert from Death Eyes was our singer.
The band ended, and since we had all the other members of RFYFL, the other guys asked if I would play drums for a newly established RFYFL. I was stoked! We started playing shows, and a few years later Jeff moved back and due to a few personal things happening, I jumped to guitar and Jeff moved back to drums.
In the early years, I was already a big fan of Chicken Farm, With Intent, Amenity, Struggle, Swing Kids, etc. The scene was to me more emo as Jeff stated, but there were some great bands ending at the time RFYFL got together with the final lineup. I feel it was a perfect timing type thing when Jeff moved back in '98-'99 and we started the final version of the band.
Did you guys have a clear direction of where you wanted to go both musically and lyrically when you started the band? Perhaps that developed as you started jamming/writing together?
Jeff: I just wanted to play fast punk and fuck shit up. I watched the og incarnation practice with Danny Calderon guitar, Jorge Romero bass, and his brother Martin Romero drums, no singer. I thought they sounded Dead and Gone-ish so I was stoked when I somehow ended up taking drums. I think that same month we asked Jason to sing and I think me, Danny and Jason decided we wanted it to sound like Filth.
Fernando: From what the other band mates stated, it was very inspired by East Bay punk such as Dead and Gone, Filth, and Econochrist. Econochrist was one of my biggest influences, so that really helped in the latter years for writing songs.
Looking through some of the show flyers you've posted on the RFYFL Instagram page, one's reminded of the eclectic bills the band played during your time together. Did you find that certain crowds/scenes responded to RFYFL better than others in the live show sense?
Jeff: We played with whoever was down, but I think Tijuana was the downest!
Fernando: We had a great mix of scenes who gave us support. The young, straight edge kids of the Ché Café (the Youth Crew), the young kids in Escondido (disreantiyouthhellmanbastardchristx) as well as the Chula vista and Tijuana scenes. We also were supported by the more straight-up punk, Pyrate Punk scenes as well as the more artsy hardcore side of bands like the Locust, Spanakorzo, etc.
We had a good crew of friends that would come to all our shows, and as Jeff stated, Tijuana was always amazing! We had a brother band in Discordia, who would come up to play and we would go down and play. We ended up playing with some great bands, Assuck, Reversal of Man, The Locust, At the Drive In, Murder City Devils, Blood Brothers, Good Clean Fun, Kill Your Idols, Born/Dead, Severed Head of State, Tragedy, etc.
The original run of the LP was released by Gloom Records, a label based out of Albany, NY. How did you guys come to meet and end up working with Nate Wilson? Also, do any specific memories stand out from making the album with Gar Wood?
Jeff: We had no record label when we started that recording, but we did want to release a 12 inch. Gar Wood liked the band and wanted to record us. His home studio was perfect, just one room, I think it was his garage. We nailed most songs on the first take and he caught us when we were really on. He captured our essence really well. We paid him out of band fund and sent the recording to a lot of labels.
[Three One G Records founder] Justin Pearson introduced it to Nate Wilson when he was visiting and I think it was opening day of Spastic Plastic record store. Nate was the first one to show interest in putting it out, so we went with him. Nate is a total sweetheart and it was a great experience working with him.
Fernando: Jeff explained it correctly. I also had heard that [Youth Attack founder] Mark McCoy had mentioned it to Nate as well, and what can we say, working with Nate was beyond amazing! Still friends to this day.The album with Gar Wood was very special. Rocket from the Crypt's John Reis reached out to us as he had come out to see us a few times with Gar, and took us to play a couple shows in LA and SD.
After that, Gar was down to record us. I think we were at the top of our song writing and playing. We were playing multiple shows a month, practicing and writing songs, and Gar was able to catch all of that in his recording. We were on at the studio, and his ideas were great. Using a cool small classic amp for second guitar, the tones he got out of the bass and drums, and the multiple layered vocals Jason did, made the record sound Beyond my expectations!
Being able to work with someone like Gar, who was and is a major part of our San Diego Scene was also great. A local punk band, recorded by a local musician, now being released by a great local label. We love all of that.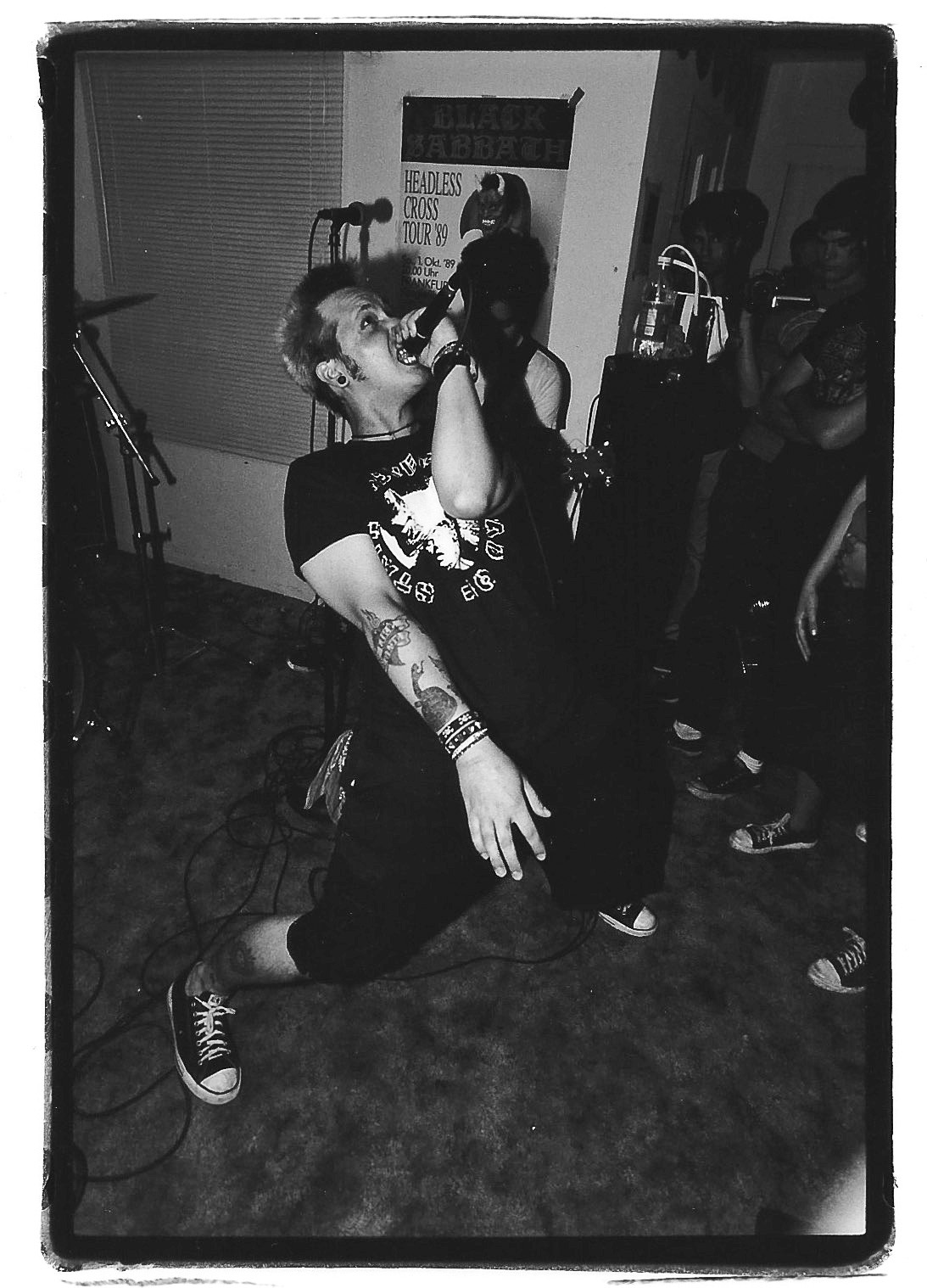 Why did the band end up breaking up when it did? Was there a "last show" or did things just end abruptly?
Jeff: RFYFL had been involved for many years by then. I noticed that thrash, fast hardcore, etc, had gotten way more popular, and so we were doing really well by summer 2001. There was an official (fake) last show [laughs], but we didn't play again until a number of years later. I think the nail was I left town again and didn't return this time.
Fernando: It was more of my understanding that Jeff was leaving town again, and we did a so-called "last show." It was very well attended, at our home the Ché Café, and ended up being a real last show. Jeff never moved back, and it never started back up. We played a handful of reunion shows, which were great, and now the band is done playing live.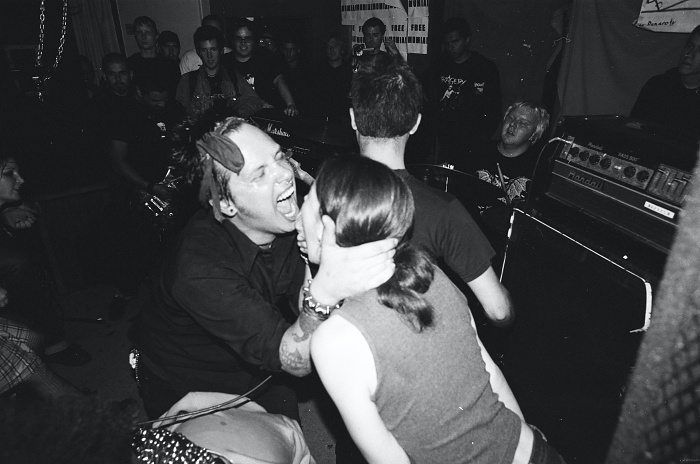 What do you miss most about Jason?
Jeff: Hard question. I think I knew many sides of him. He was a generous and vulnerable soul. Playful and curious.
Fernando: I miss his companionship and friendship. His realness in everything he did as well as our partnership. We were brothers. All 4 of us are/were. We had so many things in common and losing someone so close is just an emptiness that is left forever empty. RIP Jason Weedon!
***
Three One G Records will be releasing Run For Your Fucking Life on September 14th on 250 red and 250 clear color vinyl variants. Pre-orders are up at this link.
***
Help Support What No Echo Does via Patreon:
***
Tagged: run for your fucking life