I've been a fan of Aga Hairesis for the last few years now. Both her live and portrait photo work captures the attitude and spirit of hardcore, and it's no wonder why so many bands want to collaborate with her. Since she's based in Europe, it's always fun to see Aga's coverage of overseas music fests like Groezrock and leperfest.
It's time to invite Aga into No Echo's Photographer Spotlight series.
Where were you born and raised, and were your parents into the arts?
I was born and raised in Łask, right in the centre of gloomy, industrial Poland. Being involved in arts wasn't something respectable, or socially acceptable, as it seemed "different" and not "catholic-like" back then in the '80s and '90s, at least in small towns. Although, luckily, my parents weren't very religious, they were and still are working-class people. Dad is a roofer and tin worker, Mama a seamstress with a real talent for costume making. Since my childhood, she has supported my theatrical adventures by creating awesome outfits. And at the same time, she was the master producer of my creasiest ideas of customizing my punk attire.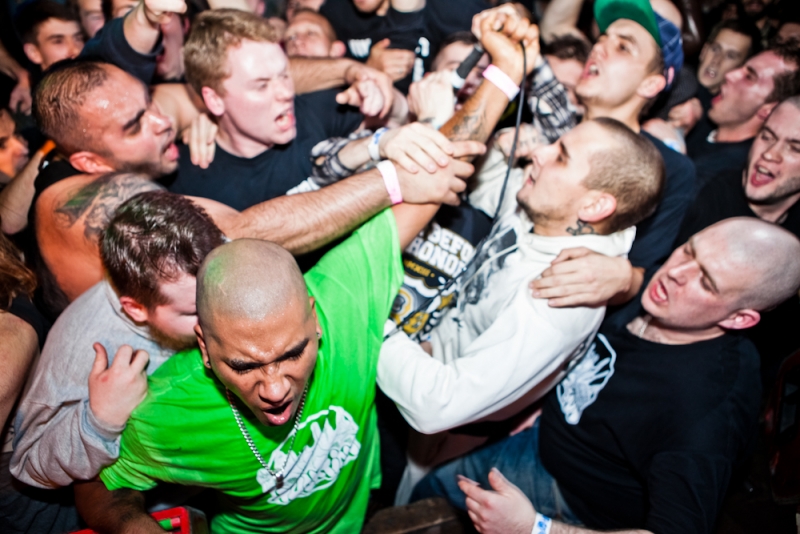 What came first, your love for music, or your love for photography?
Absolutely music! I didn't own a camera until I was 18. I would take photos on a borrowed Zenit in my younger age, but having a camera on my own was so out of reach at that time. I was involved in other arts anyway. I always kept busy on that field.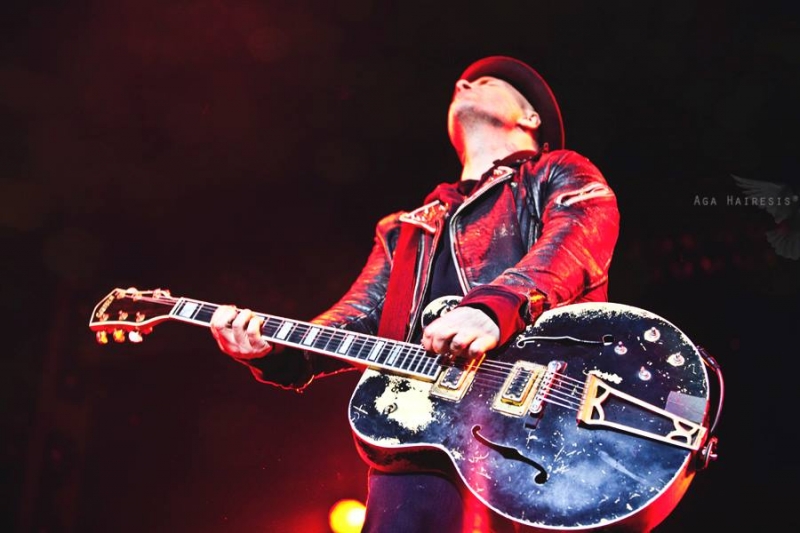 How did you discover hardcore/punk?
My best friend's brother was one of the last punks in town and meeting him was my first exposure to hardcore/punk culture. Thanks to his tapes, I was introduced to some finest Polish punk and hardcore. Tape trading seems so ancient now, but back then it was the only way to discover the whole world of new music (I had four TV channels at home, two working). I was into animal rights first. I'd set up little fundraisers in my primary school for local rescues, distribute flyers outside of animal circuses, then came Amnesty International and more anti-political involvement and interest. I was already a very conscious 11-12-year-old, I'd say! Music promoting animal rights and activism was what attracted me to punk in a first place.
I went to my first show when I was 13, and ran away to Woodstock when I was 14. At that point I started discovering international bands: Shelter, Agnostic Front, Sick of it All. I will never forget when somewhere in that little town, only one of us had an Internet access in 2001. We would all gather together and watch SOIA's newest video, "District," 10 times in a row, at least! (Guessing what it is all about, since none of us spoke English). At that point, we wouldn't even dream of seeing them live. Knowing SOIA personally would never even cross our little punk minds. 4 years later, after moving to UK, my new wave of discovery switched entirely to US and UK hardcore…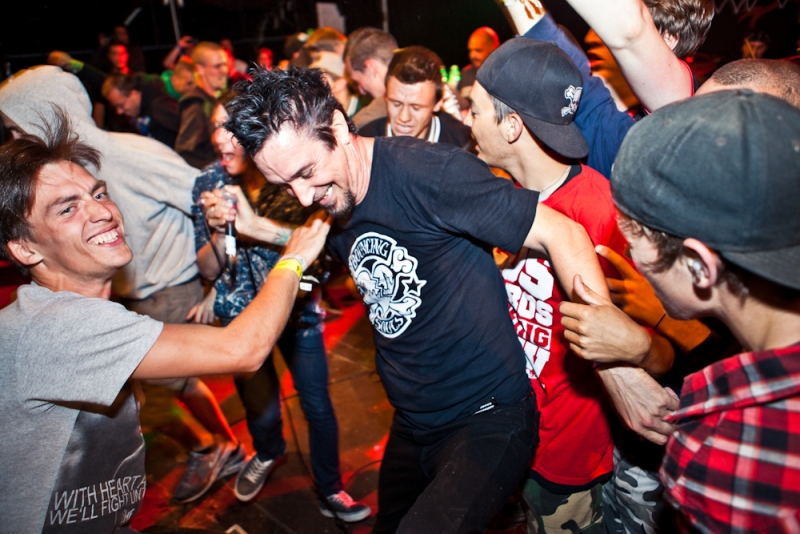 Who were some of the photographers you looked up to during your formative years?
Cindy Frey, even before I started shooting music I was admiring her work. She's a wonderful artist and a human being.
What is your current photo setup?
Currently, I shoot with Canons, 5d MKIII and 5d MKII as a backup, for music shots, I only use: Sigma 35 1.4mm, Canon 70-200 2.8 and Canon 16-35 2.8 and for promos: I have a fully mobile studio with a few Speedlites 600EX-RT. I stopped using artificial light at gigs; I like to capture the original lightning and atmosphere. Post-production is usually minimal, sometimes none, case to case basis really. I use Eizo ColorEdge monitor and an ancient Lenovo laptop.
Who are some of your favorite bands to shoot?
Strife, Judge, Biohazard, Crown of Thornz, Agnostic Front, Turnstile, Nasty… Let me elaborate on this a little bit more... I love to shoot the crowd! And I like to shoot certain bands because of their interaction with the audience, which very often is dependent on the location also. Knuckledust in London, Wisdom In Chains in Pennsylvania, No Turning Back in Belgium, and For the Glory in Portugal!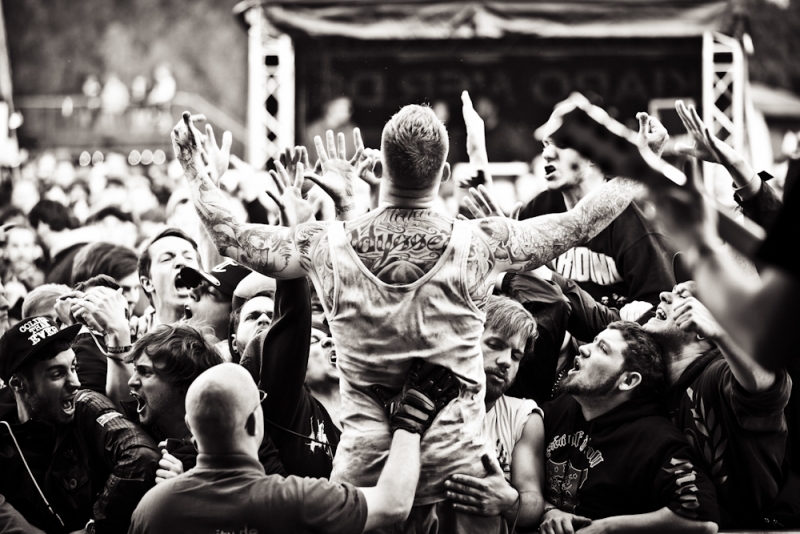 I have my favorite venues: 12Bar was the mecca of London hardcore, and if you'd put KD, Ninebar, Injury time, Strength for a Reason there, you'd get a boiling water in a kettle kind of show—absolutely insane, and that's were all my best memories of shooting music come from. Reverb in Reading was awesome to shoot, same with Webster Hall, Santos, Grand Victory in NYC, and festival-wise, Ieperfest in Belgium is my favorite, without a doubt!
What is your biggest pet peeve/complaint about working with record labels/magazines/bands?
Since I have never had a problem working with magazines, non-hardcore labels, or smaller bands, I will say that when it comes to some hardcore labels and hardcore bands: Ego.
Pretty much every photographer will tell you that their biggest complaint about the music industry is when someone says they want you but have "no budget." Whenever a hardcore band is putting a record out, they have the budget for the studio, mix, mastering, layout, and design, but, somehow, never for the photography. Our time and work gets taken advantage of. Some hardcore bands and labels seem to have an unrealistic expectation that photographers owe them something.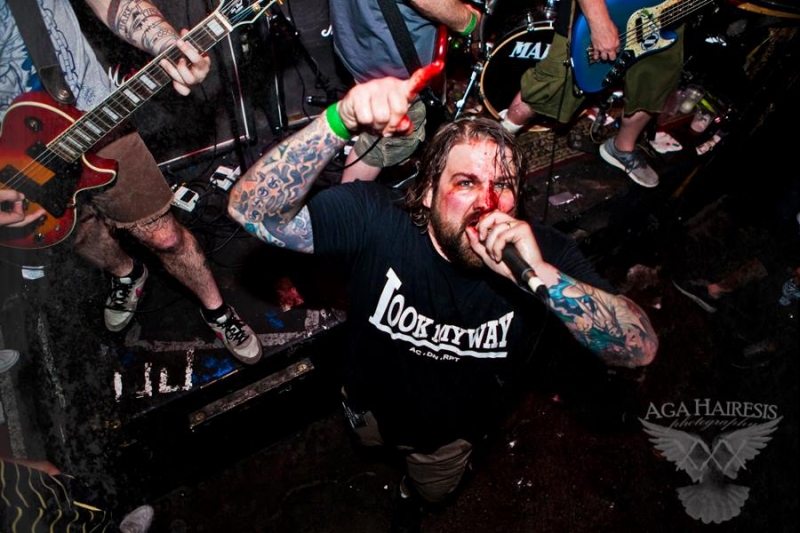 I speak as someone who for over a decade has travelled to the shows at own my own expense, took time off work, sometimes paid for tickets out of my pocket, used equipment (that I'm still paying off) which is worth more than all the gear owned by a band combined, then went back home to spend evenings and nights editing/uploading/backing up and then getting no credit.

I've also had photos ending up on commercial products (merch, posters for sale, albums, etc.) without my knowledge, permission, or again, attribution, and then getting insulted on top of that for voicing disapproval and disappointment. Respecting each other and each other's work is the least we could all do. Support should never be one-sided, we're all in this together.
Luckily there are many wonderful individuals and bands who were an absolute pleasure to work with.
If you could go back in time, who are some bands that you would have loved to shoot?
Again, it's bands + venue + vibe combination. Just put me on a time train to CBGB's and let me document all that insanity, Bad Brains especially! Black Flag as soon as Henry joined. Warzone! Johnny Cash!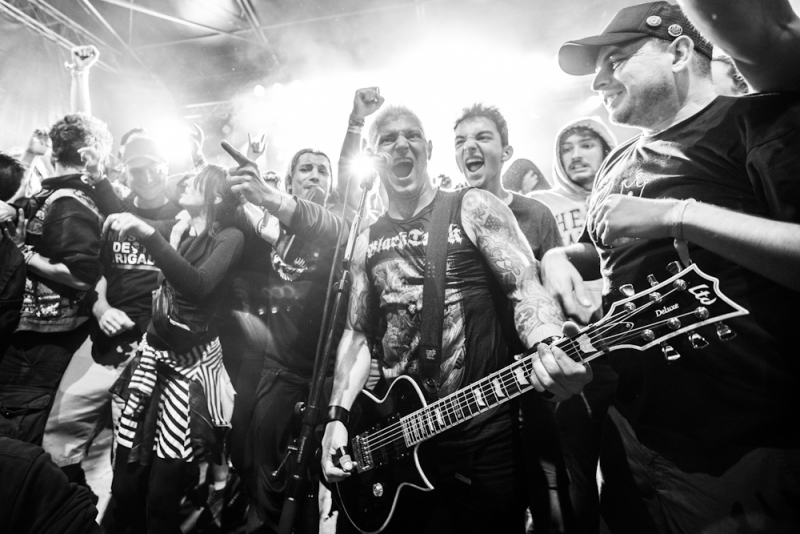 What are the toughest aspects to shooting hardcore/punk shows?
People recording the shows with mobile phones, instead of just enjoying it. Barriers make me not want to take my camera out of the bag. I want to document the dynamics of band and audience interaction. I come from the hardcore punk scene, so I'm pretty well aware of the things that could go wrong in the pit or standing in front of the stage. I use that knowledge wisely and somehow, knock on wood, I managed to make it out in one piece (my equipment not so much, though).
Tell me about some newer European bands that we should all be on the lookout for.
Ironed Out and Life Betrays Us out of London. Not necessarily new, but not very well known outside of Europe: For the Glory!
Who are some modern-day photographers that you admire?
Rachel Wass, Josi Hoffmann, Rich Zoeller, Jammi York, Silvy Maatman—great people, great artists! Check them all out!
If you had to pick one of your photos that best encapsulates why you love shooting hardcore bands, which one would it by and why?
There's are three, for different reasons:
The cover of my calendar, In Her Eyes, which features Roger Miret, photographed at Ieperfest in 2012, looking down, keeping the mic away. That captured moment was of a piercing silence before the storm, right in the middle of total mayhem going on, on the stage. It's a photo full of contrasts.
A portrait of Mike Judge, taken at the Judge reunion show during Black N' Blue Bowl in New York City in 2013. I call it an "alone in a crowd" kind of moment. It is a very simple photo at first, but if you look deep enough, and you're a fan, you'll see what I see. Another reason why this shot is so important is because their reunion motivated me to finally get my visa sorted and go to New York City!
A kid running through the stage at Ieperfest in 2013, ready to stage dive. His energy made me move 15 years back. It's a very special moment that I'll never forget as it first hit me: We are the second generation of hardcore. There's already an army of kids following in our footsteps.
***
See more of Aga's work on her official site, Facebook, and Instagram page.
Tagged: aga hairesis, photographer spotlight