New Jersey hardcore band Encounter's Lost 7 inch (1991) is the type of release that might not be name-dropped as much as some of the other records from that era in the scene, but for the most hard core '90s hardcore enthusiasts, the EP gets a lot of love.
Though they broke up decades ago, guitarist Joel Jordan recently hit me up through Josh Grabelle (Trustkill Records, Bullet Tooth) to let me know that a new/old Encounter was going to be released soon.
Recorded after their Summer tour in 1992 and never released in any capacity til now, the EP's recent pre-order did smashingly well.
I spoke with Joel about the forthcoming 7 inch, Encounter's brief run together, and what he and his former band mates are up to these days.
Tell me a bit about how Encounter came to be.
Encounter was started as a project band initially, not knowing if we would ever really be a band. We had lots of ambition, lots we wanted to say, and our main goal was to create something we enjoyed.
We all were in other bands at the time and Jason (vocals) was always doing something new—he was always encouraging us to create. Encounter was born out of our friendships and desire to make what we couldn't find elsewhere. We just wanted to contribute. Everything we wrote was in collaboration and most of our practices were long jam sessions.
We cycled through a few drummers and tried to lock in a few tunes but couldn't find the right fit. We met Nathan Limbaugh (drums) at City Gardens in Trenton at a matinee—he was selling tapes of his band, which looked totally pro.
He had a little label and fanzine (Truth Effort) and was active in the scene.
Jason had already been writing lyrics and came with an entire book full of thoughts to write about. Not only is he my twin brother, but also a deep thinker and friend. Mike D'Aquilante was the other brother that wasn't related to us but was over at our house almost every day, and on the phone every night.
He played guitar but we asked him to play bass instead. He borrowed a bass from someone and gave it back 3 years later, I think.
We met him at the mall like most kids did those days—when everyone had a keen eye out for a band shirt in the crowd. We all loved hardcore, going to shows, buying records, skating, writing music and making things—it was an exciting time where a month seemed like a year and we could accomplish so much on our own with no rulebook.
Describe the scene in Jersey around the time you guys started playing shows.
The scene was tight knit and very active. It was also groundbreaking and collaborative. Everyone seemed to be just a car ride away and had a zine, or a band, or a halfpipe in their yard.
We were ideal age — 15-19 from '89-'93 so it was pretty amazing to be young and doing so much. We went to basement shows, backyards, skating rink matinees-random garages… anywhere there was a power outlet we could put on a hardcore show.
The real venues were Pizazz in North Philly, City Gardens, Unisound, Middlesex County College, Revival in Philly, lots of Church gigs.
Everyone got along fine between bands and labels and promoters and what not. We all were eager kids basically and made it happen by showing up and supporting. Shows were also never more than $10 so it was pretty affordable to get friends together and go.
The bands around during that time in that area were Turning Point, Lifetime, Release, Vision, Mouthpiece, Backlash, Policy of 3, etc. Every one of them had a unique sound that couldn't really be described as a "Jersey sound."
The scene also included Philly all the way to Scranton and Lancaster. Everyone would mingle at Unisound in Reading, Pennsylvania where our first show was, opening for Hogans Hero's to about 30 people, which then grew and grew each time we played.
John Dudek of Very (hardcore record distribution company and label) was at every show, selling records, it was a fantastic time and I now look back and understand why the 90's are looked back upon in wonder.
We could really do anything. Nothing was out of reach.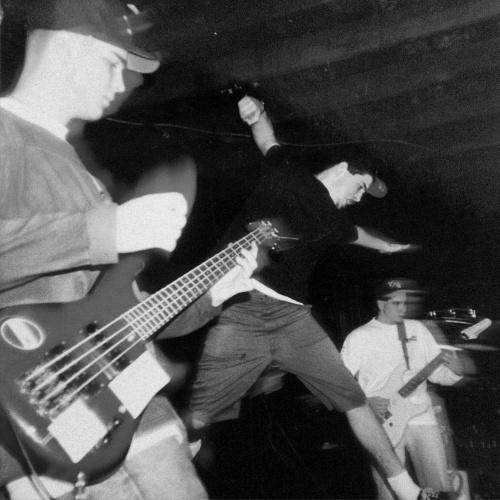 Encounter's first 7 inch, Lost, came out via Redemption Records, which was owned and operated by the late great Ryan Kuper. Tell me about that record and how you guys connected with Ryan.
We recorded our demo near our home in South Jersey and in earnest sent it out to the labels we were impressed with at the time, not really expecting much back. Our fall back plan was to just release it ourselves, on our yet to be named new label which is what would become Watermark (it was originally called Street Level).
We sent out packages and tapes and photos and all that and got a few letters back- all rejections — except for Ryan. Ryan was like the missing piece to our puzzle and came to us with the same kind of humility that we came to him with. We knew that we could work together and have a bigger platform with hie help and heart.
Ryan was in Omaha which is like a world away in 1991 so we got to know him on the phone and from the many visits he made to Philly. He ultimately moved his label, Redemption, to Philly for a spell while Jason was going to college at Villanova.
I think we were his second record, with Intent 7 inch being the first release. We spent time with him in Omaha as well and just got along like brothers and he was like the extra band member. He's the reason we actually put this new record out.
Losing Ryan made us realize that we need to do what we can do creatively while we can still do it. This record is a tribute to Ryan. Life is too short, even though it seems like it's on hyperspeed at times. We miss him.
You guys also did a split 7 inch with Blindfold, the Belgian band. How did that split come to be? I'm assuming you guys played shows together in Europe at some point?
We toured Europe in the Summer of 1991 on our EP, which was only out on cassette at the time, I believe. It was unreal that we were able to put a tour together without any support and made it to Austria, Germany, Belgium, Holland at 17.
Crivits from the Netherlands were the guys that helped us out big time and made it all happen. They were incredible. We had also made friends with the H8000 guys from Rise Above, Spirit of Youth, Nations on Fire, Blindfold, etc. We all really clicked—hardcore is like a universal language.
We spent time with Hans Verbeke and the Belgian crew and stayed with him on tour. He came to our house in New Jersey a few times and it was just a really good relationship. We looked after their records here (Sober Mind/PMA) and he released the Reveal 7 inch as well.
When they had the idea for a split we jumped at it as we loved the band, loved the guys and knew the end result would be killer. I'm still very proud of that record. The packaging was incredible. I have a pair of embroidered Blindfold boxer shorts somewhere. They had great merch.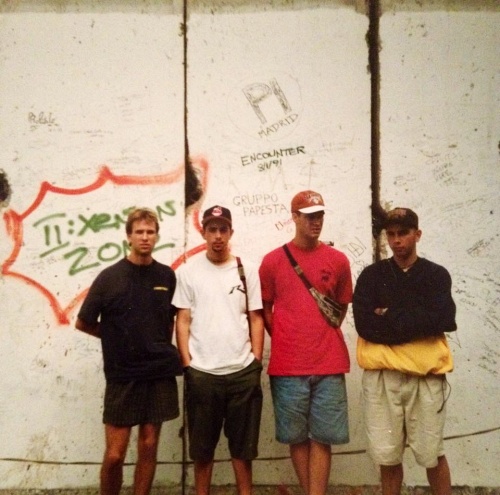 Why did Encounter break up when it did?
We went on a really fun and weird tour in the summer of 1992 following Clutch and 4 Walls Falling as far out at as St. Louis and should have gone further but ended up playing our last show at the Bastille on Bastille Day July 14th 1992 with Endpoint. The next day Nathan flew back to Morgantown, West Virginia where he was attending to deal with a personal crisis.
Mike stayed home from this tour (Jay Demko from Lincoln played) so we were already down by 2 members. We ended up driving home without our drummer and knew it was going to be hard to keep this going with both Jason and I leaving for different Universities in September.
Life was getting hectic for all of us in different ways so it was hard to focus on one common ambition when we were all going in different directions. We had already formed Reveal and other projects as outlets to play shows and have something to do so Encounter just fizzled out.
That brings us to this new release. What's the story behind the record, and why was it in the vault for so long?
We pulled Nathan back up to Philly from Morgantown and had Jay Demko from Lincoln on bass. We rushed into a good friend's studio and basically pressed record. We didn't spend a lot of time on this record—maybe a day for 3 songs and I don't think we even properly mixed it.
But it is accurate of the way our sound was developing into a heavier, even more discordant type of melodic music akin to where Threadbare ultimately went with the sound.
We basically never put the record out because as things go—we just lost interest and moved onto the next thing. After 20 years of this being on a cassette, scattered around on the internet at various sharing sites and so on we decided it was time to dust it off, get it mastered properly for vinyl and get it pressed up. That was 5 years ago.
I've had some finishing issues on the artwork and reapproached the record half a dozen times before actually deciding on what we ended up with. Design has always been a major piece of what we do and this is actually the first record we've put out since 2003 on Watermark, so it was a bit of a challenge.
We never intended to wait, but as life got busy, it just sat there.
It took a lot to bring together and its actually more difficult to do these days that when we were kids. It was just something we felt we needed to document and finish, for our sakes, for Ryan Kuper, for all the kids we grew up with.
It's a snapshot of an era that we can't forget or move too far away from. Now that we've broken through perhaps Watermark can release more music more easily from new bands.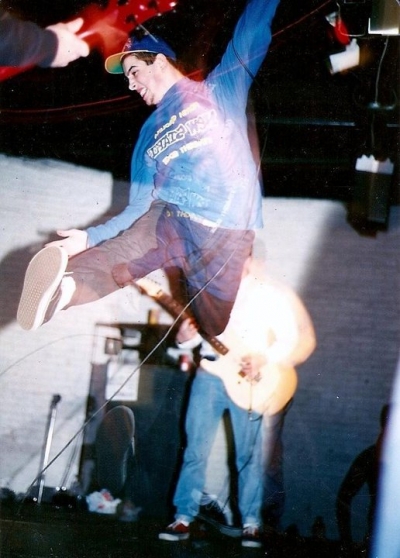 What are you up to these days, and do you keep up with the other guys in Encounter?
The label taught me how to be a graphic designer basically and that is what I did as a career until 2010 when I founded a software company for managing large music catalogs and licensing processes for Film and TV. It's called Synchtank and we count Disney, Sony, VICE, Warner Music Group, CD Baby, BT Sport, and many others as customers. We are doing well.
Jason pursued a career in A&R after all the major labels came knocking after Watermark bands, and successfully worked at Columbia, Hollywood Records, Universal/Republic, and Imagem Music Publishing (as President) before re-launching our own label and publishing company, Earthprogram.
He works with artists and labels of all kinds to distribute and publish their music on their own terms. We are still proponents of doing it yourself when you can 100%.
Mike is a preacher and works at the NJ Community Foodbank in a leadership role. We speak almost daily.
Nathan is somewhere in North Carolina doing art and poetry and working on various music projects. We intend to play a handful of shows, so if you're out there reading this and interested, please write us at encounternj@gmail.com.
We would love to get back to Europe and play there too if we can line up at least 5-10 shows.
We'll be releasing new merch for both Watermark and Encounter. I have no idea how we ever pulled it all off without computers.
***
The previously unreleased Encounter 7 inch will be out soon via Watermark Records.
Encounter on social media: Facebook | Instagram
***
No Echo has launched a Patreon with 3 tiers offering all kinds of hardcore-related goodies to help support the site:
***
Tagged: encounter