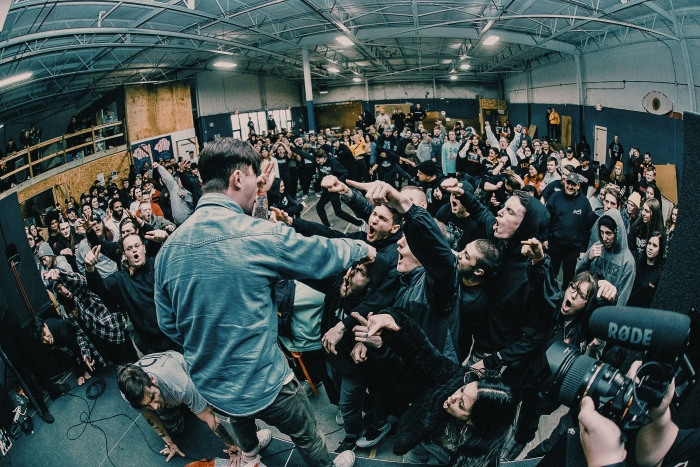 Ever since dropping their debut demo back in the spring of 2015, Stepping Stone have been putting in work. Based out of Regina, Saskatchewan, the metallic hardcore quintet have released two official EPs—Test of Character (2015) and Unreal Form (2018)—toured throughout North America, and performed at such events as Flyover Fest, LDB Fest, and Snow & Flurry Fest.
Stepping Stone's hustle is paying off as they're the latest band to join the Safe Inside Records artist roster. "We're ecstatic to be working with Safe Inside," the Stepping Stone dudes told No Echo via email about the new union. "They've had nothing but bad ass releases, and we hope to continue that with them. We're especially stoked to be on a label with our good friends Low End. Those bands rock." In addition to those aforementioned groups, Safe Inside has also released records by Dying for It, Rejection Pact, and Slugfest.
In this exclusive, check out the premiere of "Soul Division," a new track Stepping Stone is unleashing in honor of their new label deal:
"I wrote this song after having a talk with a friend about how much we all compare our selves to others in life," Stepping Stone vocalist Luke said to No Echo. "We broke it down into two ways that seem the most common. The first one is how people will always compare themselves to other people and situations that make them look better. Always needing someone else's failures or hardship to make themselves feel okay. The second is constantly looking up to people that you think got it all figured out. Wishing you could be more like them because in your mind they seem happier and better off. I understand you have things in life that you don't want to be and things in life that you do want to be, but it can be very unhealthy to walk around always stacking yourself up against others. The song really is about creating experiences and happiness solely based on yourself and what you need."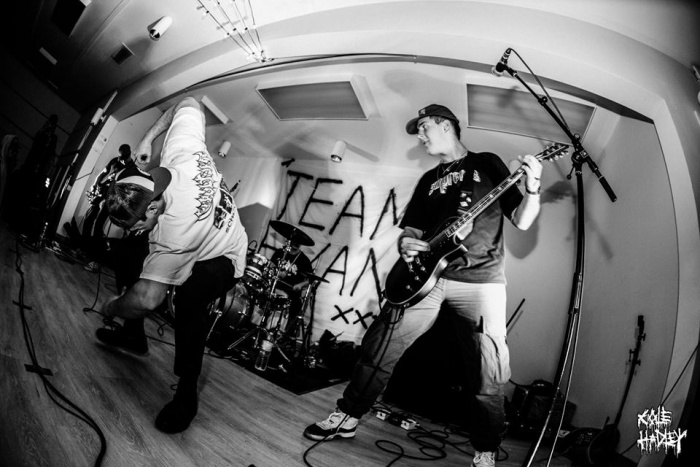 Luke offered up his thoughts on the hardcore scene in their region: "Regina is a small city, that no one has heard of. We lump our local scene into half of the country. Western Canada is pretty much one united scene and it's great. Western and Eastern Canada have become a lot more united lately, as well. Canada is truly on another level right now. There's so many good bands to check out — start with Mortality Rate, Trench, Gazm, and Prowl. They'll definitely lead you to a number of other cool bands."
In addition to dropping "Soul Division" and announcing their Safe Inside Records deal, today marks the kick off of Stepping Stone's spring tour with their new label mates, Low End. California straight edge crew DARE will be joining the trek on certain dates. Check out the routing below: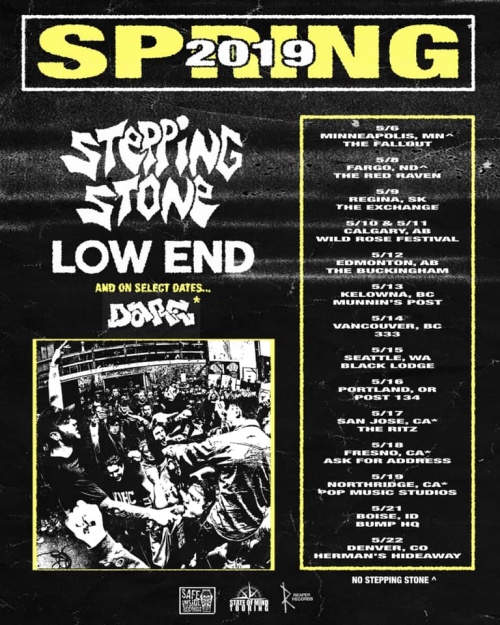 Stay tuned to the Stepping Stone social media pages (Facebook, Twitter, Instagram) for more info on the band's upcoming shows and release plans. Safe Inside Records releases can be found at the Deathwish Inc store.
Tagged: stepping stone