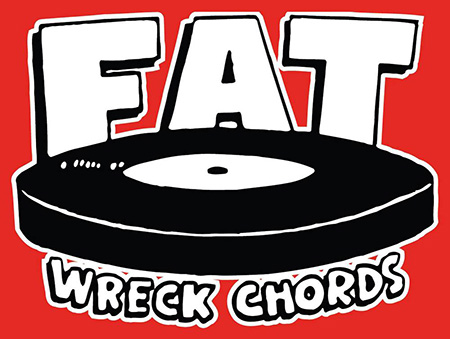 Co-founded by NOFX bassist/singer Fat Mike at the dawn of the '90s, Fat Wreck Chords is one of the most successful independent punk record labels in history.
Descendents, Screeching Weasel, Rise Against, and Sick of it All are just a few of the influential acts that have called Fat Wreck home at one point in their careers. During and after the pop-punk commercial peak of the mid-'90s (post-Dookie and Smash), the San Francisco-based label undoubtedly saw a huge uptick in its sales numbers, but it always stayed true to its D.I.Y. roots. With the influx of money coming in, Fat Mike put it back into the company, growing the label's roster, and giving out more tour support to its bands.
Oh, yeah, Fat Wreck is so beloved that it even inspired someone to create FatWreckWiki.com, an exhaustive treasure trove of information about the label and its releases.
Recent records by Masked Intruder and The Copyrights are proof that the label is still putting out some of the best punk records you'll hear anywhere. In honor of its legacy, I've put together a list of the Top 5 All-Time Fat Wreck Chords Albums.
**By the way, I put the albums in older to newer order.
Propagandhi, How to Clean Everything (1993)
Featuring future Weakerthans singer/guitarist John K. Samson on bass and vocals, How to Clean Everything is Propagandhi's first and most beloved album. The first track, "Anti-Manifesto," contains the line "we stand for something more than a faded sticker on a skateboard," setting the tone for the rest of the thought-provoking lyrics on the album. The award for "Most Punk Song" on the record goes to "Haillie Sellasse, Up Your Ass." Any song with the lyrics "fuck Zionism / fuck militarism / fuck Americanism" has to win that honor.
No Use for a Name, ¡Leche Con Carne! (1995)
Mixing material that carried the speedier side of Bad Religion's sound with mid-tempo, mixtape-ready tracks, ¡Leche Con Carne! didn't leavw my CD player in early 1995. Written by vocalist/guitarist Tony Sly, the album included early Warped Tour anthems like "Soulmate" and "Justified Black Eye." Sadly, Sly passed away from undisclosed causes in 2012 at the age of 41.
Strung Out, Twisted by Design (1998)
One of the more consistent bands on the modern punk circuit, Strung Out were one of Fat Wreck's better selling groups during the late '90s, early '00s. You would be hard-pressed to find better guitar and drum work in a band of their ilk. The sound of Strung Out is the result of getting four musicians raised on a steady diet of thrash metal, and a punk vocalist, in a jam room together. In a discography filled with one shred-tastic punk gem after the other, Twisted by Design remains Strung Out's finest hour.
Lagwagon, Let's Talk About Feelings (1998)
Lagwagon's songwriting style has always had a quirkiness about it, but their songs never stray too far from the hooky melodies they're so adept at crafting. There's no better example of this than their Let's Talk About Feelings album. The lounge jazz break during the first track, "After You My Friend," is just one taste of the unpredictable turns Lagwagon take with their arrangements. Lesser bands couldn't pull that kind of stuff off.
The Lawrence Arms, Apathy and Exhaustion (2002)
Apathy and Exhaustion was Chicago punk trio The Lawrence Arms' debut for Fat Mike and company. Although it doesn't contain their best song to date (that would be "1000 Resolutions"), the album showcases both the snotty punk ("Porno and Snuff Films") and the almost new wave-ish, slower-paced side of their sound.