The Royal Hounds NYC finally drop the album that we have been wanting! After a two song digital release in April in 2018 and killer East Coast shows that left indelible impressions, the band drops seven tracks of gritty rock and roll. The Royal Hounds NYC grasp the art of blending punchy Oi!/punk with elements of pub-rock/glam. Gritty vocals keep the music embedded in the street.
God Bless… for being low-fi and tough, employs catchy approaches to rhythms and guitar lines. The sturdy backbeat of drums pounds and pushes the songs. "Heading Out" kicks off the record with a rough and tumble declaration of regret. A somber reflection over forward pushing chords sets the perfect tone. "Baby, I Hope They Remember Me" calls back to early Oi! of England and incites toe tappen and pints hoisted. The bass work is mixed well and stands out as the main element of the song along the wild guitars. "I Live for This", embodies a Niblick Henbane rhythm and vocal approach. No carbon copy, but, really, if you remember that classic NJOI band, it's hard not to hear.
"Just a Dog Thing" gets the speed up nice. "I Just Live This Way" elevates that approach though. The Royal Hounds NYC move far past any influences and establish their own sound. "Love Lost Night" is a charged, raucous track. And "Wine Drunk Lover" races with the same chaotic ferocity. The constant guitars squealing and writhing through each song instigate an energy which compliments the infectious bounce.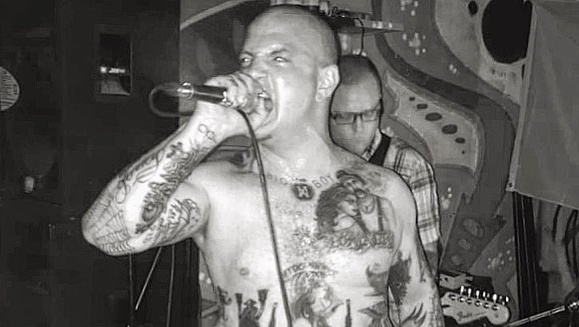 The Royal Hounds NYC have provided a gem of surprising fresh feel. Fierce, the music here grabs a few aspects of former bands but these musicians, members of Gestalts, The Brass, and Criminal, brew a frothy roiling sound that has been missing.
330 Black Vinyl- Americas (OTB)
220 White Vinyl- Europe (Contra)
RIYL: The Templars, Niblick Henbane, Blitz, Cockney Rejects, (earliest) Sham 69, Hammer & The Nails, Klaxon
Get It
Tagged: royal hounds