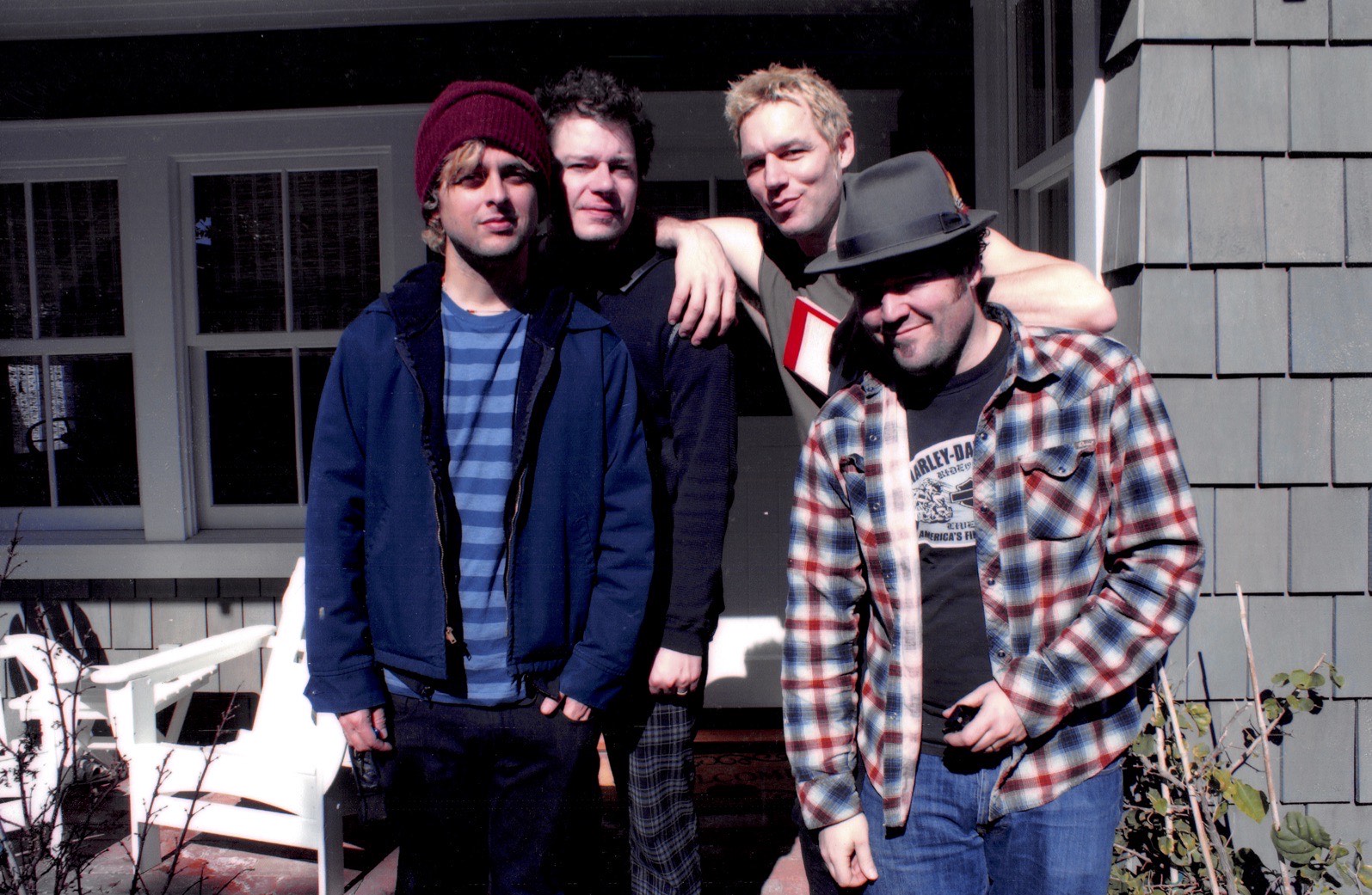 Pinhead Gunpowder's reappraisal and the accompanying reissue cycle courtesy of the fine folks at Oakland's long-running 1-2-3-4 Go! Records is the heart balm we all needed in 2020. Having long warranted an audience re-up, their sterling and celebrated discography breathes anew and will hopefully find the ears of an entirely fresh set of folks.
A recent piece I did here on this very website also happened to document my love for all things Adeline Records, most notably The Influents. Lastly, attempting to sum up the importance of Green Day to this punk's story is, in essence, a fool's errand. They were and will forever be my first love, both the gateway and the destination,

At the center of this flawless Venn diagram is Jason White. Be it as an integral part of Little Rock's nascent punk scene as a member of that scene's lynchpin, Chino Horde, or for his work in Pinhead Gunpowder, his influence is a marked and enduring thing. Having been the first and longest tenured employee of the aforementioned Adeline Records, his essential work with The Influents has, at long last, hit streaming services.
Should you somehow still be unaware, Jason's also been an integral part of Green Day's touring and recording band for over 2 decades.
On the eve of rehearsals for Green Day's stadium-hopping 'Hello Mega Tour,' Jason was kind enough to give No Echo his time. In light of the chance to chat with a legend, 41-year-old me is still pinching myself. 14-year-old me may have never recovered from the excitement. Stoked isn't even the word. Let's get it!

1-2-3-4 Go! Records has absolutely crushed these reissues. From the unique five phase rollout to the artful handling of the project, it's been quite effective at drumming up a newfound excitement for the releases. I picked up the first installment and the record sounds absolutely amazing. It's also guaranteed a bunch of us will be eyeing our mailboxes until March of next year!
How'd the whole project come together?
Thanks! I think everything is coming out great as well. So, the project came together because all of the Pinhead records over time had been slowly becoming unavailable and out of print in the last 5-10 years and it was time to find a new home for everything. We all knew Steve from the record store in Oakland and had worked on various projects with him in the past. So really it was a no-brainer.

This particular group of musicians has so much shared musical history and crossover together, be it Monsula, Green Day, The Influents, etc. It really shines through across the band's entire discography. Could you tell us a bit about that chemistry and its beginnings?

Yeah, we have all been playing together in some form or another for 30 or so years, and still going. Aaron, Billie, Bill, and Sarah started playing together after a tide change of sorts in the East Bay. Aaron was no longer playing in Crimpshrine, he started occasionally playing with Bill and Sarah who were switching gears in different incarnations of their own bands and Billie, I think, was down to play with some different friends for fun. He and Aaron had toured together with Green Day.
They ended up recording a bunch of the stuff they'd written together which became those first few records... Trundle & Spring, Fahizah, and some stuff ended up on various compilations. That was all later released as Jump Salty.

The chemistry? It's just there, I guess. I can't really define it so much. It really just boils down to... same scene, same time, a mutual understanding of sorts, an energy we create together as a result of all that. You play long enough with the same people and that telepathy develops. The unspoken language. Anyone can attest to that, right? Yet, there's still long discussions about the most minute detail at times as well. Ah, the joys of a collective.
It's incredibly rare to be in not just one but two long running and seminal bands. If I did my homework, you joined Pinhead Gunpowder in late '93 or early '94, yeah? Could you tell us how that came to be? If you're okay discussing it, also let people know a bit about the enduring legacy and talent of Sarah Kirsch.

Yeah, I started playing with Pinhead in late '93, I believe. It's kind of a funny story. Sarah Kirsch had decided not to carry on playing with Pinhead some time before that. But, Kirsch and I were playing in a band together called Sixteen Bullets at the time. I was the bass player. Aaron, Billie, and Bill wanted to carry on doing Pinhead and asked me if I'd be interested, which of course I was.
I had been roommates with Aaron for a minute, I'd met Billie on previous Green Day tours, and Bill and I had played and toured together in a later incarnation of Monsula. And, I think what unknowingly had worked in my favor getting on their radar was my old band back in Arkansas had recorded a cover of Crimpshrine's "Easy Answers" with me singing. I'd given them a copy on cassette to Aaron and Billie when we opened for Green Day in Memphis on their first tour.
Anyways, when I went over to Billie's to kinda "try out" for Pinhead, everything went great, and they asked me to do it. And Sarah Kirsch and I continued doing Sixteen Bullets at the same time I was playing with Pinhead Gunpowder. Sarah even came onstage to sing "Hey You" with us when I played with Pinhead Gunpowder for the first time at Gilman.
Sarah Kirsch touched many, many, many lives. I was lucky enough to know her and make music with her briefly. Her enduring legacy is the music, the creativity, the friendships and kinships and the caring nature that never ever wavered.
Sarah was someone who wanted to make the world a better place while she was here. Leave it better than she found it. Simple as that. And there are tons of people out there who'd tell you the same thing.
Something that's always intrigued me about Pinhead Gunpowder is the myriad and incredibly varied covers you did together. From Joni Mitchell and Diana Ross to Phil Ochs and The Replacements, your influences certainly run the gamut. Talk a bit about the incredibly diverse DNA in the band.
"That's why there's 31 flavors of ice cream, everybody likes something different" my dad used to say. Yeah, some songs were brought in thinking we could do our thing to it and make it a cool cover. Some songs we were just fans of, like "Achin' to Be," where we didn't change it that much, maybe sped it up a bit. I do think covers are one of our strong suits in this band.
The Cheap Trick sample on Jump Salty's "Losers of the Year" always stood out to me. I absolutely love that band. Am I to guess you're all big fans?

Huge. I'd call it one of those common denominator bands for us. Everyone in the band holds Cheap Trick very dear.

Your influence and unique musical stamp can very clearly be heard once you joined Pinhead. Can you take us back to your beginnings in Little Rock? Mind sharing with folks about the lesser-known but totally essential Chino Horde?

Yes, I was born and raised in North Little Rock, AR. We had a pretty special scene there in the late '80s and early '90s, in my opinion. Bands like Econochrist and Trusty came out of Little Rock. Fluke Fanzine was born in Little Rock. And many, many lesser known bands, fanzines and amazing people came up through there as well.
Honestly, I still keep in touch with most of the people from those days in that scene, living and those that've passed on. We share a very strong common bond from that place and time. It was a great scene to come up in for sure. I'm very thankful for all those folks. It's very much the reason I survived high school and beyond.

I'm shocked you've heard of Chino Horde, honestly! I still keep in touch with all those guys as well. We had something, I think. If nothing else, the cool exercise with that band from the beginning was kind of... forget what you'd learned up til then about what a band is, or what you think being in a band is supposed to be about. Let's make a mess. Tear it all down to the basics and build it up and start from there.
There was a great freedom in that to do whatever you felt like even if you were making mistakes, or whatever. It was unique in that approach for me.
A special and somewhat rare thing about Pinhead Gunpowder is that there's no consensus for "the" album in your discography. Everyone I talk to has a different ranking. Personally, I'm big on Shoot the Moon and Compulsive Disclosure. Are there any particular songs that hold a special place for you?

I can't really choose a particular song necessarily. Some I like more than others... But, right now Compulsive Disclosure is kinda my jam. I think because it never really came out as a cohesive record, like it's put together now. So that's cool to see.
Coincidentally, I just did a piece on Adeline Records and finally got the chance to wax excitedly about The Influents. Check, Please is an all-timer for me and I'm beyond stoked that it's now widely available. Firstly, where in the world did you find the time for it, ha? Does that project hold a particularly special place?

Yeah, the Influents was born out of Bill and I wanting to do something else after we wrapped up Shoot the Moon and I was living back in the East Bay. His brother Greg Schneider had songs and we wanted to do a Lennon/McCartney thing so we got our other friend Willie Samuels to play drums. Willie had also second engineered Goodbye Ellston Avenue trailing Kevin Army and learning the ropes. Willie's a fabulous engineer to this day, by the way. So as you can see, incestuous scene once again.

We were around for a few years in the early 2000s. We only made 2 full-length records, but we actually played a ton of shows and toured quite a bit. I was working at Adeline at the time, so I could leave work for tour which was nice at the time. But, we had a pretty amazing work ethic. We never said no to a show. If you offered us a show or asked us to play, 99% of the time we were up for it.
I'm proud of the records we made. Some of my performances are a little cringe-inducing for me, but that's what looking back does for you. I am very stoked that it's finally available online. There's talk of repressing both of those records as well.
I want to say I first saw you with Green Day on a Warning-era tour date. How wild is it that it's been 20 years? Cheers on, at long last, gearing up for the 'Hella Mega Tour.' The Father of All Motherfuckers album cycle was, I'd imagine, not as you'd planned. How surreal has this been and how stoked are you? I can't imagine what preparing for a tour like this is like? What's a peek into that world look like?

Pure chaos. No, I'm kidding. Right now I'm getting ready to go to our final rehearsal and run through before the first show in Dallas. It's been as surreal as everything else we've all been through collectively. 2020 was not the year any of us expected. I'm still wearing a mask. Yeah, 20 years of doing this and you think you've seen it all? Nope. There's always unexpected turns around the bend.

This is pulling teeth (no pun intended), I'd imagine, but what are a handful of the most memorable and favorite shows you've played across your career?

Impossible. But a handful off the top of my head:
Chino Horde in Jon Hiltz's basement in Westfield, NJ, 1993
The Numbskulz at Homecoming dance. Lakewood Junior High, North Little Rock, AR, 1988
Green Day at Oakland Coliseum in Oakland, CA, 2016
The Influents at The Roxy in Hollywood, CA, 2002ish?
Pinhead Gunpowder at a house show in Seattle, WA, 1994
California with Kembra Pfahler at art space in San Francisco, CA, 2015
Mind throwing together a playlist of your favorite tunes?

Here's my Top 5 Bobs:

Bob Marley
Bob Dylan
Bobby Hutton
Bob Stinson
Bobby Portis

Can you either confirm or deny your involvement with The Network?

Genius.
***
Head to 1-2-3-4 Go! Records online store to check out their Pinhead Gunpowder vinyl reissues.
***
Help Support What No Echo Does via Patreon:
***
Tagged: green day, pinhead gunpowder