Kara Donnelly is a New Jersey-based photographer who shares my love for hardcore music. Growing up in the Northeast, she was fortunate enough to live in a region that not only had its own strong music scene, but also enough venues with touring bands constantly coming through. I recently became aware of Kara's work and was an instant fan. She's another reminder why I launched the Photographer Spotlight series.
Where were you born and raised, and were your parents into the arts?
I was born in Red Bank, NJ and grew up on the Jersey Shore about an hour from NYC. My dad is a theatrical teamster, and has worked in the production industry for most of my life. Spending time on movie sets in the city as a kid definitely sparked my interest in film and photography.
What came first, your love for music, or your love for photography?
My love for photography and music formed around the same time. I would spend my weekends at local shows with my friends. We'd buy disposable cameras, take photos all weekend and develop them at the one hour photo in town. My purpose was always just to keep a tangible record of our lives together, which I continue to do now.
What was your first musical love?
My parents exposed me to a lot of great music growing up like Johnny Cash, Al Green and Motown. My first concert at 5-years-old was the Beach Boys. I still remember it and love them to this day. The first music I got into on my own was early 2000s punk rock. Around 12 I started listening to bands like Rancid and Saves the Day via traded mix CDs. My friends and I would walk a few blocks to the Knights of Columbus every weekend to see local hardcore and punk bands. Terror was one of the first hardcore bands I loved, along with staple NJHC bands of the time, like Shattered Realm and ETown. I made a lot of older friends through music that put me onto bands like Indecision, Reach the Sky, and Carcass.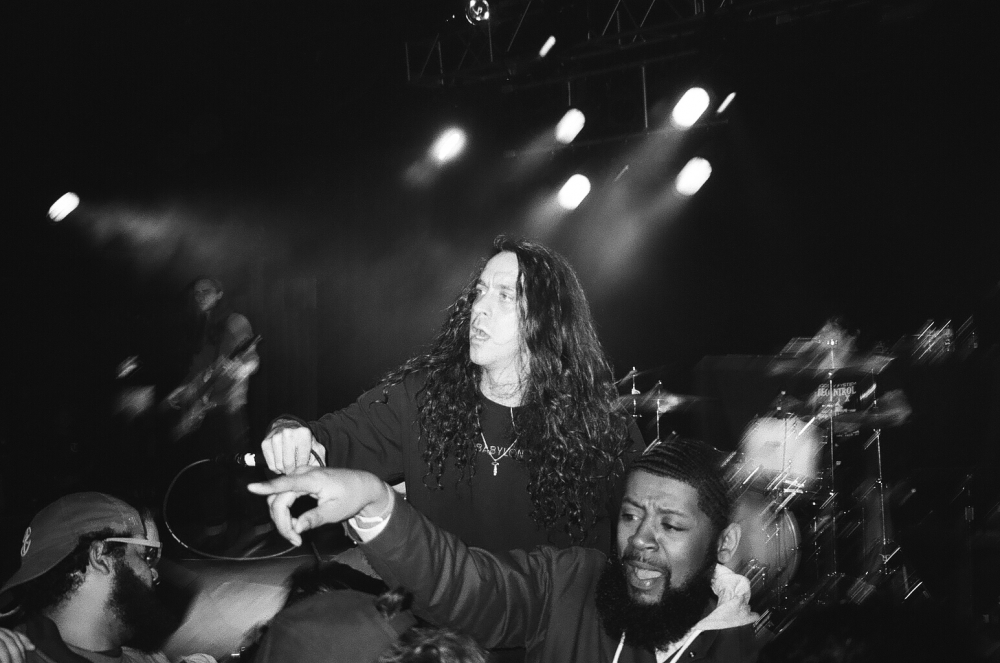 Who were some of the photographers you looked up to during your formative years?
I always deeply admired Janette Beckman. In particular, her '80s punk and hip-hop work. Her ability to immerse herself in a community and document it so effortlessly is exactly what draws me to photography.
What is your camera and post set up?
I have a ton of cameras but most of my show photos are taken with an Olympus Stylus. Its compact and gives me freedom to focus on the band, and be in the moment. I typically use Kodak Tri-X 400 black and white film, and don't edit them at all. When I shoot digital, I use a Canon 5D or Ricoh GR2 and edit them in Lightroom.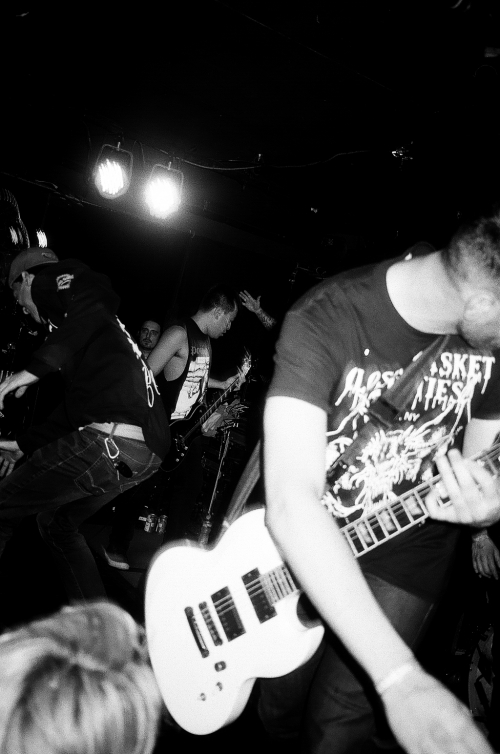 In terms of your non-musical photo work, what kind of stuff do you do?
My non-musical work consists of street photography and the occasional portrait, usually on film. I spend a lot of time down the shore and in the city. I travel as much as possible throughout the year and enjoy documenting everywhere I go. I'm putting out a zine later this month featuring my favorite photos from 2017.
Who are some of your favorite bands to shoot?
Turnstile always puts on a killer show. The energy is always incredible and people go crazy the whole set, which is fun to capture. They exude this force of positivity that is undeniable. A few years ago the Interrupters sold out Brighton Bar in NJ. That was probably the best time I had photographing a band. Their frontwoman, Aimee, is one of the most captivating performers I've ever seen.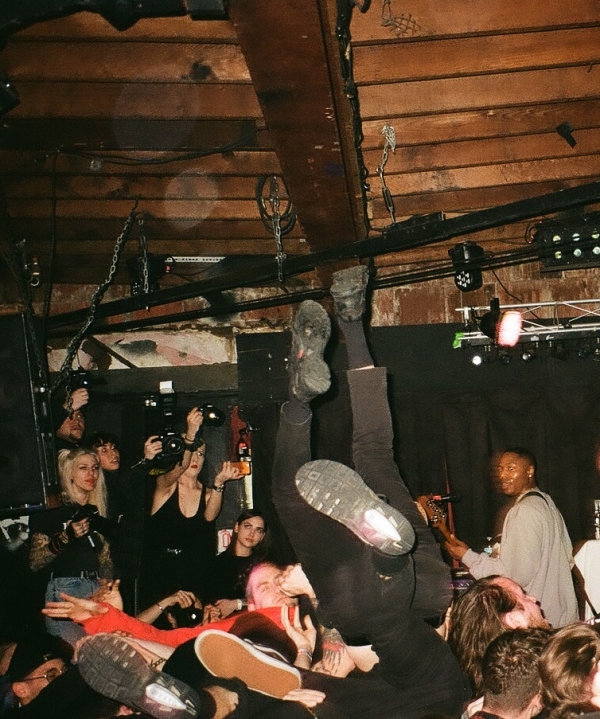 If you could go back in time, who are some bands that you would have loved to shoot?
Cave In, Isis, Fugazi, The Clash.
What are the toughest aspects to shooting live shows?
I like being in the crowd when I'm shooting. The toughest part is keeping an eye out, so I don't get a surprise kick to the face.
Tell me about some newer bands that we should all be on the lookout for.
The hardcore scene in NJ died for awhile. A bunch of good venues shut down, and I didn't go to shows or care about new bands. A few years ago I went to see Terror, and they dropped at the last minute. Incendiary headlined in their place and I couldn't believe how good they were. I credit them with getting me back into hardcore after not going to shows for years. They're definitely one of my favorite bands right now. I saw Candy at a shore show over the holidays. They put out a 7" around then thats been in my rotation since. Vein is another band I saw recently that blew me away. I'm excited to see what they do. I also like that split Iron Reagan and Gatecreeper put out this week.
Who are some modern-day photographers that you admire?
I'm a big fan of Petra Collins. Her book is a dreamy escape from the world of overly-processed commercial photography. It gives you a sense of nostalgia without branding it or trying too hard. I'm also a huge fan of Danny Clinch, who has been capturing musicians for decades with an unwavering, impeccable quality. His work is iconic and he still shoots a lot of film, which I love.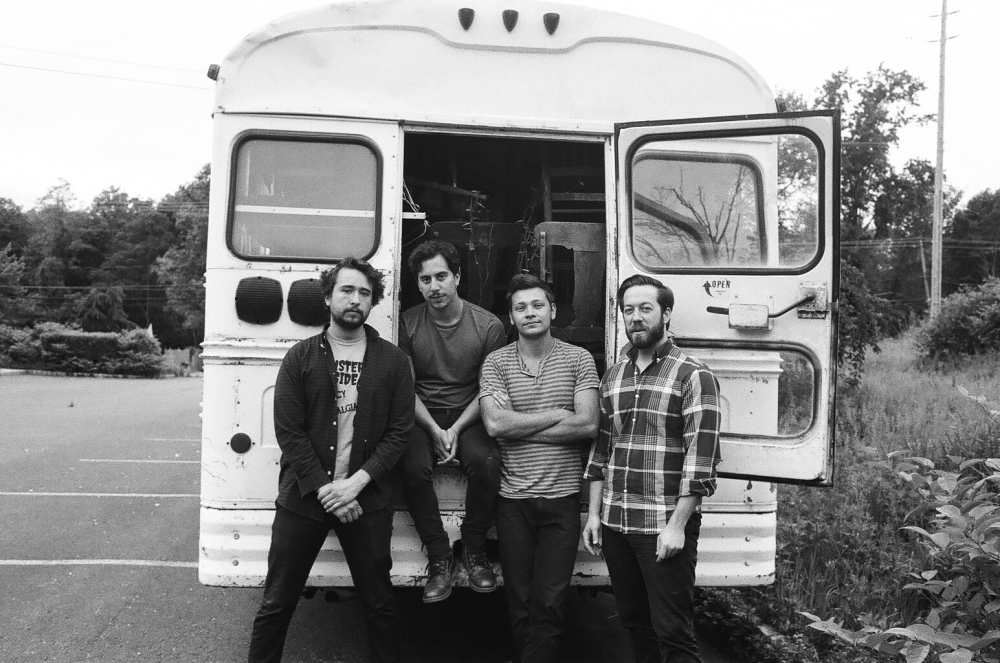 If you had to pick one of your photos that best encapsulates why you love shooting bands/artists, which one would it by and why?
Modern Life Is War, Saint Vitus (Brooklyn) September 2016. You can see how engaged the crowd is, and that level of enthusiasm was sustained throughout their set that night. Great show and my favorite venue.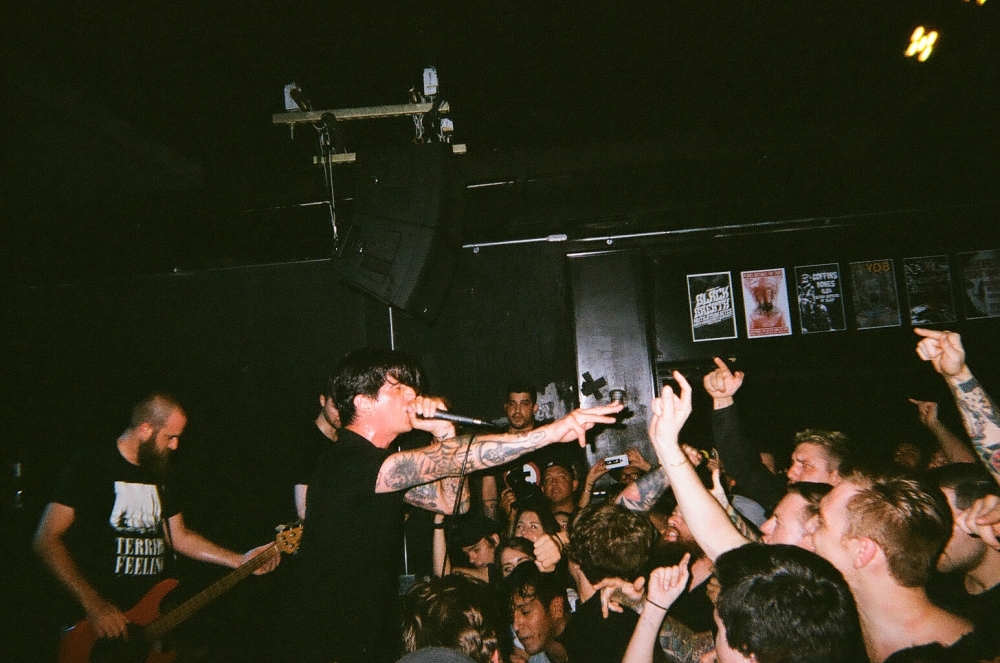 ***
See more of Kara's work on her website, and she's also on Instagram.
Tagged: photographer spotlight