"The name The Dividing Line' is referring to straight edge itself. I see it as what separates us from the rest of the world," proudly states vocalist Casey Homa after I ask him the meaning behind his band's name. The Dividing Line started back in late 2016 after Casey and bassist Matt Green began writing songs together that reflected their shared love for classic hardcore. "We thought for a while about who should play guitar, so we eventually hit up Ian [Strang] and he was all about it. After that, I went to Dylan Tasch at Midley Grange Recording and recorded the demo on my own, handling on all instruments, vocals, and gang vocals. Once we had that up, it took us a while to find a drummer but once we met Mark [Antonio] and started hanging out, I could tell that this was going to be a lot of fun," says the singer.
"We're into writing fast and angry hardcore punk and I'd say this record is somewhere between SSD and No Tolerance in terms of sound."
Signed to New Age Records (Restraining Order, Cutting Through), The Dividing Line recently recorded their debut EP, Turn My Back on the World, at Landmine Studios in Ewing, NJ with Len Carmichael, who also mixed and mastered the sessions. "When we were talking about recording this, I think our guitarist Ian said it perfectly: 'I want this to sound like everything is in the red. It's fast and I was really angry when I wrote these songs. I can't wait for everyone to check it out." Turn My Back on the World won't be out till later this summer, but I just got my filthy hands on "Here I Stand," a track from the record.
"'Here I Stand' is about staying straight edge in a world that tries to shove drugs and alcohol down your throat. It's also about the numerous people I grew up with that claimed edge and are now drinking and doing hard drugs regularly. I'm just glad I didn't end up like them."
On the New Age Records website, The Dividing Line is jokingly referred to as "Jersadelphiaware straight edge" since the band's members are spread out between New Jersey, Philadephia, and Delaware. I ask Casey if he has any hot tips on some newer hardcore stuff coming out of those regions. "There's a bunch of new straightforward hardcore bands coming out like Please Die, Pain Strikes, and Fixation, and I think that's cool. There were two shows recently that I loved, which were Free/Kind Crew/Search for Purpose/Vantage Point/Anxious/One Step Closer/Drug Bust, and Result of Choice/The New Harmony/Restraining Order/The Fight, both at the Fire.
"There's a lot of heavier/metalcore bands here and that tends to draw very well. It would be great to see more fast straight edge bands start to pop up in the area since there's significantly less of those."
To help celebrate their alliance with New Age Records, The Dividing Line will be part of the label's 30-year anniversary festival this coming August in Orange County, CA. "Trial, Mouthpiece, A Chorus of Disapproval, Restraining Order, Cutting Through, NotSpoken, Decline, Drug Control. These are my favorite bands playing throughout the whole weekend."
Oustide of the EP release and New Age Records gathering, The Dividing Line will continue to book shows and work on new material. "We are playing on July 31 with Search, Remission from Chile, and Sunstroke in New Brunswick, NJ. In addition to the New Age Records 30 Year Anniversary Fest, we'll also be playing the aftershow while we're out there with Count Catastrophic, Bystander, The John Candy. and Redbait. We're all stoked to fly out there and it's an honor that they've even asked us to play. We're writing new stuff now and I can't wait until this record drops!"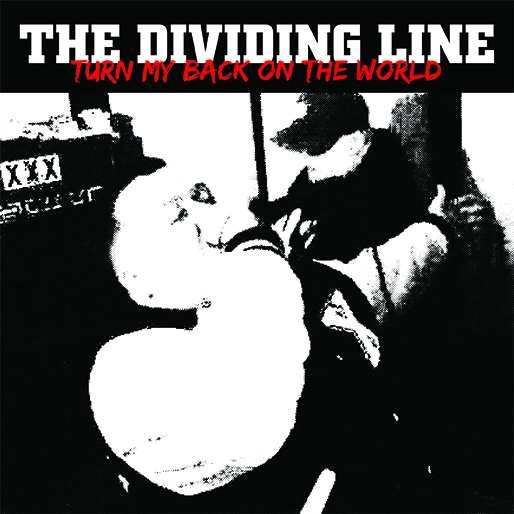 Turn My Back on the World will be out later this summer. The Dividing Line can be found on both Bandcamp and Instagram.
Tagged: the dividing line