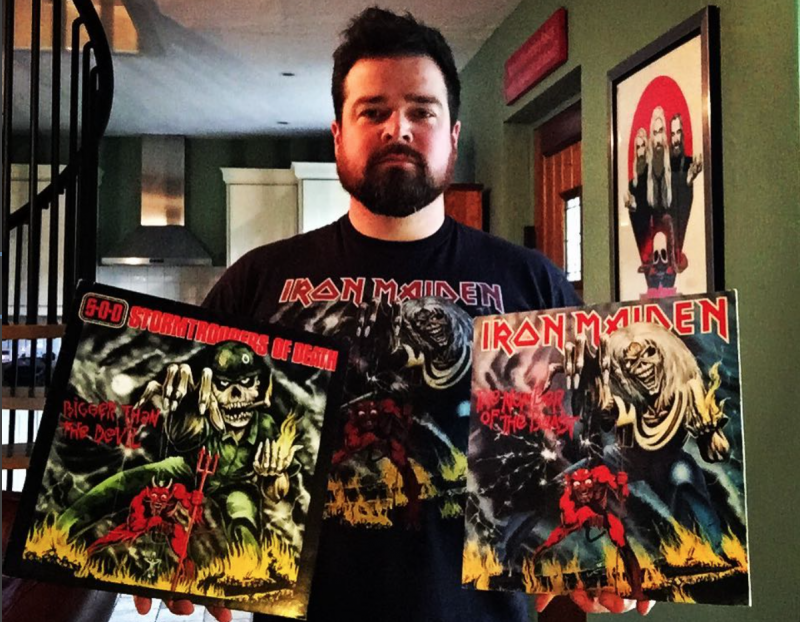 Chris Marston is a 33-year-old music fan from Northern Ireland. Though he tells me he's open to all kinds of stuff, he admittedly leans on the hard rock, punk, and metal side of things. Chris is also a devoted vinyl hunter, and that's what makes him a perfect addition to the Record Collector family.
How long have you been collecting records?
I sort of started around 12 years ago but stopped at that stage I wasn't serious about, I just dabbled with the idea. Then about seven years ago, that's when I really got into vinyl. I always listened to music on various formats but I bought my self a half decent entry level turntable amp and speakers, relocated all my stuff downstairs. I dedicated a corner for my wax, had some shelving and storage units built (which filled up very quickly) and I was hooked. It quickly became a obsession.
Where/how do you usually find your records these days?
Belfast just lost a great record shop in Sick Records. It was sad hearing they closed the doors. I mainly use Discogs, eBay, and Bandcamp pages among some great DIY labels that have put out some amazing material like STB Records (US) and Hevisike (UK). I'm always looking for new labels and distros to explore.
What is the most you paid for a single record, where/how did you obtain it, and what was it?
I paid £220 for Black Sabbath on Vertigo, first press in mint condition and something similar for Paranoid. again, Vertigo first press.
If you to pick one record label you feel had/has the best track record of quality releases, who would that be and what are some key titles you love?
At the minute, the quality coming from Nuclear Blast is phenomenal. I love some of the bands they currently have signed and the records they are putting out. Death Angel, Paradise Lost, Testament, Opeth, and Kadavar are a few artists on their roster that are fantastic.
Of everything in your current collection, what is your most prized record and why?
I'd have say my entire Motörhead collection. It has taken me years time to build I wouldn't part with any of it for anything. In particular, We Are Motörhead first press. That one was a 30th birthday present from my wife.
Is there anything that frustrates you about the current record collecting scene?
The inflated prices! Some prices people are asking for records is insane. Also, record flipping... I detest that. I'm all for limited editions and limited pressings but only when the fans get them at that right price not when some guy wants to amake a few quid of the back of it.
Which records are still on your want list that you've had a tough time tracking down through the years?
Most things are accessible but at a price. A few records I would love to own include:
Diamond Head, Lightning to the Nations (Happy Face Records)
Iron Maiden, Virtual XI first press (have the repress)
Iron Maiden, The Soundhouse Tapes 7" (Rock Hard Records)
Satyricon, Dark Medieval Times (Moonfog Productions)
Iron Maiden, Maiden Japan (Venezuela press 1987)
***
Follow Chris on Instagram.
Tagged: record collector