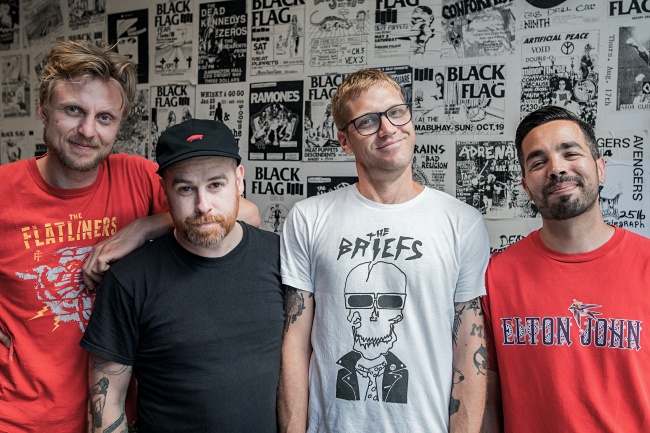 Do you miss those Fat Wreck and Epitaph compilations from the '90s? If so, Raincheck got you covered. Hailing from Lyon, France, the group specializes in a melodic strain of punk that definitely brings to mind that aforementioned era of the movement.
"We're mostly inspired by the punk-rock/hardcore melodic wave of the '90s and '00s," vocalist Romain tells No Echo. "That's the music we grew up with, there's fast songs, cool melodies, and all done with high energy."
Romain offers up the quick Raincheck backstory for our readers: "We started this band back in 2014/2015, when we met with Julien (guitar) and the other dudes. We were around 30-years-old and had some experience in the punk rock scene with our former bands, so we quickly (as quickly as we could I mean) wrote some songs and put out our first EP, True Love, with a bunch of cool European labels.
"That helped us a lot to book more shows. We played all over France, Belgium, and Switzerland, sometimes as support for bands like Good Riddance, Death by Stereo, Frenzal Rhomb, and Lagwagon."
That live work and time together has done Raincheck well, as evidenced on their recently released EP, Last Call:
"We recorded Last Call in December 2019 at Warmaudio Studio in Decines (France) by ourselves, with our drummer Alex '2 doigts dans la prise.' The EP was a way to turn the page of an era that was ending within the band. We've been a band for 6 years now, and sadly we had to deal with lineup changes... not always easy to manage but essential for the band to continue. We decided to stay as a 4-piece combo. I think the sound is tighter than before, there are still melodies but it's more sneaky, I think."

Before our conversation comes to an end, No Echo asks Romain about the way Raincheck has been received by the punk scene in France. "We're lucky cause we've always had good vibes around our band. Even if it's not the biggest in Europe, the French punk rock scene is still active, we usually see new bands coming, and we're glad to see that we have a lot of new people that refresh the scene by promoting shows or making radio podcasts to keep the scene alive.
"In 2016, when we put out our first EP, we decided with Julien, to help the other bands that we met on tour and love like Young Harts, Hightower, and Foolish, by starting our own DIY label, Joe Cool Records, and help them to put out their records, too. I think we can say that those bands on Joe Cool are our family!"
Raincheck on social media: Facebook | Bandcamp | Instagram
***
Donate a few bucks to help with No Echo's operating costs:
***
Tagged: raincheck