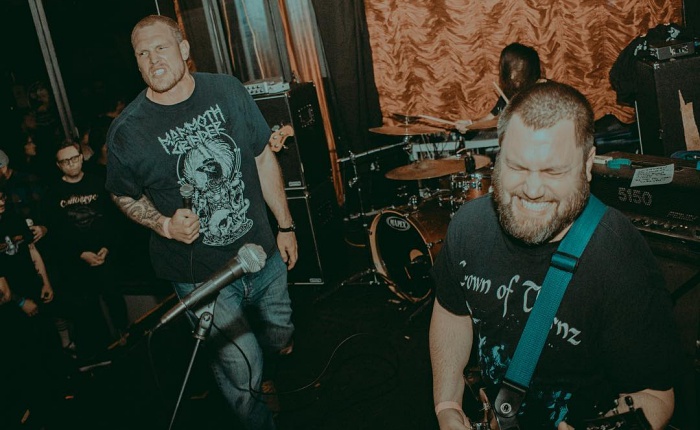 With a sound that joins the street-blessed grit of Cold As Life with the groove of early Madball, Reserving Dirtnaps make straight up fighting music. The Memphis combo first appeared on the site a year ago via Look At Us Wrong, their beyond ignorant collaboration with rapper Tom Skeemask. Since them, Reserving Dirtnaps have been putting in some road work and that path continues this month on their No Echo-approved tour run with Purgatory, another metallic hardcore outfit known for their mosh bait.
In addition to the tour (dates listed below), Reserving Dirtnaps will be releasing a CD compilation called Volume 1, which will feature their first two EPs, the Tom Skeemask split, and their 2017 This Is Hardcore Set. So, to celebrate the compilation and their run with Purgatory, Brandon and Paul from Reserving Dirtnaps have created a playlist they've dubbed "Late Nite Tip," which they say will keep any DIY musician awake in the van during those mandatory overnight drives.
If you're on Spotify, you can stream the playlist here. For now, check out Brandon and Paul from Reserving Dirtnaps' thoughts on each of the tracks:
1. Christopher Cross, "Ride Like the Wind" (1979)
Brandon: It's late at night, or so early the sun is gone. You're on the run with no time to sleep. It pisses our bass player Aaron off every time we listen to this song. But this is one catchy track right here. I think we left Laredo at 5:30 in the morning on a drive straight back to Memphis and I listened to this twice in a row before we made it to the border patrol station.

Paul: We're kinda blowing our wad early on this playlist because there's nothing on earth better than this song. The absolute urgency, I mean if you don't get the fuck on with it, they're gonna catch you and kill you. I know you're tired, your body's weak, but you better keep driving motherfucker. You have to RIDE LIKE THE WIND or you're dead. Then just when you're fading, Michael McDonald shows up with the backing vocals. Nothing better than this song.
2. Mercyful Fate, "A Dangerous Meeting" (1984)
Brandon: I really have no idea what the fuck King Diamond is saying in most of this song. This shit just makes me want to punch straight through the roof when the riff comes on and I can't stop laughing. THEY'RE GONNA GET THEMSELVES KILLED — sounds about right. The breakdown at the end is harder than your band.

Paul: There is absolutely no way to sleep through King Diamond's vocals. When you think you can't do it anymore, when the coffee and Red Bull and NoDoze aren't working anymore, put on Mercyful Fate and that's guaranteed to do the trick.
3. Van Halen, "Somebody Get Me a Doctor" (1979)
Brandon: Words fail to describe this. DLR's vocals will put lightning in your veins. Another riff that is harder than your band.
Paul: Chord, chord, chord…BOOM BOOM. You're in. Lotta good tension building and releasing here throughout to get your blood pumping when you're on your lest lag. Eddie Van Halen is probably a little underrated as a riffmaster honestly, as he's typically noted for his virtuoso qualities. You could take all that stuff out and you still have a perfect band, honestly. Of course ripping solos and wild runs here and there never hurt anyone. Wherever we end up, there better be a goddamn doctor there.
4. Blackout, "On the Map" (1998)
Brandon: Contrary to popular belief, whatever dumbass PHXNK subgenre people came up with in regards to Soundcloud and the internet are only a few decades late to the party. This is real deal Memphis shit. Shit is like being on Tillman St. at 4 AM while every plane in the sky is coming through. Blackout is a legend and this video only has 410 views. Maybe he should redo the song with some white people.
Paul: When this comes on, you're too scared to go to sleep. If you don't keep driving, someone in a Jason mask gone catch your ass and chop your dick off. Back in '98 when this came out, they ran TV commercials locally promoting the Under the Influence album by Blackout and "On Da Map" was the featured song clip in the commercial. This fucking nightmare of a song was a super low quality commercial in my hometown. Memphis, baby.
I remember driving out to Coconuts in Hickory Hill to buy this CD back when you had to do things like that. Spent about $20 after tax for this shit that I had heard like 4 seconds of on that damn commercial. Turns out it's an amazing, terrifying, depressing, insightful, beautiful record. The newly remastered version is EXACTLY what it needed and its 10x more terrifying now. It's got almost a wall of sound quality to it, like it's swallowing you in your seat A Nightmare on Elm Street style. Blackout, Under the Influence, that's it right there. Too scared to sleep.
5. Crown of Thornz, "Juggernaut 2" (1996)
Brandon: Paul is a man of taste and detail. "The Juggernaut 2" Mentally Vexed version of the "Juggernaut" track is far superior due to no bullhorn effect on the vocals. I'm digging them drums man…
Paul: This is basically the definitive '90s NYHC track. Car mosh is necessary right when it hits. There has never been nor will there ever be another Crown of Thornz. Mike Dijan is a guitar hero of mine., a true master of the hardcore craft. If "Juggernaut" doesn't get you going at any and all hours of the night, then get out of hardcore because it's not for you.
6. Phil Bailey and Phil Collins, "Easy Lover" (1984)
Brandon: Speaking of drums. God damn…
Paul: I will try to keep it brief because I will American Psycho out about this song. There's never been a more perfect drum track recorded for a pop song. It's a pop song that fucking rocks. You can feel how hard Phil Collins is hitting the drums, the recording is amazing. Every single decision he makes for the drums here is perfect. He has a knack for that if you ever dig into his work with Genesis or even his solo career. The king of the oddly placed roll or fill inserted into an airtight pocket and its always perfect and interesting and never overdone or tacky. I can't not mention Philip Bailey of Earth Wind and Fire here, because technically it's his song, but if you wanna talk about a sumbitch that can sing…he's that dude, and he gives you a lot mo' on this one.
The contrast between the vocals styles of Collins and Bailey creates its own level of magic as well. I mean you got so much perfection going on here. This song is good for two or three spins in a row when you're getting delirious and don't feel like thinking of something else to listen to. Easy Lover, RUN IT BACK! Never gets old.
7. Kingpin Skinny Pimp, "Ink" (1999)
Brandon: At this point in the night, Paul has probably had at least 14 beers. So prepare for the one man passenger seat mosh when the screwed part drops and Skinny Pimp crushes this verse…
Paul: Basically what Brandon said, but I will add that I'M SO CRUNK part is one of the greatest, most underrated moments in Memphis rap history. This song really takes you on a magical journey.
8. Gangsta Blac, "I Am Da Gangsta" (1998)
Brandon: If you have never seen Gangsta Blac threaten to whip the DJ's ass at his show, have you really lived? "From city to city, from smellin' good to smellin' shit…" Sounds exactly like being in the same vehicle after a few days.
Paul: LET THE BASS COME IN THEN IMMA START COMIN HARD...it's just that voice that starts the song off before the Archie Baldhead beat drops, and what a damn voice it is. Gangsta Blac and Tom Skeemask are the two hardest Memphis rappers, and this is a great example of what it means to go hard. That phrase has gotten bastardized over the years. I'll read some shit on Instagram like "yo check out my new artist Delicious D he go hard mane" and I'll go listen to it, and it's like some autotune bullshit, then the verses are some mumble-whispered nonsense and I'm just like "who the fuck thinks this is hard?" Well you could never listen to Gangsta Blac and have that thought.
9. Slayer, "Altar of Sacrifice" (1986)
Brandon: If you aren't driving and maybe just dozed off for a few minutes prepare to wake the fuck up! [Laughs] No greater feeling than being in the middle of nowhere Kansas and one of these dive bombs hits and everyone that thought they were going to chill is getting bummed out at 3:27 AM.
Paul: ENTER TO THE REALM OF SATAN. Really this whole playlist could just be Reign in Blood, I mean who is sleeping through that 29 minutes of destruction?
10. Andrew Dice Clay, "Hour Back…Get It?" (1990)
Brandon: One time we were driving back from St. Louis and I just remember laughing so hard at this insanity that I was just crying and then we were home. A true lifesaver when you are on the real White Paul Hours. THA FUCK IS A HUNCHBACK?!
Paul: When I unleashed this track one everyone, I was really surprised that it was an instant hit. We were staying with some friends in Birmingham and I was tapped for something "funny" to throw on YouTube, so basically as a troll job I put this on. It was pretty priceless, everyone was like, "Wait, what the fuck is this? What is he doing? And why am I laughing???" One of the most brilliant moments in comedy. Dice even admits in the middle of the bit that he doesn't even know what it means. But he keeps doing it and somehow it works. It makes you think you're losing your mind a little bit, perfect for that last stretch of driving where you don't think you can make it because it jars your senses. "Hey I can make it. We only got an hour…BACK!!! GET IT??!!" If someone else is up then you two can do this for endless fun until you reach your destination.
***
Pick up a copy of the Reserving Dirtnaps Volume 1 CD at this link. Catch the band on one of the dates below.
No Echo and Unbeaten Records present Purgatory and Reserving Dirtnaps on tour:
3/9 – Nashville, TN @ The End (w/ Papertrail)
3/10 – Norfolk, VA @ Pourhouse (w/ Papertrail)
3/11 – Baltimore, MD @ TBA (w/ Papertrail)
3/12 – Monclair, NJ @ The Meatlocker (w/ Papertrail)
3/13 – Wallingford, CT @ Wamleg (w/ No Option)
3/14 – Albany, NY @ Fuze Box (w/ No Option)
3/15 – Pittsburgh, PA @ Black Forge Coffee House (w/ No Option)
3/16 – Louisville, KY @ Spinelli's (w/ No Option)
***
If you're shopping for vinyl, CD, and cassette hardcore titles, head to No Echo's partner store, Reverb LP, to see what they have available. Every purchase you make helps No Echo with site costs.
Tagged: reserving dirtnaps