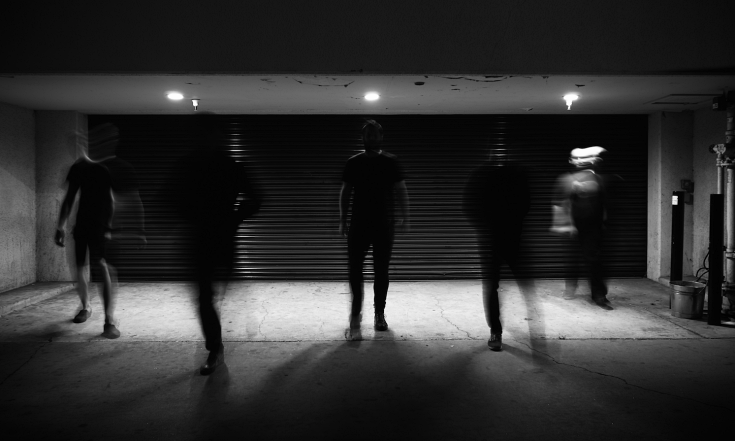 Headquartered in San Jose, Roman Lions is a California post-hardcore group making its debut on No Echo today. With its musicians having previously played in such bands as I Am Empire, Octaves, and A Perfect Kiss, Roman Lions was started by Baltimore-raised brothers Justin and Matt Tracy.
The quintet's musical style has brought up sonic comparisons to such groups as Thrice and Pianos Become the Teeth, showcasing a penchant for atmospheric post-hardcore and screamo-driven tunes. Roman Lions lean heavily into the more melodic side of their songwriting and playing approach, especially on their more recent material.
Roman Lions' 2018 debut LP, Absolutes, was recorded by Jack Shirley (Deafheaven, Gouge Away), and they've partnered with him again on a line of new tracks. One of those songs is called "Negative" and it can be heard below in this exclusive No Echo premiere.
The track's trippy music video was directed, animated, and edited by Robert Kinsella, with additional filming by Matt Tracy:
"'Negative' is about the realization that coming to terms with your own thoughts and emotions is a difficult process," vocalist Justin Tracy told No Echo via email. "Sometimes it's easier to be distant and cold. It can mitigate suffering and make our sorrows more bearable.
"It's a song about confronting the darker side of introspection. About embracing those darker feelings in an attempt to regulate your emotional state and become something less chaotic. In the end, realizing that there is a price to pay for using negativity as the catalyst for self discovery."
Roman Lions on social media: Facebook | Twitter | Instagram | Bandcamp
***
Help Support What No Echo Does via Patreon:
***
Tagged: roman lions