It's fitting that the new EP from Vegas should find me just days after Integrity once again descended upon Baltimore, their two-day residency a masterclass and reclamation of their reign as purveyors of Holy Terror. The mystery cloaked metallic hardcore group Vegas trades in the same storm-conjuring blasphemy as their Dwid-led friends. Very much capable of casting their own deathly pall upon all listeners, I'm legitimately enthralled and unsettled the further I dig into their enigmatic existence. As impossibly prodigious as they may indeed be, their recently dropped EP, Tetralogy, is yet another puzzle piece in a dismantled and blackened canvas.
Vegas, in this or any incarnation, has been steadily releasing pummeling and tortured bursts of music as expurgation since the early part of this century. With an eye-popping discography of releases listed on their Bandcamp and a bandleader known simply as "T", Vegas is an immediately puzzling proposition that may or may not be an acronym (Vermouth Equilibrium Ghanoush Asphyxia Symphony, anyone?). As likely a faceless, chimerical monster as recording artists, they succeed in being nameless vessels for demonic dirges.
Listed as being from either Belize or, uhhh, Hades; their location is essentially a trivial component to a band whose devilish sound is nothing if not otherworldly. Having released records through a veritable "who's who" of labels adjacent to Holy Terror in A389 and Organized Crime, Tetralogy preempts their impending full-length set to drop in March via Final Judgment Records and the equally impenetrable guise of Judas Chair Collective.
In 2019, managing to remain obscured in plain sight is an accomplishment in and of itself. What we know pales when considering the unknowns that surround these true outcasts.
When No Echo last caught up with the band's front person, Carlos expertly posited their sound as if "T" is screaming up from a sewer as Lip Cream are jamming on a filthy street above him. It remains to be seen as to whether these hellish soundscapes are human or just the product of a feral C.H.U.D. literate in both the more devilish end of Clevo hardcore and the blown out Japanese bands that so directly informed them. Carlos continued the initial dig and found Vegas' influences disparate enough to fully throw any genre-bound descriptors fully off course. As much as they admitted crib notes from the Integrity and GISM camps, it recalls Blind to Faith and Rot in Hell. Vegas, not content to simply exist as sonic brethren, dial up something altogether more visceral.
Tetralogy, like any great outsider art, sends the attentive listener into the darkest of forests, their sinister references rotten breadcrumbs intended to disorient. The tetra in question are the EP's 4 tracks. These furious blasts of all-too-brief hardcore songs feel weightier, headier, and longer. That they manage such insidious mindfuckery in minutes is astounding. I could wax poetic about their heft but, alas, on to the songs...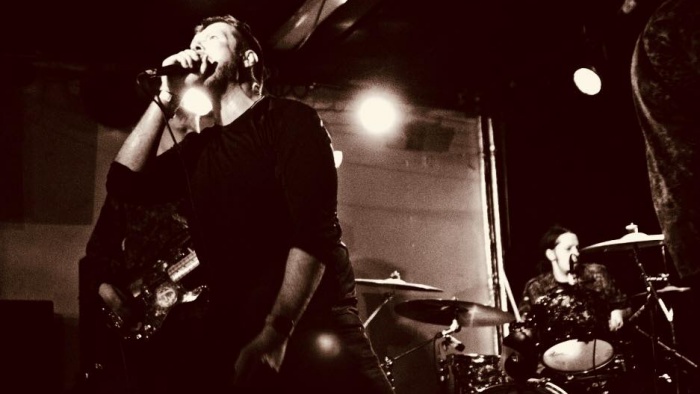 Were life to imitate art, I'd find myself writing not in a warm and well-sit Syrian Cafe but a derelict, abandoned crypt. "Emanation," the opener, is an instrumental intro that manages to pummel at half the pace. Swirling squeals of half-solos flutter like rabid bats atop a chugging riff that bleeds as the pace rises in a rush into the end of the song. As plainly as Mike Stack is listed as guesting on the track, I can only assume it to be true. Their unflinching air of anonymity makes it a fun Google search.
Following with "Fulcanelli," it becomes readily apparent that Vegas are on some next level shit. Referencing a 19th century French Alchemist with an equally vague bio, their dark chemistry yields a brand of Holy Terror hardcore. "T" is an utterly unhinged and genuinely terrifying vocalist, the deeply layered lyrical runs never sit where you expect, resulting in what feels more like the incantations of a madman. The deeply satisfying chug is both reverential and deceptively simplistic.
"Skuld," if I did my homework, is a Norse reference that indirectly translates to "that which should become, or that which needs to occur." In what I consider to be the centerpiece of the EP, the third chapter of the aforementioned Tetra, there's a sinister guitar introduction followed by "T," who unleashes an unholy and intimidating bellow. "Skuld" manages to up the pace in the tradition of Ringworm, exposing a thread of blackened thrash and stitching it into their bespoiled tapestry, Nearly over before it begins, it eventually dumps us out exhausted and confused, our ears still ringing from the tormented screaming vocals.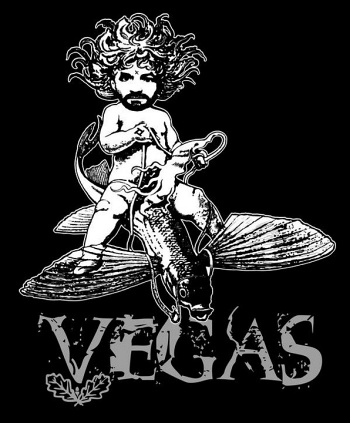 The final track is, by Vegas' terms, an epic at two minutes. The closing opus that is "Occupations" is a showcase of Integrity circa-Those Who Fear Tomorrow, all bruising and breakdowns. Ending with not a dead stop but a squalling wash of horrid feedback, it doesn't end as much as it simply moves elsewhere.
I've long been content with and aware of my limitations. I'm fine accepting and celebrating that which I'll never truly know. After spending time with Tetralogy and Vegas' equally essential discography, I don't know them any better than I did before but I'll gladly revel in the gray haze of the unknowable. Invite these strangers into your home. You won't be disappointed. They rule.
*T is looking for a label to partner with to release Tetarology in physical form, so hit him up on Facebook to connect. You can download the EP on Bandcamp.
***
If you're shopping for vinyl, CD, and cassette hardcore titles, head to No Echo's partner store, Reverb LP, to see what they have available. Every purchase you make helps No Echo with site costs.
Tagged: vegas