"I began thinking about doing this project during the initial COVID-19 shut down. There were no shows. Nothing was open. My job cut hours back. I had a lot of time on my hands. I had some riffs that wouldn't work for Treason so I decided to actually arrange some songs and see what came of it."
Rich Thurston is chatting with No Echo about Deep Breath, his new solo project, and he's keeping it as real as he can. The situation that led to the endeavor is reflected in the title of Deep Breath's debut EP offering, Alone Is Where We'll Stay.
A veteran of the '90s hardcore scene, he has also played in such musician outfits as Culture, Terror, Blood Has Been Shed, and On Bodies. He's currently holding down bass duties in New Age Records-backed straight edge group Treason.
"I didn't have any specific direction planned out," says the Cincinnati-based musician about Deep Breath. "The few riffs I had already come up with were definitely more on the melodic side, so I tried to keep that from going while mixing in some heavy riffs. I also went for a less aggressive guitar tone. Less distortion or chug.
"While some of the parts in the songs would be considered 'heavy,' I wanted to keep the feel of it the same all the way through."
No Echo asks Rich about the lyrical direction he followed with the Deep Breath material. "At this stage of our lives, people from my generation especially, we have all experienced pain and sadness. Some of that stuff lingers longer in our hearts and minds.
"These lyrics are very personal. They come very specific instances in my life. Failed relationships... Bad decisions ... Things that have affected me long term. I am actually a pretty miserable person and it felt really fucking good to sort of get this out. I'm hoping I can move on from some of the these things that have been haunting me."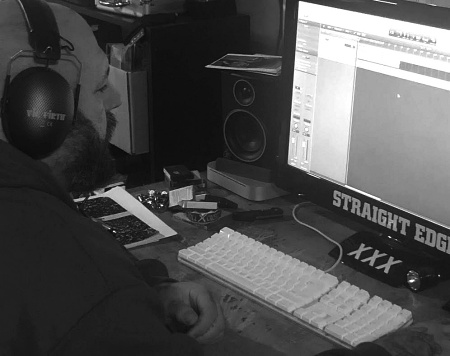 While speaking with Rich, he reminds us that this isn't the first time he's handled lead vocal duties. "Actually, it's the third time I've done vocals. The first time was many year ago, early on in Culture. The second time was a few years back when I did a band called Justified Defiance that put a record out on Six Feet Under Records.
"This time was a bit different in that I was writing about myself. My own flaws and failures are front and center."
For the Alone Is Where We'll Stay sessions, Rich called on his DIY roots to get everything done. "As far as recording goes, I did record everything in my basement originally. That was actually quite fulfilling.
"All the years of recording music in bands and I never paid enough attention to what it took to actually record. That was an opportunity missed so now I definitely pay attention. Shaun who plays guitar in Treason re-recorded it with me and polished it up. He has a wonderful studio in Dayton, Ohio and I love recording there.
With Alone Is Where We'll Stay out now, what does Rich plan for Deep Breath going forward? "I don't know what the future holds. If shows are ever a thing again, I do have a full band that is down to play, so I would love to do that. Playing a couple of shows with Deep Breath would be fantastic.
"I don't know what will happen as far as more music or more records. I'm almost 48-years-old and I feel like I am just now, in the last 5 or 6 years, hitting a good musical stride. Guess we will see what happens."
Alone Is Where We'll Stay is out now via Irish Voodoo Records.
***
Donate a few bucks to help with No Echo's operating costs:
***
Tagged: culture, deep breath, treason