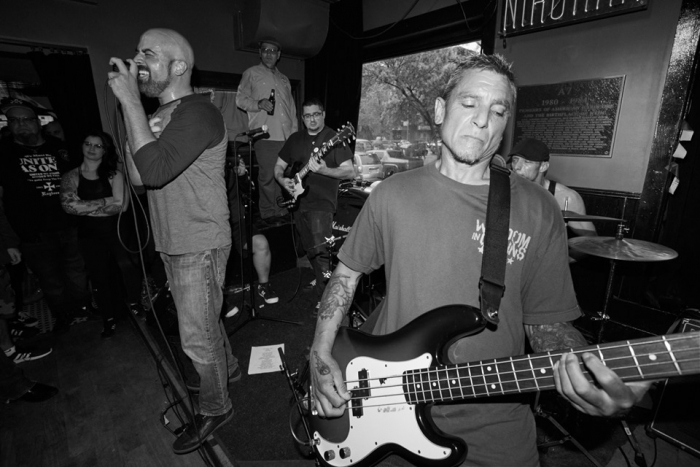 Formed all the way back in 1996 by bassist Rob Kabula (ex-Agnostic Front, Cause for Alarm) and guitarist Carlos Diaz, NYC/NJ-based hardcore combo Against the Grain played countless gigs and released music via such labels as Too Damn Hype Records and Guillotine Records throughout the years. Now known as Dead Blow Hammer, the band is refreshed and storming out of the gates with No Repercussions?, a 5-track EP showcasing their fast-paced hardcore punk style with winning results.
In the following interview, No Echo chats with 3/5th of Dead Blow Hammer about their past, present, and future.
Let's start with the transition from Against the Grain into Dead Blow Hammer. How did the band evolve and what brought on that change?
Adriano 'AG' Garcia (vocals): As far as the name change goes, it needed to be done. One reason: I feel like we had some different stuff going on from ATG, a whole different chapter. Plus, we reunited to seeing many bands being named "Against the Grain" [laughs]. We needed to stand apart from everyone else. Our own identity. The only thing that will stay from that is if ever we re-release anything from that era like we did the 1996 Demo, it will be titled Against the Grain NYHC. As far as evolvement and change, it was basically having moved forward with new members that brought their ideas and styles to the table. I can tell you that with this bunch, we all have opinions so different from each other, but we listen to each other, and I believe that even though we may not understand each other 100% of the time, we accept each other. For me, that's evolvement in the right direction.
How far do you guys go back with each other?
Adriano 'AG' Garcia (vocals): I met Kabula and Carlito at the Pipeline way back in 1996, when our old guitarist had sought me out to tryout for the band at a Madball show. 24 years of poor Kabula dealing with stubborn me [laughs]. But don't feel bad for him, he's a pain too. I knew of Gary from his performances with his old band, Citizen Pain. We finally met when he tried out 4 years ago. Christian is the newest member, having met him through a band friend, Tim McMurtrie (M.O.D., Full Scale Riot).
What is it about the combination of personalities in Dead Blow Hammer that you think brings you guys together and makes it work?
Rob Kabula (bass): All of our influences are brought together...we all add ideas and see what sticks.
Gary Yosco (guitars): There is no 'leader' here; when we write, the person who brings the concept in shows what and how he wants the idea played, and then it's thrown in the middle to be scrutinized and worked on until its right by everyone. There's no ego — we all play a role to serve the song / band. We all know that you have to put in the work and it's that blue collar mentality that drives us.
You're working with Patient Zero Records right now. How did that relationship come about and what is the plan now that you're part of the label?
Gary Yosco (guitars): We discovered Patient Zero through our brothers in Silence Equals Death. After a brief conversation, Jerry [Colvin] was eager to work with us and we with him. He's got some great, underground talent on that label and with his exposure and distribution capabilities, we are confident that it will help us to get to the next level. We can help him by providing great material and spreading the word about his business. Plus he's a good guy to work with!
Since the group is comprised of older musicians, have you found that it's tougher to get on certain hardcore bills? I ask this because other musicians have complained about that to me. Would love your thoughts.
Adriano 'AG' Garcia (vocals): When we first reunited under the DBH name, I remember some of the snub thrown at us from the younger promoters. I remember seeing online people writing things like "older people in hardcore bands is ridiculous. What do they have to be mad about?" What do we have to be mad about? You got an hour [laughs]? Later on, as we continued playing and showed our energy and "spunk," sound, and what we were about, we were getting the calls from younger promoters to come play their shows.
Gary Yosco (guitars): We are finding it's more genre-related. We come from a more hardcore punk/old school style, and today's hardcore has evolved into a heavier, more metallic, grindy feel. While there are a lot of great bands doing well with that, it's just not our thing. What our age has given us is the exposure, experience, and discipline to not make rash decisions to change based on what's popular and stick to what we do. We are good with doing what we do best...and with the cyclical nature of music, eventually the scene will catch on.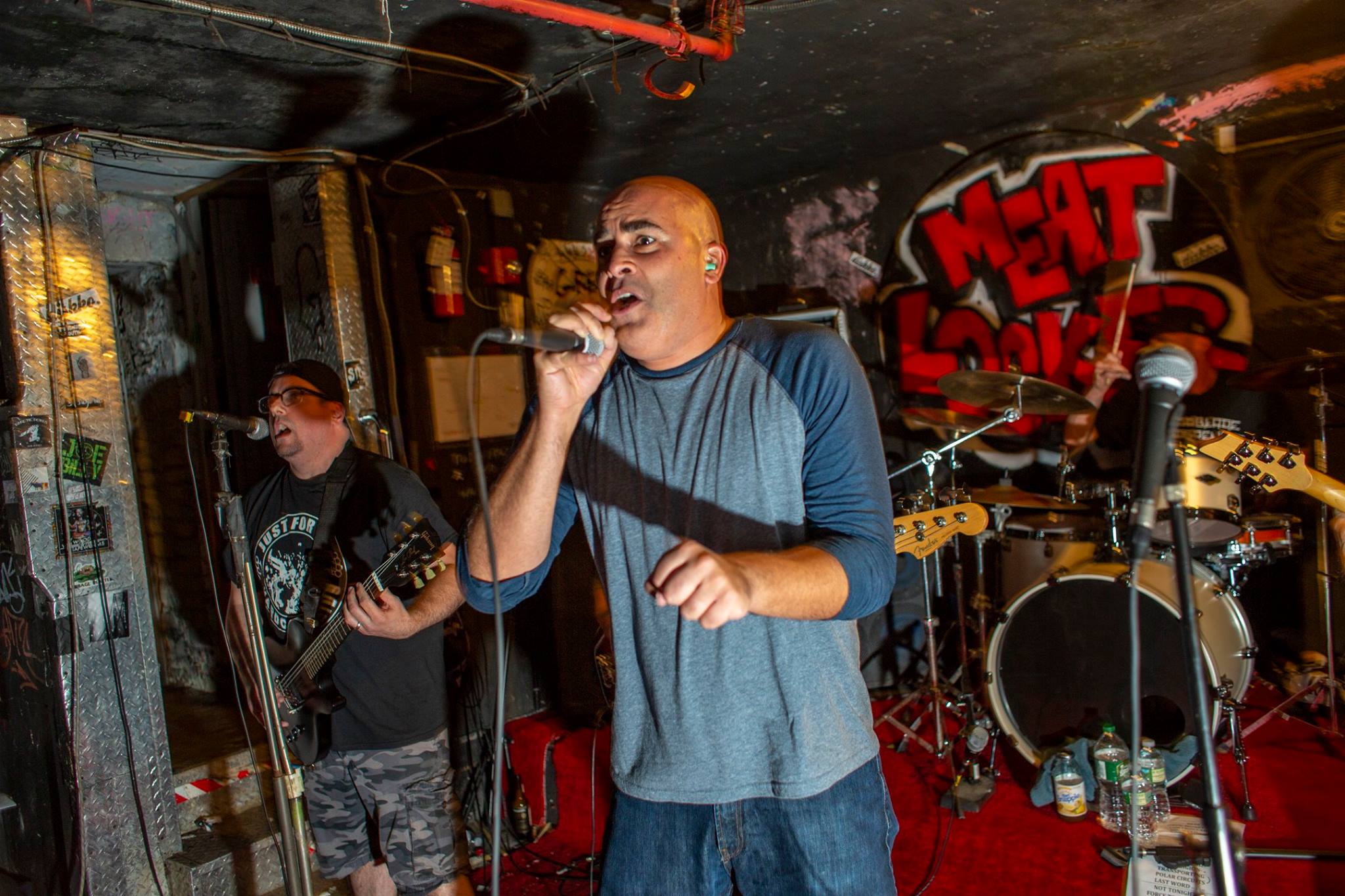 What are your thoughts on the hardcore scene in NYC at the moment? Do you think it's healthy? Are there enough venues and promoters to work with?
Rob Kabula (bass): There's a resurgence happening at all age levels. We are living in dark social times which is an incubator for this type of music — it's a crazy world. The scene is a great outlet for people to escape from the daily b.s.
Adriano 'AG' Garcia (vocals): I think it's the best it's at in the last few years in the NY/NJ area, at least. So many things going on that my heads still spinning. It's so hard to catch up on what's happening and it's easy to miss a lot because a lot is getting thrown in your face at once. I love it!
Gary Yosco (guitars): I think it's as healthy as we make it. While the venues are dying off, the DIY/underground/pop up/basement shows have been more relevant (as in the New Brunswick, NJ scene). Obviously, it would be ideal if promoters gave all bands a shot on some of the bigger shows — this will help drive new music and give exposure to more bands. This in turn would help smaller shows that the bands play attracts more fans, which would be better for the clubs/promoters. It's got to start somewhere.
With social media being so dominant, more people rely on only that to promote. There's still power and potential in handing out fliers at shows, asking in house DJ's to spin your music between bands, etc. The personal connection, especially in this scene, should be first and foremost. That's what makes hardcore great - the ability to see your favorite band and then go up and talk to them. You can't get that in arena rock/pop/hip-hop shows. This scene is all about grassroots connections.
What can we expect from Dead Blow Hammer for the rest of 2019?
Adriano 'AG' Garcia (vocals): It's a full force forward with promoting the new release, playing some great shows with friends, new and old. Plus, there's plans to hit you with even more new music. Striking while the irons hot! No time for relaxation!
***
No Repercussions? is available now on cassette and digital on the Dead Blow Hammer Bandcamp page. The 7" vinyl version of the EP will be out this summer via Patient Zero Records.
Tagged: agnostic front, cause for alarm, dead blow hammer