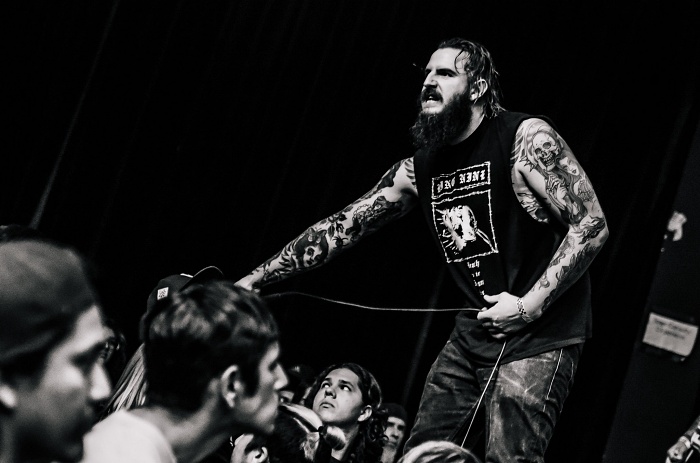 Brody King is a professional wrestler and lead vocalist of Van Nuys, CA-based hell-fire metallic hardcore band, God's Hate. In this interview I had the opportunity to discuss King's venture into wrestling, his musical path, what's lacking in today's hardcore scene, and much more.
If you haven't done so already, make sure you check out the recently released eponymous (No Echo-approved) God's Hate album. It's a beast.
Thank you so much for your time, Brody. Those who don't already know what the fuck is up tell the people about you and what you do.
My Name is Brody King, I am a professional wrestler currently working for Ring of Honor and New Japan Pro Wrestling, and I am also the lead singer and co-founder of the Van Nuys hardcore outfit, God's Hate.
What is it that got you into wrestling in the first place?
I'm a lifelong fan, then I fell into training kind of by accident. Colin Young, the other co-founder of God's Hate, and my best friend, had met a wrestler and did a few training sessions with him. When I found out, I signed up immediately.
Crazy how things turn out and just happen like that and now look at you! How did you and Colin meet?
We met over 15 years ago going to shows in the Valley. We became close friends 10 or so years ago.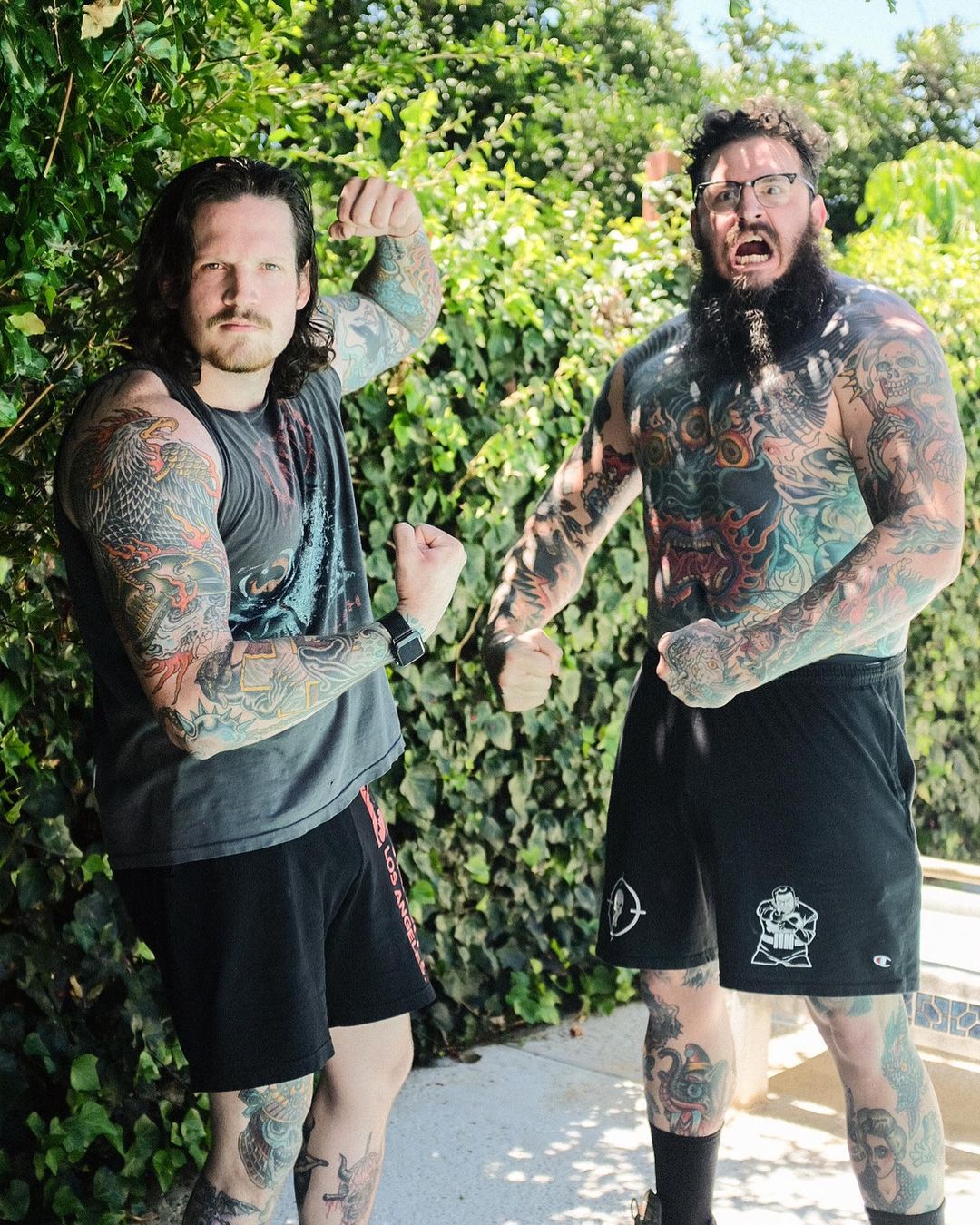 What's a crazy memory you have from one of your shows whether it be one you've attended or performed at?
A couple of years ago we were on tour with Terror and we played a pizza parlor in Louisville called Spinelli's, the restaurant is like a long hallway when God's Hate played the place was packed and I demanded that they turn all the lights off except for this weird red light in the corner.
The next 20 minutes was an absolute warzone and one of my favorite God's Hate sets ever.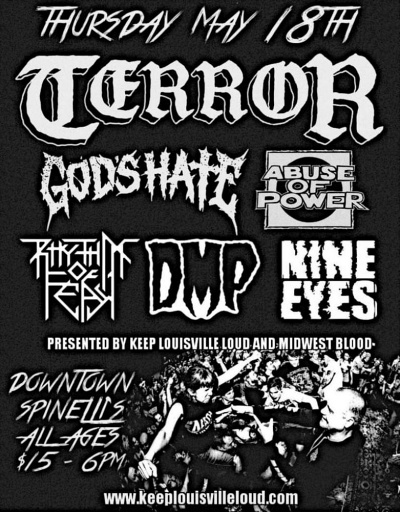 If you're not risking safety then what's the point of throwing a rager of a show! Speaking of Terror, who are some other hardcore bands that you're recently jiving with?
I always have my constant rotation of Hatebreed, Merauder, Terror, King Nine, the usual suspects ya know? But the newer bands I've been digging are Never Ending Game, Gulch, Age of Apocalypse, and Hangman.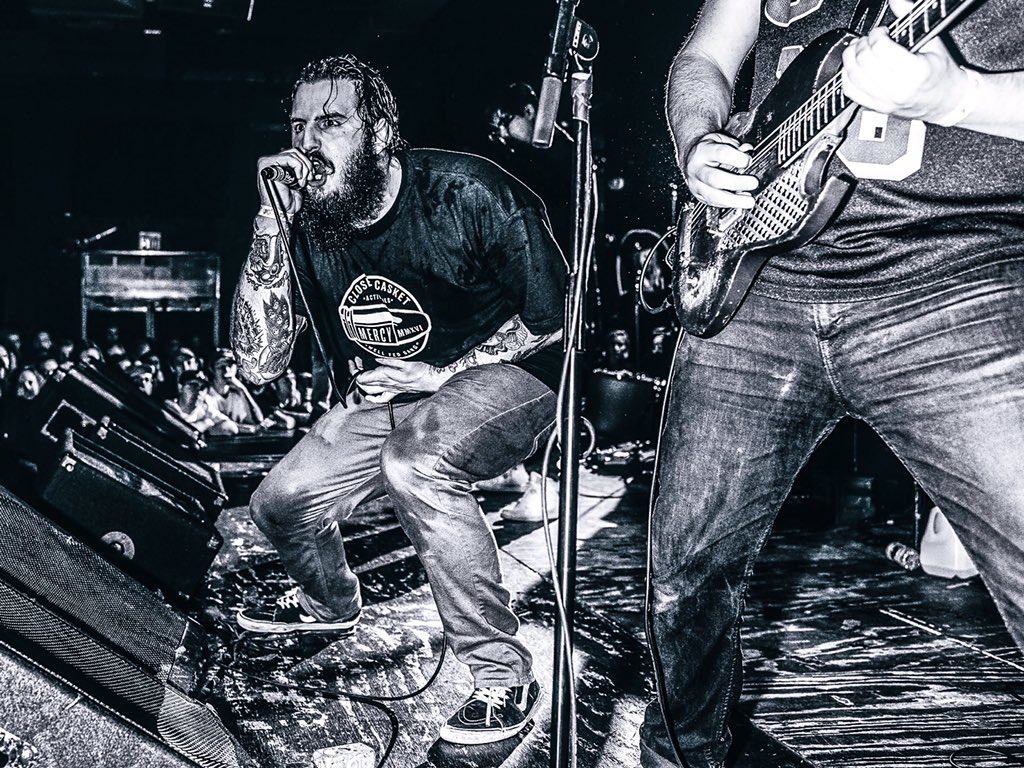 You gotta have the constant's in rotation for sure. I'll need to check out some of those newer bands you've mentioned—Gulch is pretty raw though! Like many bands, most of your members have stemmed from other hardcore acts. What got everyone to come over to God's Hate?
Colin [Young], Anthonie [Gonzalez], and I are all OG members. Taylor [Young] has always been the unofficial member. He's been on every recording always has some input with writing and has recorded every piece of God's Hate music. Once his obligations with Nails were over we kind of forced him to join [laughs].
Martin [Stewart] has always been a reliable fill-in and every time he has come to our aid. He's so easy to work with and just is a straight-up professional guitar player so asking him to join also just felt like an easy choice.
God's Hate is a stacked roster of really talented people no doubt. Every legend has its origin story. How did you all come together to create the band in the first place?
Colin and I wanted to create the heaviest band possible, which was missing in hardcore at the time.
Mission accomplished, man! This new album is pure adrenaline and chaos. I hear some really heavy quotes from Watchmen, Ghostbusters, Doom Eternal, Preacher, and even UFC fighter Jorge Masvidal. What inspired the use of these quotes throughout the album?
God's Hate has always been very sample-heavy. Most songs on mass murder have samples as does our debut EP, Divine Injustice. We just like to set the tone for the listener and I feel it give more character to the record overall.
Divine Injustice is another banger of a project. That Game of Thrones sample at the end of "Extermination" sets the tone perfectly for that record. That's what I dig about you guys, the character you embed into each project. I feel like a lot of music today lacks that. What about the hardcore scene today do you think is lacking?
I think authenticity in art and music as a whole is lacking. A lot of people are just trying to do what they think people will like but at the end of the day you just have to be true to yourself and that will always shine brighter in the end.
God's Hate is available now (vinyl, digital) via Closed Casket Activities.
***
Help Support What No Echo Does via Patreon:
***
Tagged: gods hate