The last time Nathaniel Shannon was featured on No Echo came in 2018 via an interview for our Photographer Spotlight series. I heard from the NYC-based, Detroit native the other day telling me about an interesting project he was ready to announce.
You see, back in 2012, while walking through the streets, Shannon (who is also a musician) found a scrapbook with the word "SUSPECTS" written on its cover. As he flipped through the scrapbook, his fixed upon its stark imagery, detailed collages, and scribbled prose.
Shannon showed his find to drummer Nicholas Maglione, and bass player Brent Wallace, and the three musicians began to write a score based around the thoughts found in the scrapbook. While 4 songs were tracked, Wallace went missing the spring of 2013 while on a camping trip in Maine.
Shannon and Maglione abandoned the project, mourning the loss of their friend and bandmate.
Forward to 2020, and Shannon found the "SUSPECTS" scrapbook and cassette tape of the original recordings while cleaning out an old storage unit. He and Maglione then invited Thoughts of Ionesco vocalist Sean Madigan Hoen to add vocals to the tracks, resulting in Document #001 - it's just you and me now.
Take a listen to the EP below, and read on for more info and imagery from the scrapbook:
"I found this raggedy beat up scrapbook on the street, but who knew that it would be the last memory of a friend who went missing, and the only archive of an isolated individual musing of living in and out of this perception of life," Shannon tells No Echo.
"I feel like we can all relate to the author, at different moments in our lifetime. Everytime you walk down the street and look someone you dont know in the eye, you dont know what's going on behind those eyes, deep into their soul. You see them physically, but they might not spiritually or mentally be present.
"The idea of showing someone your own isolation, or being seen living within your own isolation is the musical delivery within the idea of 'it's just you and me now.'"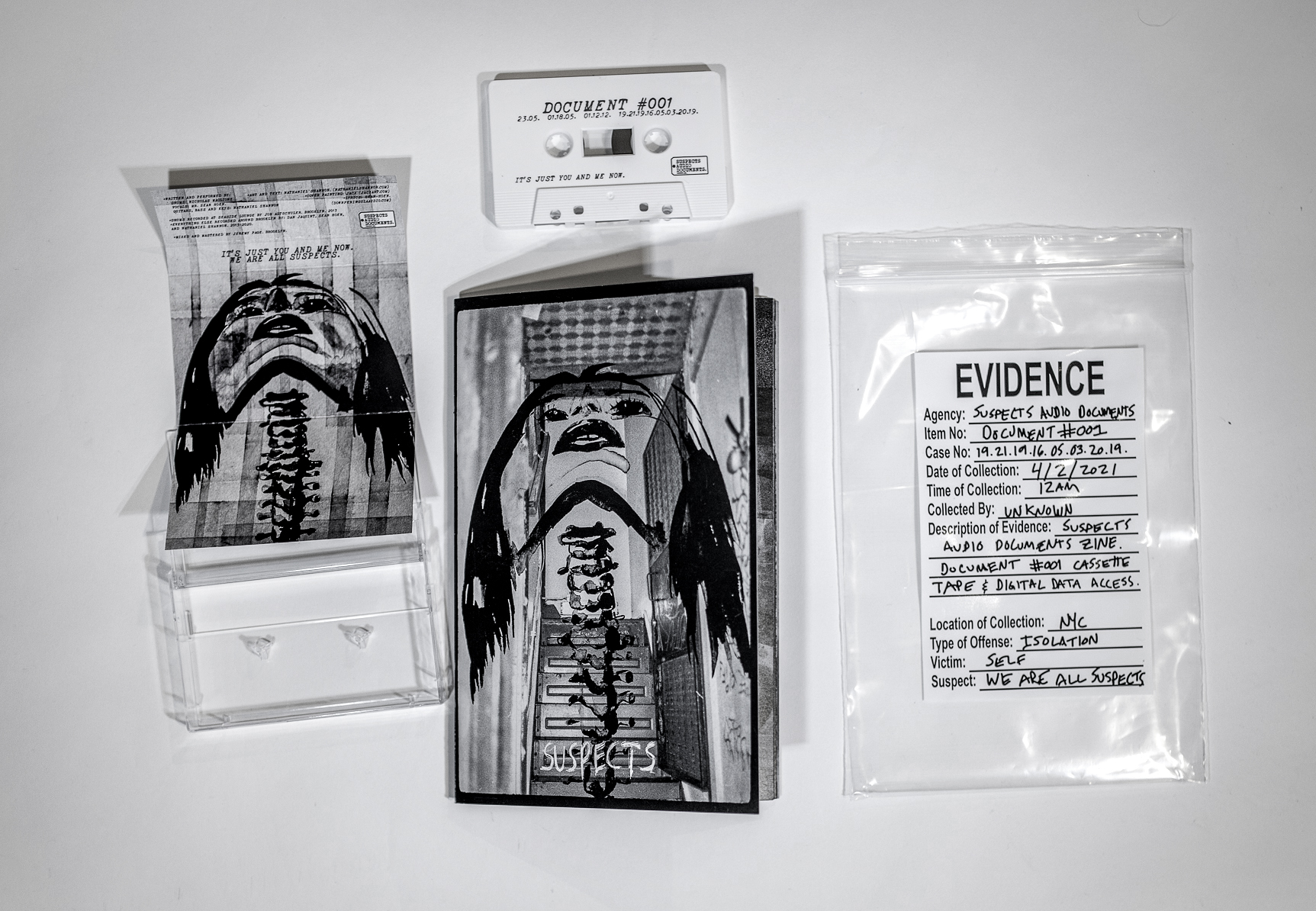 In addition to its digital release, the EP is being released in the 2 following bundle options:
44-page zine + cassette tape + download in a custom-made evidence bag (limited to 50)
44-page zine + digital download in a custom-made evidence bag (limited to 50)
If you know anything about the "SUSPECTS" scrapbook, hit up Nathaniel Shannon on Instagram.
Document #001 - it's just you and me now is available now on Bandcamp.
***
Help Support What No Echo Does via Patreon:
***
Tagged: suspects