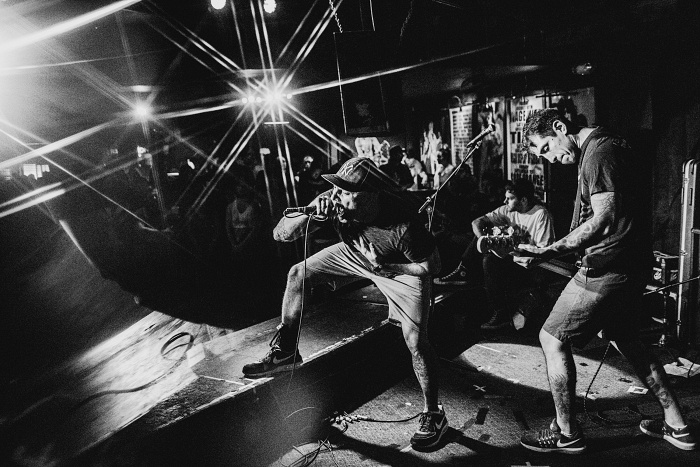 With members who all grew up in the Long Island hardcore scene, Become One was formed back in 1997. Throughout their years together, the band has played with the likes of The Hope Conspiracy, Indecision, and Taking Back Sunday.
After taking an extended break in 2002, Become One got back together a few years later but their bassist, Matt Wargas, passed away after a battle with brain cancer.
Welcoming ex-Crime in Stereo bassist (and future No Echo contributing writer) Mike Musilli into the fold in 2017, Become One issued the Transfixion of a Subculture EP later that year.
Spending the lockdown working on new material, the group entered Shellshock Audio in March of this year to working with Evan Perino on what would become Subsidence, their forthcoming new EP. In addition to the new tracks, the release will also feature 4 song's from the band's demo days from 1998-2001.
Become One hooked No Echo up with an early stream of "False Operative," an absolute punishing track from Subsidence:
"Lyrically, compared to our last release, the heavy riffs Ed wrote just brought out the darker angrier side of what was on my mind," says Shawn, Become One's vocalist. "2020 wasn't the happiest of years for anyone, I don't think. 'False Operative' is just a general distaste of the climate we were in pre-pandemic. I'm sure that's a cliché' tone right now with every band getting back on stage at the moment.
"But the rest of the record touches a lot on personal and human struggles with the Divine and coping with all of the uncertainties in our cynical world. When day to day you're dealing with the professionalism that's necessary to pay the bills, there's also the element of wanting to uproot and smash everything around you that's personally dissatisfying.
"Of course that's nothing we would actually do but that's what's so great about hardcore and metal- the ability to vent out that kind of frustration when we play so that it doesn't exist in regular life."
"Yeah, so this current writing, selfishly was all about a return to my roots as a guitarist," Become One guitarist Ed wrote No Echo. "Bands like Obituary and Slayer have been swimming in my head for far too many decades without ya know, being properly represented. Very honestly, I've never really enjoyed playing much of my previous shit, but hey this time out, yeah having truckloads more fun.
"I hope anyone who hears it has some fun as well As it turned out, working with Shellshock Audio couldn't have come at a better time. Evan has one of those ears we could easily trust with our new bag of songs, especially in some of those spots created while recording; yes he was very much part of production. Patient, fun, creative, yea it all worked out.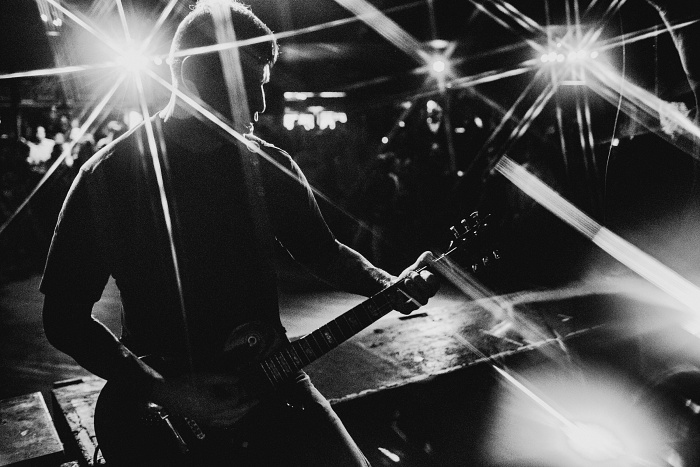 No Echo's own Mike Musilli says the following about the Subsidence EP:
"These 4 songs are a return to the band's heavier roots from years ago. I was always a big fan of the older songs and to get back to that while also pushing that heaviness to new lengths is what I love so much about the songs on "Subsidence." They're some of the gloomiest, heaviest, and most dynamic songs I've been a part of for sure.
"'False Operative' specifically is a reflection on the divisiveness that our world suffers from. It isn't necessarily about any one person or group, but more about observing and trying to understand how we got to this point. In that sense, I think Shaun did a great job lyrically. Overall, I think Subsidence is typical of the angst and social critiques we see in hardcore, but I also think we've tried our hardest to offer that angst and critique in a more mature and thoughtful way."
The Subsidence EP and 4 bonus songs will be released digitally and on CD via New Morality Zine on August 6th.
Become One on social media: Facebook | Instagram | Bandcamp
***
Help Support What No Echo Does via Patreon:
***
Tagged: become one