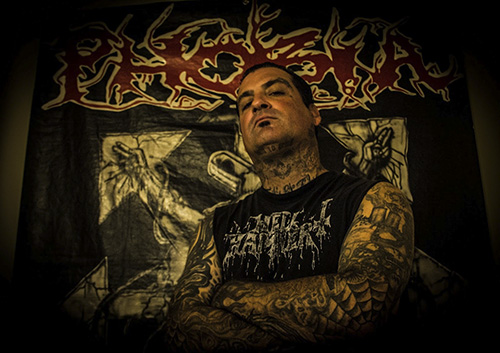 The grindcore world can be a fleeting one. It seems like just when you discover a band you love in the genre, they break up. That's what makes Phobia's over two-decade run all the more impressive. The Orange County, California group boasts one hell of a discography, issuing high-quality grind on labels like Relapse Records, Willowtip Records, and Slap-a-Ham Records. Led by vocalist Shane Mclachlan, Phobia just released a 4-CD box set via Melotov Records, cleverly titled Decades of Blastphemy, that includes all of the band's releases, including some previously unreleased material—everything from splits, EPs, 12"s, and CDs from 1990 up until their most recent Grind Core release on Deep Six from 2014.
Now that the box set is out in stores, I spoke with Mclachlan about Phobia's career, and his other musical endeavors.
Did you grow up in the Los Angeles area, and were your parents into music when you were a kid?
I grew up in Orange County, south of Los Angeles. My parents were way into music. My dad was into old country and bluegrass, which I still listen to today, and my mom turned me on to good bands like The Clash and Blondie, and some R&B. So, yes, music was in the house. I'm pleased!
What was your gateway band and/or record into the punk/hardcore world? Were you into metal stuff first?
I was really into heavy punk bands like Discharge, Final Conflict, and Crucifix. These bands were influential for me lyrically and musically. I also love metal. I've always been into it and still am.
Did you connect with the ideology of punk right off the bat, or was it purely a musical thing in the beginning?
I think the music came first. I think when you're young, you're attracted to the energy and aggressiveness right off. I would definitely read the lyrics and was moved by them, and then I decided that this is how I wanted to live my life—and it's how I still do!
SEE ALSO: Peru's Heavy Metal Warriors of the '80s
Did you play in any bands before Phobia?
Yes, I played in a band called Embryo. It was more like Infest-style, with Bolt Thrower and a lot of punk influence.
You founded Phobia in 1990. Who were some of the bands that helped you set up the blueprint for what you guys wanted to do musically?
Definitely Napalm Death, Terrorizer, Final Conflict, and Discharge.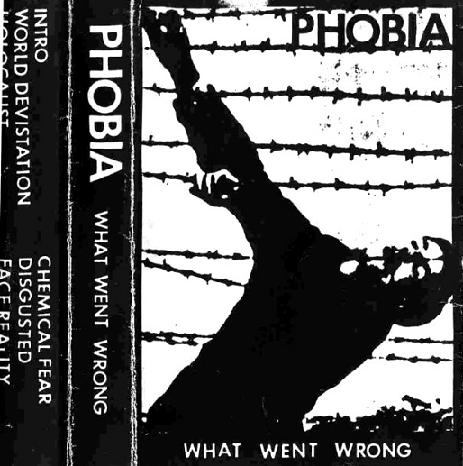 After your What Went Wrong demo, you released the All That Remains EP on Relapse Records two years later, in 1992. That was the first time I had heard Phobia, since that was at the point where I still bought everything that label released.
Yeah, it was good times back then. Our bass player knew them from his first band. He sent our demo to them. They dug it. At that time there weren't a lot of bands on their roster. The scene was a lot smaller. We just kept in contact and did business. We're still all good.
Fear Factory's Raymond Herrera played drums for the band around this time period. Did you guys know each other from the local scene around Los Angeles, and was it tough for him since he was working hard on Fear Factory at that point?
Yeah, we knew him from the local scene when we did shows together. It wasn't hard at first, but then got hard with Fear Factory getting busy!
SEE ALSO: 2016 interview with Steven "Skogger" Meketa (Apartment 213, Lockweld).
1998 found Phobia releasing the Means of Existence full-length via Chris Dodge's (Spazz, Infest) Slap-a-Ham Records label. Since you guys went out and toured in support of the album throughout the States, I wanted to get your thoughts on what the scene was like during that era. Were you playing a mix of standard venues and more unconventional spaces like VFW halls/basements?
Yeah, the scene kicked ass back then. We played a lot of houses, basements, and halls. It was a great time! We still play this way, but the scene is just saturated now. There are too many people in it for the wrong reasons! But it is what it is.
For your next full-length, 2001's Serenity Through Pain, you went with Deathvomit Records, a subsidiary of Necropolis Records that also released albums from bands like Rotten Sound and Impaled.
It was so-so. We got a good budget to record. It was a one time thing.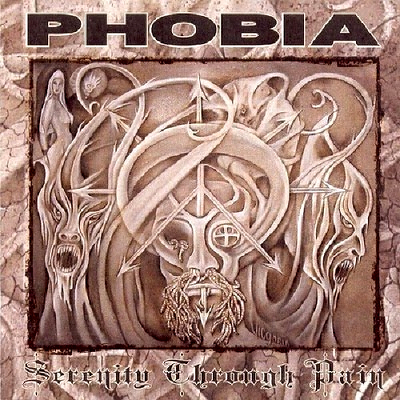 Your last three studio albums—Cruel (2006), 22 Random Acts of Violence (2008), and Remnants of Filth (2012)—have all been released by Willowtip Records. What is it about the label—and its owner, Jason Tipton—that keeps you guys working together for over a decade now?
It's simple and what I like. It's easy to arrange shit. I don't want to have to go through channels to talk to get shit done. It's easy and he supports us in what we want to do.
I'm glad you guys included the My Friends—Our Grind! 7" in this new box set. That record featured cover versions of songs from Youth of Today, Minor Threat, and Agnostic Front.
We love those bands and we wanted to do something that wasn't so typical and show another side of what we like. I'm glad you appreciate it!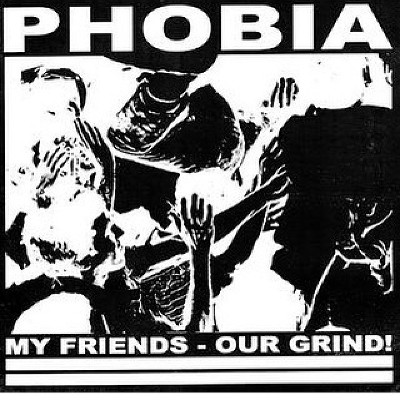 To what do you attribute the many lineup changes Phobia has gone through over the years?
Well, a lot of bands running as long as we have will have member changes. Phobia may rotate a bit, but we're all family. We do what we have to to keep it going.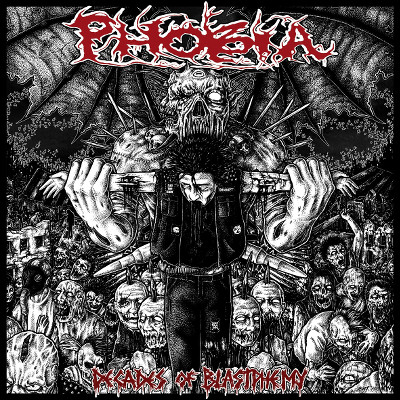 In 1997, you released a 7" with a project called Amnesty that also featured Ward Young from Resistance. How did that recording come about, and why didn't you pursue it further?
We have a full-length album recorded. It's just shelved at this point, you know? I wish we would have released it. [Drummer] Ty [Smith] passed away years back. I don't talk to Ward anymore.
How did you end up joining Final Conflict on bass, and where does the band stand now?
I started with them in 1998. They are one of my favorite bands, so I tried out. We have a new record tracked. Ron [Martinez] needs to do the vocals. We still do select shows.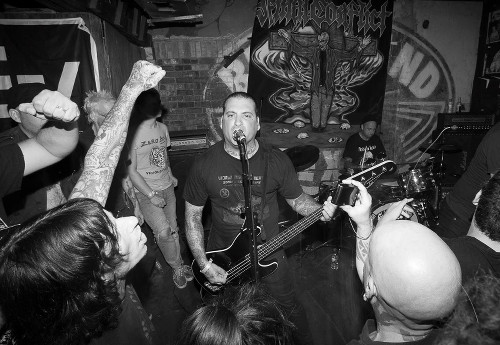 Lastly, you're currently playing bass in Krigblast.
My buddy, Justin, and Dutch had it going. I joined four years ago. We are working on a second record right now.
If you had to play someone one grindcore record to show them what the sound and essence of it is all about, which one would it be and why?
[Napalm Death's] From Enslavement to Obliteration, because it's grind as fuck.
***
Phobia's Decades of Blastphemy 4-CD box set is available now via Melotov Records.