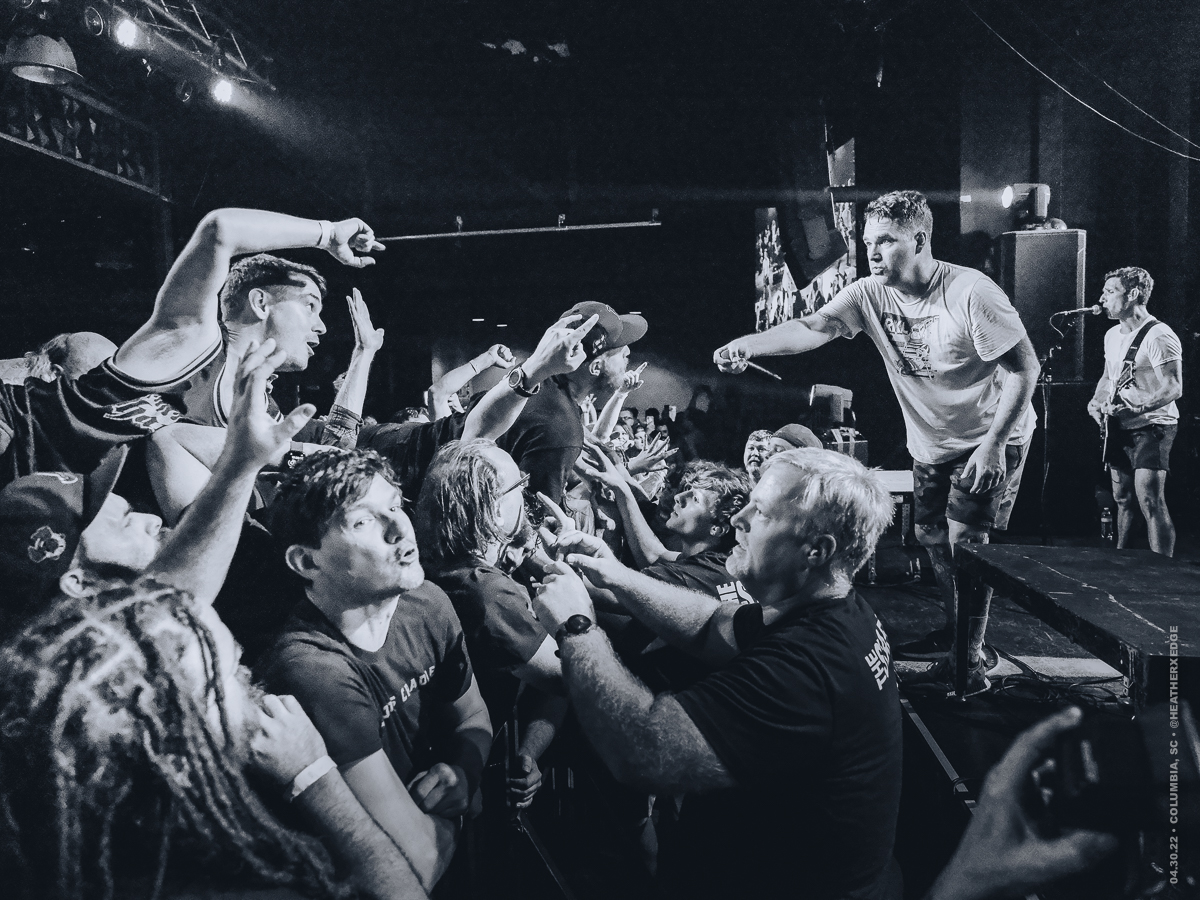 Stretch Arm Strong (S.A.S.) formed in early 1992 in Columbia, South Carolina and perfectly executed a style of hardcore punk that few other bands have been able master as well since. S.A.S. embodied a specific style of melodic hardcore, but seamlessly incorporated elements of pop-punk, emo, post-hardcore, and heavy breakdowns throughout.
The band was initially active from 1992 until 2005 and briefly reunited in 2011. However, in 2020, Stretch Arm Strong joined forces once more to play Furnace Fest together. They recently partnered up with Iodine Recordings to reissue their 1999 sophomore album, Rituals of Life, originally released on Solid State/Tooth & Nail Records, which has been out-of-print for over 20 years. This limited edition pressing has been completely re-designed and re-packaged using elements of the original José Parlá artwork by award-winning design firm, Unoriginal Vinyl.
It has been completely re-mastered for vinyl by Jack Shirley (Joyce Manor, Sweat, Touché Amoré) at Atomic Garden Recording Studio in San Francisco, California. Rituals of Life was re-pressed in several exclusive color variants, but, unfortunately, is now completely sold out across The US, but there are very limited copies in Europe still available through CoreTex, Evil Greed, and Banquet Records. We're told there will be super-limited edition quantities available at Furnace Fest 2022, as well.
No Echo is premiering the full re-mastered audio from Rituals of Life here exclusively today, along with a 14-minute video of behind-the-scenes footage of Stretch Arm Strong recording the album at Poynter's Palace in Little Rock, Arkansas from December 1998 through January 1999.
I recently got a chance to catch up with Stretch Arm Strong founding members Chris McLane (vocals) and Scott Dempsey (guitar) along with Iodine Recordings founder Casey Iodine. Check out our interview below, which has been lightly edited for general clarity.
Who is part of the current lineup of Stretch Arm Strong and what is each member's role within the band?
Chris McLane: Chris [McLane (vocals)], Scott [Dempsey (guitar)], Jeremy [Jeffers] (bass,) / D.B.C. [David Sease (guitar,) and] John [Barry] (drums.)
Who was part of Stretch Arm Strong during the recording sessions for Rituals of Life?
McLane: Scott, Chris, Jeremy, D.B.C., [and] John were all on that album and wrote the songs.
Scott Dempsey: Would, also, have to say Barry [Poynter] & Jason Magnusson had a big part in Rituals of Life. Matt McCarty (old friend and original singer) was, also, with us for a few days as well doing some back-up vocals.
How do you think Rituals of Life would hold up within the current climate of punk/hardcore music, if released today?
McLane: It is a banging record, but it was recorded almost 24 years ago. So, there are definitely something that could improve, had it been recorded today. Overall, we are really happy with that album and for a lot of people, that was their first introduction to our band.
Dempsey: We recorded that album December 28, 1998 [through] January 8, 1999 at Poynter's Palace in Little Rock, Arkansas in the dead of winter. Drove 11+ hours from Columbia, South Carolina to Little Rock. We pulled up and the studio was in a detached garage in the back of Barry [Poynter's] house. Seeing the place, we were worried, but we knew that ZAO had recorded there a couple times and just the week before we arrived, The Juliana Theory recorded Understand This Is A Dream.
Classic case of "can't judge a book by its cover." Barry, Jason [Magunusson,] and us worked really hard—long, grueling 10 to 12-hour days. Like Chris, said it was a long time ago. I think they did a great job capturing the energy of the band back in 1998-99.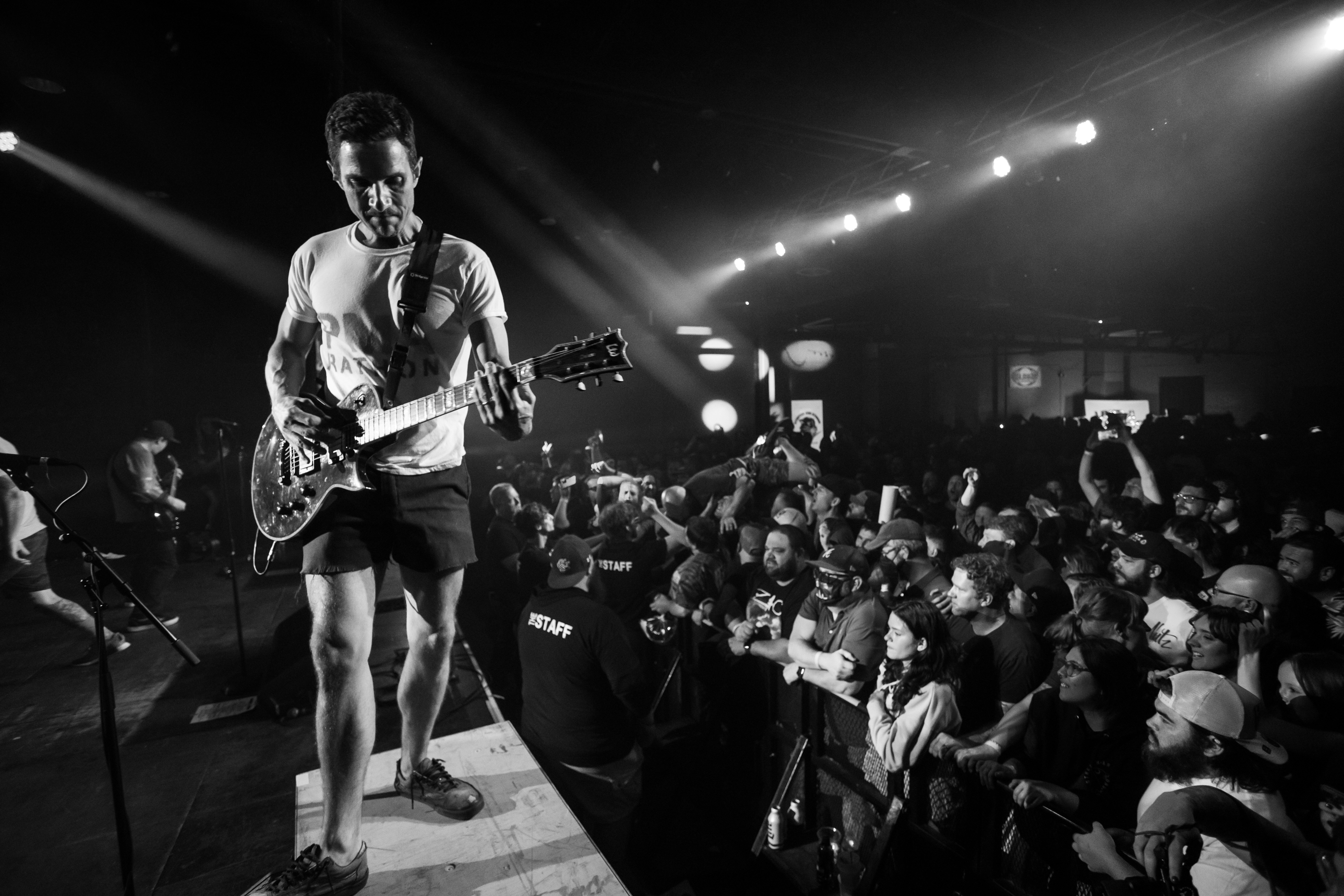 What was it like being signed to Solid State/Tooth & Nail Records?
McLane: It was cool. They were nice dudes. We were a bit different than a lot of bands on that label, but we met a lot of nice people while we were there and had a really positive experience.
Dempsey: We had talks with Victory [Records] at the same time we were talking to Solid State/Tooth & Nail. In the end, we just felt like SS/TN felt like the right choice for us. They were just nice people—not that Victory wasn't. We just had an instant connection with Bill [Power], Roy [Culver], and Chad [Pearson] that made it an easy decision for us. I do wonder how things may have been had we chose Victory—for better or for worse.
How do you think Rituals of Life sounds now, nearly 24 years after its original release?
McLane: It holds up in a lot of ways. Of course, after 24 years there are lots of things we would like to go back and change. It was a nice snapshot of who we were back then.
Dempsey: It would be a blast to go back and re-record that album, like Sick of It All did some of their classic songs. Not so much because the recording is bad, but just to hear it with today's recording technology. There are so many albums that I grew up on… many of the Youth of Today, 7 Seconds, [and] Gorilla Biscuits albums that I would love to hear with a proper recording.
Even though I know those albums front-to-back, the quality just is simply not as good. Would be fun to hear… but, then, you run the risk [of,] maybe, not capturing that rawness that made you fall in love with those albums in the first place.
Was there anything you specifically wanted tended to, fixed, corrected, changed, etc. during this re-mastering process ahead of the Rituals of Life's reissue?
Dempsey: As far the recording goes, not really. Now, if we had the original masters and could've done a complete re-mix, that would have been interesting. The only thing we wanted to make sure happened is that the Modern English cover song, "Melt with You," was included in the release. Casey [Iodine] had to jump through some hoops to make that happen.
Well, what made you guys decide to record a cover of "Melt with You" in the first place?
McLane: We always liked putting a cover song on all of our releases. D.B.C. & I had been going back-and-forth with trying to play this [song] for a long time. It's a Punk song at its core and worked nicely as a slightly gassed up [Hardcore] song; lots of fun to play live
Who or what would you cite as some of your main sources of inspiration and influence while creating Rituals of Life?
McLane: I don't know if the album sounds like the bands that influenced us, but we have always been influenced by bands like Verbal Assault, Minor Threat, 7 Seconds, Bad Brains, H2O, Hatebreed, [Rich Kids On LSD] (R.K.L.,) R.E.M., U2, Descendents, and the list could go on and on.
What can you tell us about the release details and vinyl variants for this reissue?
Casey Iodine (Iodine Records Founder/Owner): Both Iodine [Records] & Stretch Arm Strong were overwhelmed with how excited people were to see this record finally re-issued after so many years. We thought we had pressed enough to stay in stock for a while, but we almost completely sold out in less than one day after the announcement.
As with all of the releases on Iodine, we strive to make them feel special and with 'Rituals of Life,' we spent a lot of time overhauling the artwork, re-mastering the tracks with Jack Shirley at [The] Atomic Garden [Recording Studio], and creating the companion 'zine that highlights the importance of this record with many voices from punk & hardcore scene. Iodine is lucky that we were able to work with many of our partners on this release including: Deathwish, Inc., Revolver magazine, Revelation Records, Smartpunk, Banquet Records, Patient Zero [Records], and Evil Greed.
In total, we did eight variants with exclusives offered by our partners. We will, also, be offering a small run of Furnace Fest exclusives with an alternate cover, silk-screened and hand-numbered, which hasn't been officially announced yet. The release date is set for 9/23/22 to coincide with Stretch Arm Strong playing the Friday of Furnace Fest.
Would you mind explaining a bit about the cover artwork and packaging for Rituals of Life? What's been updated for this specific re-release?
Dempsey: Chris has the original artwork framed in his house. It was painted by an old friend of ours, José Parlá, who now is a pretty big deal in the art world. Anyway, the original release cropped off most of the painting and just showed a little portion of it, so we decided it would be cool to reveal the whole painting as a new look and a different cover that still represented the original cover. I think that was Jason [Zeimet] from UnoriginalVinyl's idea.
I would be remiss, if I didn't ask this before wrapping up this interview... but why are there two separate versions of S.A.S.' version of N.W.A.'s "Express Yourself" from Too Legit for the Pit: Hardcore Takes the Rap (2001) and ENGAGE (2003?)
McLane: We recorded it for Too Legit and we wanted to re-record it and put it on ENGAGE. Again, fun song to play live and in the studio. Fun for us and the crowd when we used to play it live.
Dempsey: Classic example of what I was talking about earlier; you re-record something and you have the chance of it not coming out as good as the first recording. To me, the version we did at home in South Carolina at The Jam Room is just a better version of the song.
What's planned next for Stretch Arm Strong?
McLane: Hard to say. Having fun, at the moment, and not taking it too seriously. Everyone is in a relationship and 4/5 of us have kids. Scott lives in New Jersey, so doing anything takes some planning and coordination.
Dempsey: When we got back together for Furnace Fest 2020, we just had a great time re-connecting as friends and playing the songs again. We did this band for many years of our lives and it was pretty grueling back then. We were so burnt out back then, but, now, its sorta come full-circle and it's very refreshing to get together on our terms with no pressure and to just do whatever we want. It's really just an excuse for us to hang out [laughs].
After we played Furnace Fest, we were all sorta bummed, like, "is this it again?" So, then, we scheduled our hometown show (that was amazing) partly, so we could just keep seeing each other. Life swallows you up sometimes, so it's a nice way to make sure we all see each other. The response at the shows have been amazing. All the merch [people] have bought has been awesome, too.
There [were] many years where you could not get Stretch Arm Strong merch, unless you had something from back in the day (sorta the same with the 'Rituals' re-press. It truly means the world to us to hear that we still mean so much to a lot of people out there. We've always had a special connection with our fans. Thanks for coming out, singing along, and supporting us.
PS: We've, also, written some new songs. Will those ever see the light of day? Who knows… Maybe, a Northeast show. Maybe, a [Southern California] show. We move very slow these days [laughs].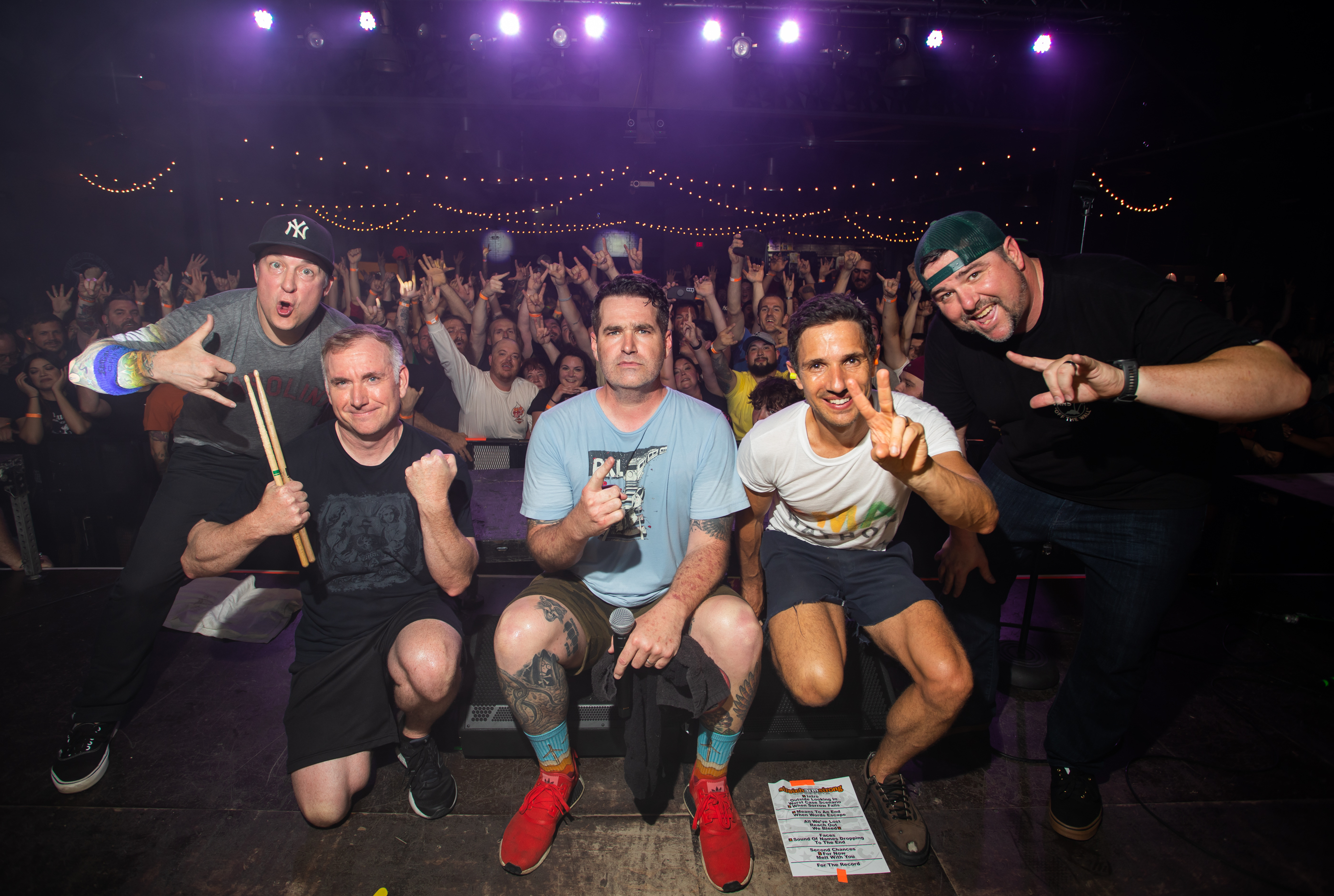 ***
The Rituals of Life reissue is available for pre-order via Iodine Recordings.
***
Help Support What No Echo Does via Patreon:
***
Tagged: stretch arm strong