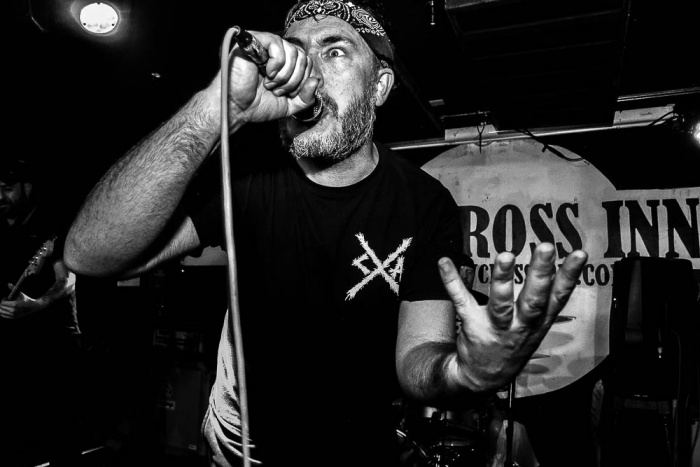 If you name your band after the title of a Negative Approach song, you better fucking rip! Featuring musicians who have played in such heavy-hitters as Break it Up, Voorhees, and Thirty Seconds Until Armageddon, it turns out that Tied Down does just that. "Basically myself, Sean and Gaz were in a band called My Rules, which was pretty much old-school hardcore, we played a few notable shows here and there with the likes of Slapshot, Sick of It All, and Mindset," Tied Down vocalist Lins Cuscani tells me. "The band eventually ran its course due to lack of songwriting and a merry-go-round of bass players! A year later, we got the itch to play hardcore again but doing it properly with the right band members and a more focused attitude."
Last time I chatted with Lins was for a Record Collector profile and he mentioned that he was playing in a band called Creepy Crawl. So, what's the status on that? "Well, this is the next part of the Tied Down story because basically Creepy Crawl is Tied Down," Lins explains. "We opted for a different name after one gig that we played with Battery in Leeds. Creepy Crawl was literally pulled out of the air by Sean because we could not think of a suitable name that had not already been taken. We settled on Tied Down basically because of our love of Negative Approach!"
The fruits of Tied Down's labor can be heard on their eponymous EP, which was released towards the end of 2018:
From what I'm gathering, folks are comparing Tied Down's sound to early Boston and NYHC. What does Lins say about the group's stylistic approach? "I would say we have a mixture of a few different I influences in our songs. Definitely some early NYHC in songs like "Asshole Alert," some early Boston in "Turncoat" and "Divide and Conquer," and in some others, we have more of that melodic Orange County thing going on. I guess we just blend all of our main influences up and spit it out. Sean is our main songwriter so you can blame him for eclectic output!"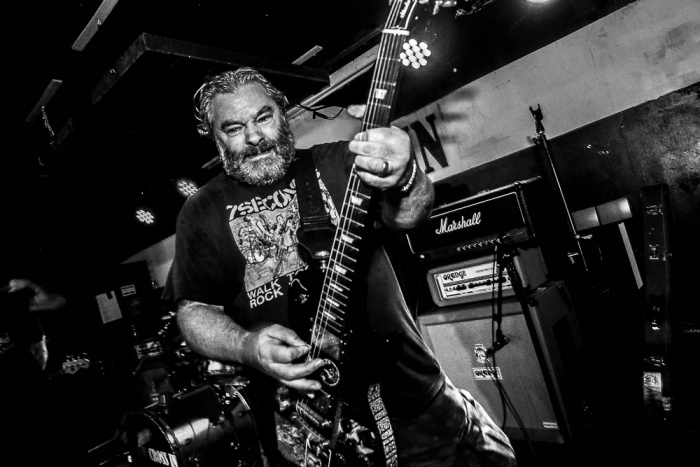 You know me. I always have to ask musicians from outside of the US how their respective hardcore scenes are doing. "It's a good question and one I'll try to answer honestly. The UKHC scene has many different facets to it these days from the traditional hardcore punk-sounding bands to those that play out and out metal. I can only really comment on the hardcore punk side of things as that's my thing. There are a couple of really good bands that I dig that everyone already knows, like Arms Race, The Flex, and some more obscure ones like Natterer's (female-fronted snotty hardcore punk), Zero Negative (surfy punk hardcore), Warwound (raging D-beat), Jaded Eyes (like Government Issue), and of course old-school stalwarts Voorhees. Discharge also still do their thing as good as ever.
"The thing is with the UK, there's a distinct them and us thing going on with some of the younger bands and the bands made up of older scene guys/gals, which is a shame but I guess the age gap dictates that some bands are more appealing to certain age brackets than others. On a whole, though, the UK scene is as big as its ever been with lots of bands, shows, labels, and kickass venues. Temple of Boom in Leeds is my favorite venue, it was literally made for hardcore punk and underground music. Hopefully it's getting enough of a rep to being the number one venue over here."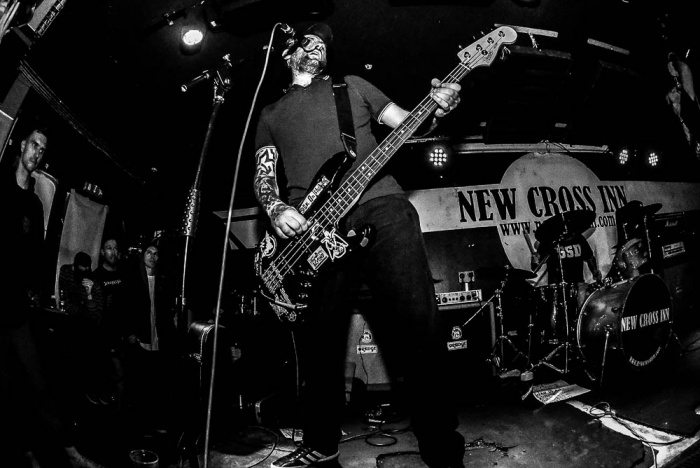 Lins and the Tied Down dudes have plans, man! "Well we want to play as much as we can. I mean, we are all in our adulthood prime now [laughs]. Playing out has its difficulties with families and Jobs to contend with, but we will do our utmost to promote the EP and get the band out to the masses. We already have shows in Sweden andNorway (with a kickass new band called Nimble Fingers from Sweden) and Germany in the works as well as the UK. We get to play with one of our favorite bands, the Adolescents, in June at the Temple of Boom, so hopefully 2019 will be a productive and exciting year for us.
"We also want to try to repay the faith Rob (Refuse Records) and Sheep (Sakari Empire Records) have put in us to release the EP. Going forward, we already have a second EP's worth of songs recorded and we've written two brand-new songs that will be the start of the writing process for an LP at some point."
The Tied Down 7" is available now via Refuse Records and Sakari Empire Records at this link. If you prefer digital, Bandcamp got the goods.
***
If you're shopping for vinyl, CD, and cassette hardcore titles, head to No Echo's partner store, Reverb LP, to see what they have available. Every purchase you make helps No Echo with site costs.
Tagged: break it up, tied down, voorhees