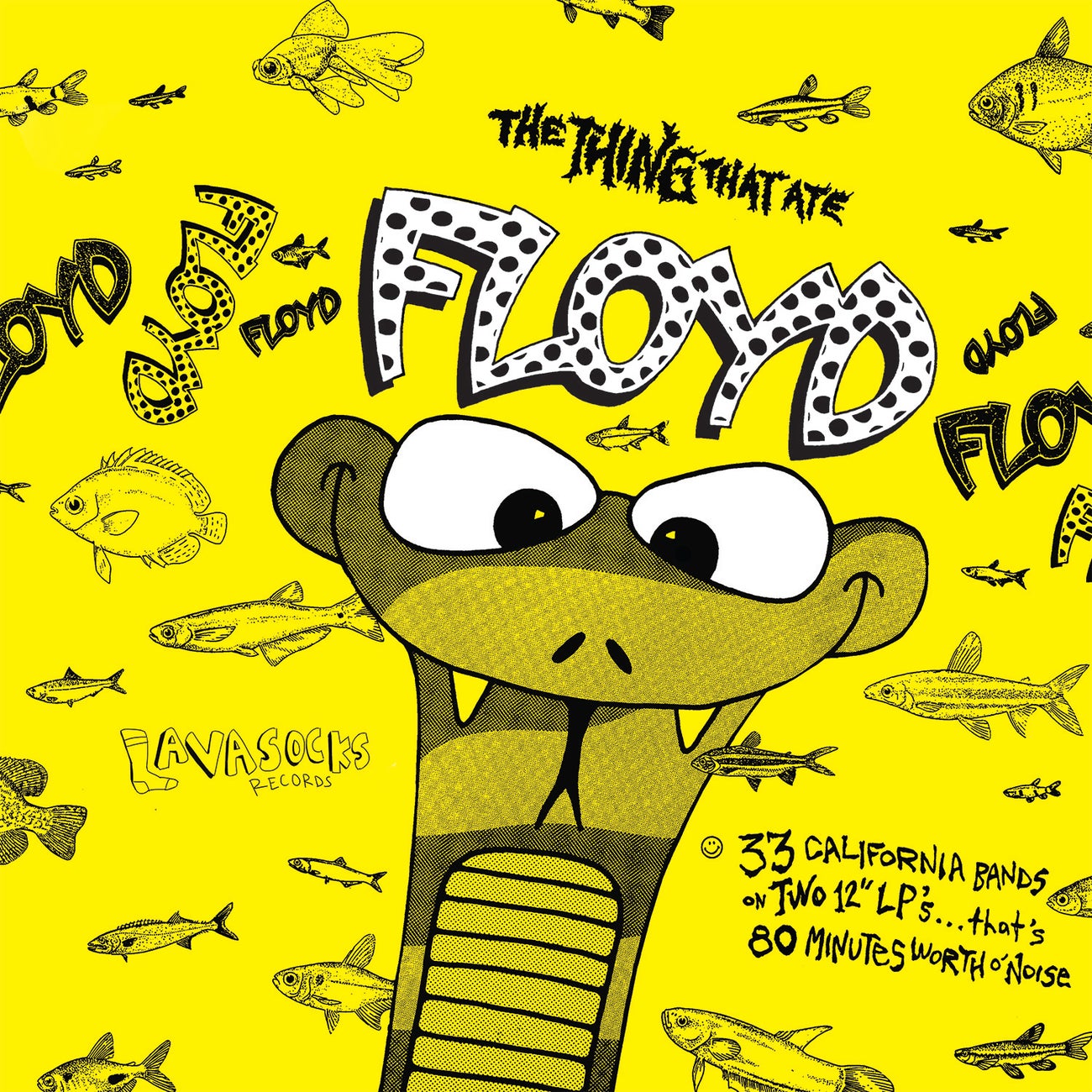 "For me, 924 Gilman helped me to discover that punk was more than just leather jackets and mohawks, it was whatever you wanted to make of it," says Lavasocks Records founder Alex Botkin.
No Echo is chatting with the punk lifer in advance of his label's forthcoming reissue of The Thing That Ate Floyd, the seminal Lookout! Records 1988 compilation that features Operation Ivy, Neurosis, No Use for a Name, and a host of other bands that helped influence the musical decade to come.
Since the aformentioned punk venue was so integral to the community, all proceeds from the sales of the reissue will be donated to 924 Gilman, a place near and dear to Botkin's heart. In addition to booking shows there throughout the years, he's also on the venue's board and handles their accounting.
"I wore a bright green polo shirt and a propellor hat for my first show there, and everyone was cool with it," Botkin tells No Echo. "I've learned how to book shows, design flyers, and be an active member of something in ways that go far beyond just the music. It's certainly taught me how to grow up in a way that suits me best. I owe a lot to that place, and this is just one of the ways I'm trying to give back."
Remastered directly from the original tapes by Ryan Perras of District Recording in San Jose, The Thing That Ate Floyd will be released on vinyl via 4 variants next month. Check out Operation Ivy's "Hangin' Out" from the compilation below:
Botkin talks about the compilation reissue and why he wanted to give it the reissue treatment: "The Thing That Ate Floyd, to me at least, represents the perfect melding of everything Lookout! Records and Gilman represents. The music is bizarre, aggressive, and no two bands or songs sound the same.
"David Hayes had a knack for fantastic compilations, and this is one of his best. A reissue has been long overdue, and right now Gilman is reliant on donations to stay afloat until shows return, so it was the perfect opportunity to bring the record back out and also use and the fanbase it and Lookout already has established to help out Gilman."
No Echo asks Botkin of all the shows he's been behind at 924 Gilman, which one stands out to him the most. "As a booker, the Lookouting shows I did in 2017, because they brought together the past and present to celebrate East Bay punk, and also is the reason for everything I have done with my label and the club since (including this Floyd reissue).
"As an attendee, the first show I ever saw is still my favorite, as there's nothing like a giant inflatable phallus knocking your glasses into the mosh pit of Pansy Division to quite make you realize this is a special place."
The Thing That Ate Floyd is available for pre-order via Lavasocks Records. All proceeds from sales will be donated to 924 Gilman.
Four variants are available:
Orange vinyl - limited to 50 (yes, the first 50 are orange, we promise)
Pink vinyl - limited to 100
Blue vinyl - limited to 200
Yellow and clear splatter - limited to 250
Tracklist:
Skinflutes - "Straight Edge Song"
East Bay Mud - "Win Or Lose"
Corrupted Morals - "Big Man"
Neighborhood Watch - "Gloria"
Tommy Rot - "Not One of Mine"
Cringer - "Cottleston Pie"
Boo! Hiss! Pfftlb! - "Bananas Smell Funny Sonata In G"
Eyeball - "The Incredibly Blue Mustance of Mr. Tinselteeth"
Isocracy - "Happy Now"
Kamala & The Karnivores - "29 Degrees"
Bitch Fight - "On and On"
Plaid Retina - "Tied / Tried"
Neurosis - "Common Inconsistencies"
Complete Disorder - "We Must Do Something Now"
Well Hung Monks - "Product of Misdirection"
Swollen Boss Toad - "Broken Strings"
Vomit Launch - "Life Sucks"
Relief Society - "Abandoned Beer Messiah"
MTX - "Boredom Zone"
Sewer Trout - "Vagina Envy"
Vagrants - "No Way Back"
Sweet Baby - "Andorra"
Stikky - "Don't Lick My Leg"
No Use for a Name - "What!?!"
Surrogate Brains - "Extreme Racial Pride"
Lookouts - "Outside"
Capitol Punishment - "Jackknifed Rig"
Spent - "In My Past"
Raskul - "Change"
Tribe of Resistance - "Contraversy"
Nuisance - "Day of Sun"
Operation Ivy - "Hangin' Out"
Steel Pole Bath Tub - "Bee Sting"
Tagged: neurosis, operation ivy