For those of you who missed my previous coverage on them, Manson Family Band is a Southern California outfit featuring former members of Visual Discrimination. The group plays a wilded-out style of punky hardcore that wastes no time getting to the point. In Manson Family Band's case, the point is driving home filthy guitar riffs over relentless tempos and gnarly vocals.
2018 saw the release of their eponymous 7" and now Manson Family Band is starting the new year with a batch of new songs, a great idea since they've since welcomed in guitarist Steve Winders and bassist Marc Blackledge into the fold. Check out a new track called "Dead Robots" below that features an opening film sample that should be familiar to any fan of Easy Rider:
Manson Family Band guitarist Buster Cates says the following about the song: "'Dead Robots' is about the running around we do rushing from one mundane task to the next while the clock ticks faster and faster. The ride is over before you know it so why not go full throttle on something that means the world to you? Ride fast and take chances type shit."
I asked Buster about Manson Family Band's name and if the moniker has caused any issues for them. It turns out I was right: "We lost our Instagram account last year. It seems a lot of people aren't too stoked on our name. It was odd how one person could take us down like that and it really illustrates how our society is these days. Yeah, we do get a lot of crazy questions and assumptions based on the name. Mostly way out negative stuff. When we started the band, we just wanted something sinister and kinda campy. I don't think we realized people would take it so literally. Even some of the remnants of the actual Manson Family have contacted us. While we have had tons of pressure to change the name we think, "why stop now?," laughs the guitarist.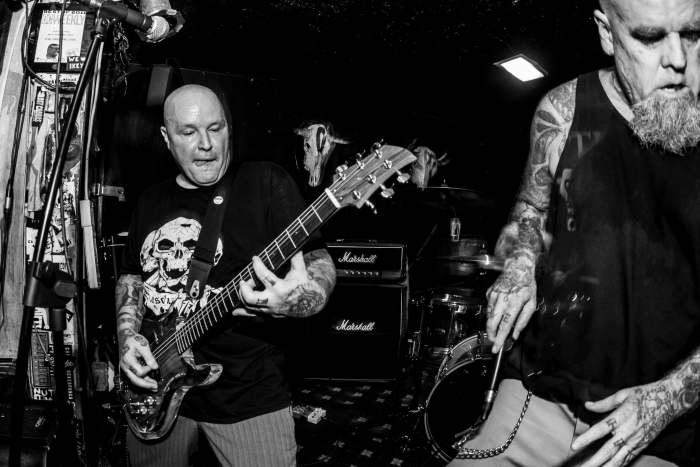 All the group name drama aside, how about the other new Manson Family Band songs "In addition to 'Dead Robots,' we also recorded a track called 'Blood Bond Broken,' which for us is epic long. It clocks in at about two and a half minutes, and 'Breathe' is another ripper. Like most of our songs thus far, the lyrics and music are kinda of a mixed bag. With so many influences to draw on, we have a ton of ground we can cover."
"We hope people dig what we do and don't get too caught up on our stupid name. We don't bite."
Follow the Manson Family Band on Facebook.
***
If you're shopping for vinyl, CD, and cassette hardcore titles, head to No Echo's partner store, Reverb LP, to see what they have available. Every purchase you make helps No Echo with site costs.
Tagged: manson family band, visual discrimination