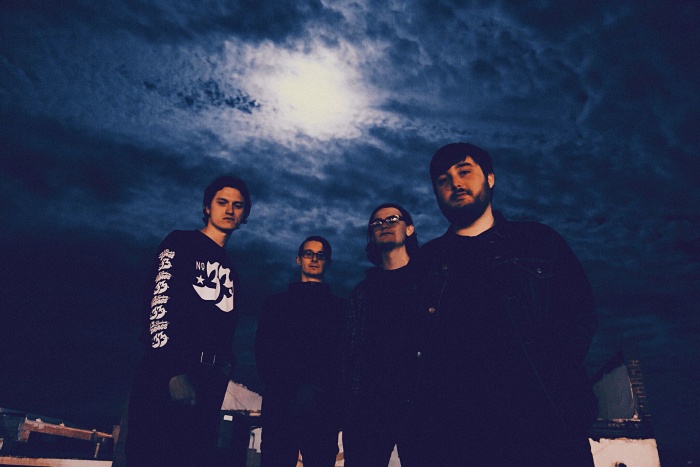 Blending the atmospherics of bands like Swervedriver with the muscular riffing usually found in post-hardcore, Honeymoon is an Ohio-based quartet formed back in 2017. To date, the group has issued a handful of EPs on their own, but they recently have beed added to the growing Head2Wall Records family, joining such bands as Small Stresses, Goodgirl, and Summerhead.
In the beginning of the new year, Honeymoon will be releasing their debut LP, From the Future, and No Echo is presenting the premiere of the music video for "Form8," a track from the collection:
"This song is based on the world going in a direction that is not beneficial to anyone but a select few and feeling powerless to do anything about it and basically wanting to leave," said Honeymoon vocalist/guitarist Zac Breitbach via email. "The music video was shot by Andrew Wells in my father's office basement. Andrew is a very professional photographer and videographer. Hire him! Clothing provided by Levi's and guitars provided by Fender. Drums provided by DW drums. Thanks for watching!"
From the Future will be out on January 10, 2020 via Head2Wall Records. Pre-orders for the LP, and an exclusive new longsleeve t-shirt, are available now at this link.
Honeymoon on social media: Facebook | Instagram
***
Donate a few bucks to help with No Echo's operating costs:
Tagged: honeymoon