Skinhead Oi! music can be a double-edged sword these days. One might be completely into raw, early '80s British Oi!, but when it comes to current bands, most of them come off as pale imitators. More often than not, younger bands are too preoccupied with regurgitating older and better sounds, but never truly capturing that original vibe.
Enter Crown Court, London's premier bootboy outfit, and their astonishing debut LP, Capital Offence.
The 13 songs on Capital Offence are powerful updates of Oi!'s essence, all the while remaining true to its roots. That elusive sonic template has to reflect in equal parts: aggression, swagger, drive, and a commitment to catchy sing-along anthems.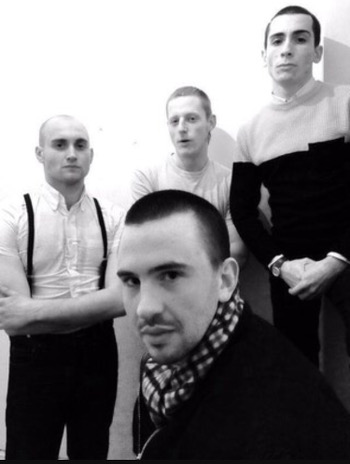 This album has it in spades, but it's the atypical moments that really stand out—like the bluesy intro to "Hated But Rated," the melodic mid-tempo groove of "Thames Sake," or the bovver glam tinge in "Shapes of the Day."
All the songs feature tasty guitar licks, creative drum and bass interplay, and heavily-accented vocals. Call me an Anglophile, but for me, the best Oi! has to have that patented, gruff British accent. It's really heartening to see a vital 20th century youth subculture still continue to resonate with today's generation. The Crown Court lads can be proud of their accomplishment: tunes that yesterday's bootboys can relate to as well as the newer crop of aggro enthusiasts. Just click on the lead track, "Sammy Skyves" (King of the Skins!), for the finest in modern day skinhead rock 'n' roll.
Capital Offence is currently streaming on Bandcamp, and will soon be available to download directly from Crown Court. European fans of the band will soon be able to purchase a vinyl copy of the album via Rebellion Records.
Get It