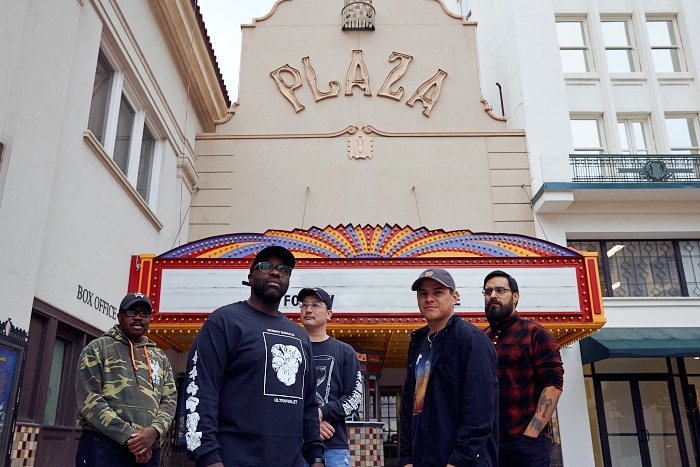 Heavy music heads in the West Texas region are probably already familiar with Know//Suffer. The El Paso-based quintet's death metal-kissed mosh was last heard on The Great Dying EP, released in 2021.
"Know//Suffer kind of started as an accident after our band Triumph Over Shipwreck broke up in 2016," drummer Jay James tells me via email. "Eric, Larry, and I started writing in winter 2016 as a three piece before we tricked Toast into doing vocals. Jerry played in a rad death metal band called Damien from Las Cruces. Most of us have been friends for 10+ years. I've know Eric since I was 11-years-old so the chemistry just seems automatic."
A couple of weeks ago, Know//Suffer released Winter Two Piece as a way to whet the appetite for their next chapter. Jay describes his band's sound and influences: "I've always wanted to induce that anxious, panic feeling! Like, the first time I saw Ed Gein or Ion Dissonance. You can just feel the music. Almost like a punch in the chest. Just makes you want to move.
"[Laughs] Influences, oh man, the short list? Animosity, War From a Harlots Mouth, Ion Dissonance, Cult Leader. The list can go on and on!"
The drummer gives some insight on the latest Know//Suffer drop: "We tracked these the summer before our tour with Oceano and Left to Suffer. Hector Meza of BarbarianTX owns a studio here in El Paso called XBCX Recordings. He engineered the recording sessions and nailed some killer tones. Kevin Antreassian of Backroom Studios handled the mix and master. This blew my mind for a couple of reasons.
"Kevin plays for a few of my favorite bands: The Sawtooth Grin, Knife the Glitter, and ex-Dillinger Escape Plan. Insane that he touched our music. Thanks to Micheal Kadnar and Silent Pendulum Records for making that dream a reality."
Jay also shows some love for his bandmate: "Lyrically, Toast does such a great job and he's really been pushing it as a vocalist lately. He's my cousin who drums and I forced him on the mic because I loved his writing so much. On these songs he touched on life after religion, the growing pains of life, and survivor's remorse. Losing and accepting."
You know it's not a No Echo piece without getting the skinny on a local hardcore scene, so Jay provided the goods. "El Paso is doing well! A lot of new faces, which is great. Bands like Rotten Disgust, Linger, CNVCT, Death Benefits, Crown of Horns bringing some new heat to the city along with the OGs! It's a good time."
**
Winter Two Piece is available now via Silent Pendulum Records.
Know//Suffer on social media: Instagram | Bandcamp
***
Help Support What No Echo Does via Patreon:
***
Tagged: knowsuffer