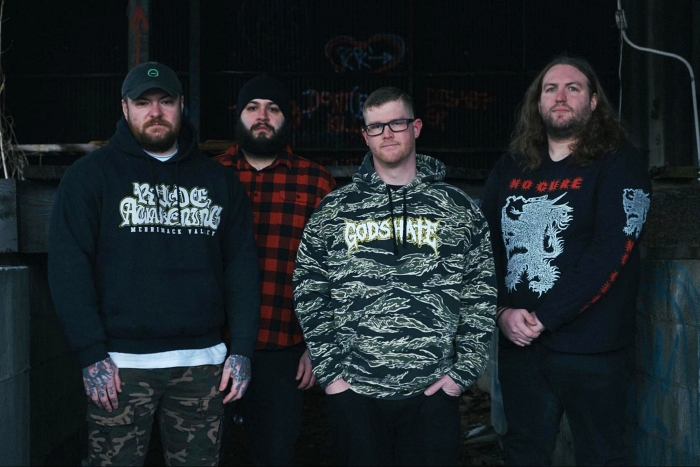 Pure Bliss stand amongst the crop of heavier bands the hardcore community has been delivering as of late. They're cut from the same brutal cloth as Earth Crisis and Trail of Lies, delivered by seasoned veterans of the scene.
The band's sound owes just as much to '90s metal as it does to hardcore and metalcore bands as they seek to push their heaviness even further to points past the usual limits of the genre. There's a lot of outside influence that must come when looking to make Hatebreed-eque guitar riffs more dynamic and crushing. With that blueprint in mind, Pure Bliss found their sound featuring assbeater guitar parts caked over with vocalist Brandon's monstrous vocal delivery.
In the year since I covered them, Pure Bliss revamped their lineup with new guitarist Daemon and drummer Steven. The band lost no steam in their attack and looks to take their sound into a heavier, visceral, and self described "dumber" realm.
Speaking on the bands new The Age of Judgement EP, Daemon states, "Without giving too much away, I will say that Machine Head's Burn My Eyes was on repeat the entire time we wrote this. I definitely pull a lot of the harmonic usage and chord progressions from that album." As "Davidian" remains Machine Head's greatest musical achievement for its mix of metal and hardcore grit, to creating one of the most iconic breakdowns ever, the influence takes Pure Bliss' sound to the next plateau.
But before we get to The Age of Judgement, let's get you up to speed on Pure Bliss' discography.
Released in February of last year, Pure Bliss' A Second of Grief, A Life of Regret EP introduced a heavier and faster sound compared to their debut offering, 2021's The Pain Never Leaves. Earning comparisons to their Syracuse forefathers Buried Alive and the aforementioned Earth Crisis along the way.
Going back to their influences, Pure Bliss have a particular penchant for Connecticut heavyweights Hatebreed. "I have not stopped listening to Hatebreed since 2010," says Brandon. "Once you've seen God you can't look back at Joseph."
The vocalist talks about the sound of The Age of Judgement:
"We kinda dumbed it down for this release, if you wanna put it in simple terms. We're not trying to reinvent the wheel, we're just trying to make fun moshy songs at this point. We just wanted minimal amounts of filler and take what we're good at and utilize it to make some heavy songs. So from the last EP to now it is a bit more straightforward, we wanted this to be right up in your face the entire time."
Pure Bliss have given No Echo the opportunity to premiere The Age of Judgement's title track on our site ahead of the release of the EP, which will tentatively drop next month. Touching on what the track is about, Brandon once states, "I think of all the times I've seen people post online about how they saw some assaulter or scumbag in the scene at a show all proud and shit but didn't do shit about them. It's like fuck them and fuck you for not doing something about it."
Bassist Dan further elaborates on the songwriting, explaining, "The writing for this one was very broken up in the sense that we'd write out a whole song, get rid of it then write something else and then take a part from the previous song that we thought was sick and fit it into that somehow. Before we'd tweak songs very minimally but for this one we all threw in new stuff."
Having seen this work with previous bands such as Living Cursed, who released one of the heaviest metalcore EPs last year, there's a lot to look forward to with Pure Bliss' new EP.
With the new lineup, Pure Bliss expected some changes to come into the mix of their songs and performances but the band has in the last year adapted to each other's styles perfectly, balancing out the neanderthal riffs while continuing the depressed meathead attitude of the lyricism. In the last year, they have toured the East Coast playing shows they've toured as far as Florida and played many shows in Pennsylvania, opening for new heavy hitters such as Dying Wish, Great American Ghost, and 156/Silence, while also opening for legends like Ringworm and Death Before Dishonor.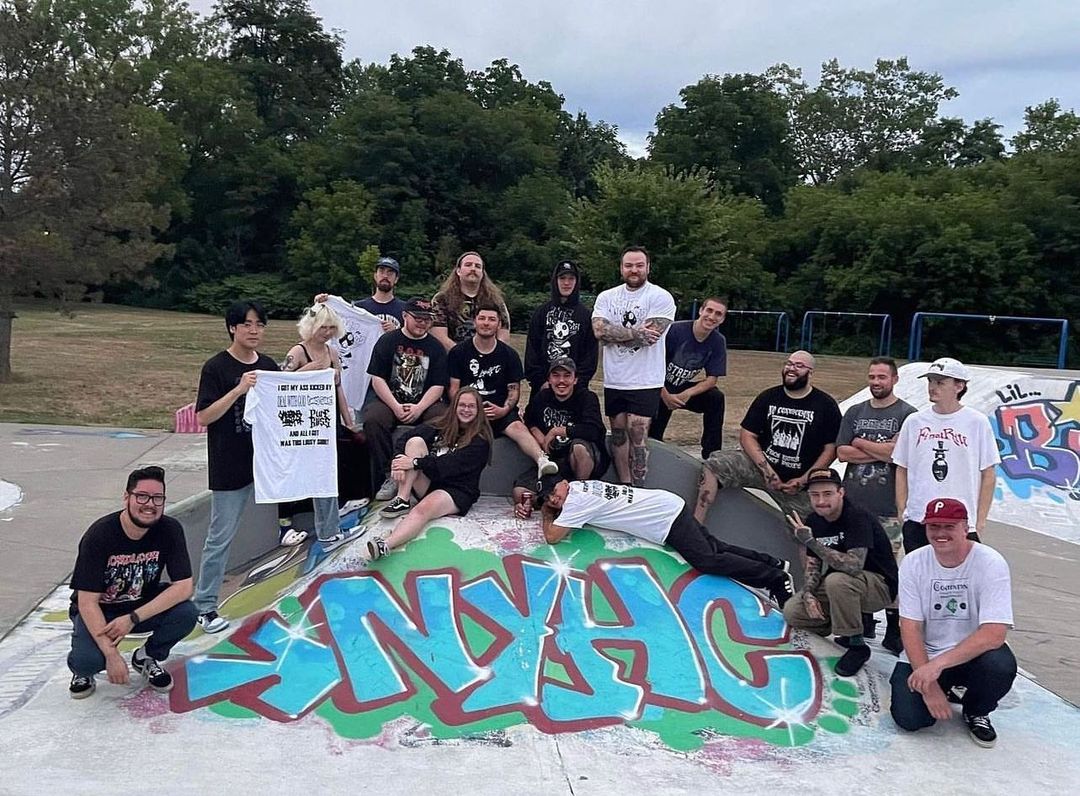 While also keeping up with touring venues, Pure Bliss have helped keep their local scene alive by playing shows at DIY locations and even performed at a local skatepark at one point. "It's shows like that where you're outside, running on generators and there's a bunch of kids running around throwing skateboards or skating around you that make you feel like the spirit is really alive. I'd just gotten my gauges stitched back up finally and within one minute at the skatepark someone ripped the stitches out but it was so worth it," states Brandon on Syracuse's DIY scene.
On top of all this playing Pure Bliss have been able to record the EP at More Sound Studios in Syracuse with Casey Ahern-Cavallo. Boasting 5 brand new tracks of the band's crushing take on Syracuse's well-established sound, the EP keeps their relatable and often emotional lyricism while also addressing exterior issues within society. Maybe it's just me but heavy bands talking about people they hate or things that piss them off will never get old in this scene and according to the band, they plan to offer just that, while still staying personal Brandon wants to keep them simple compared to his previous lyricism.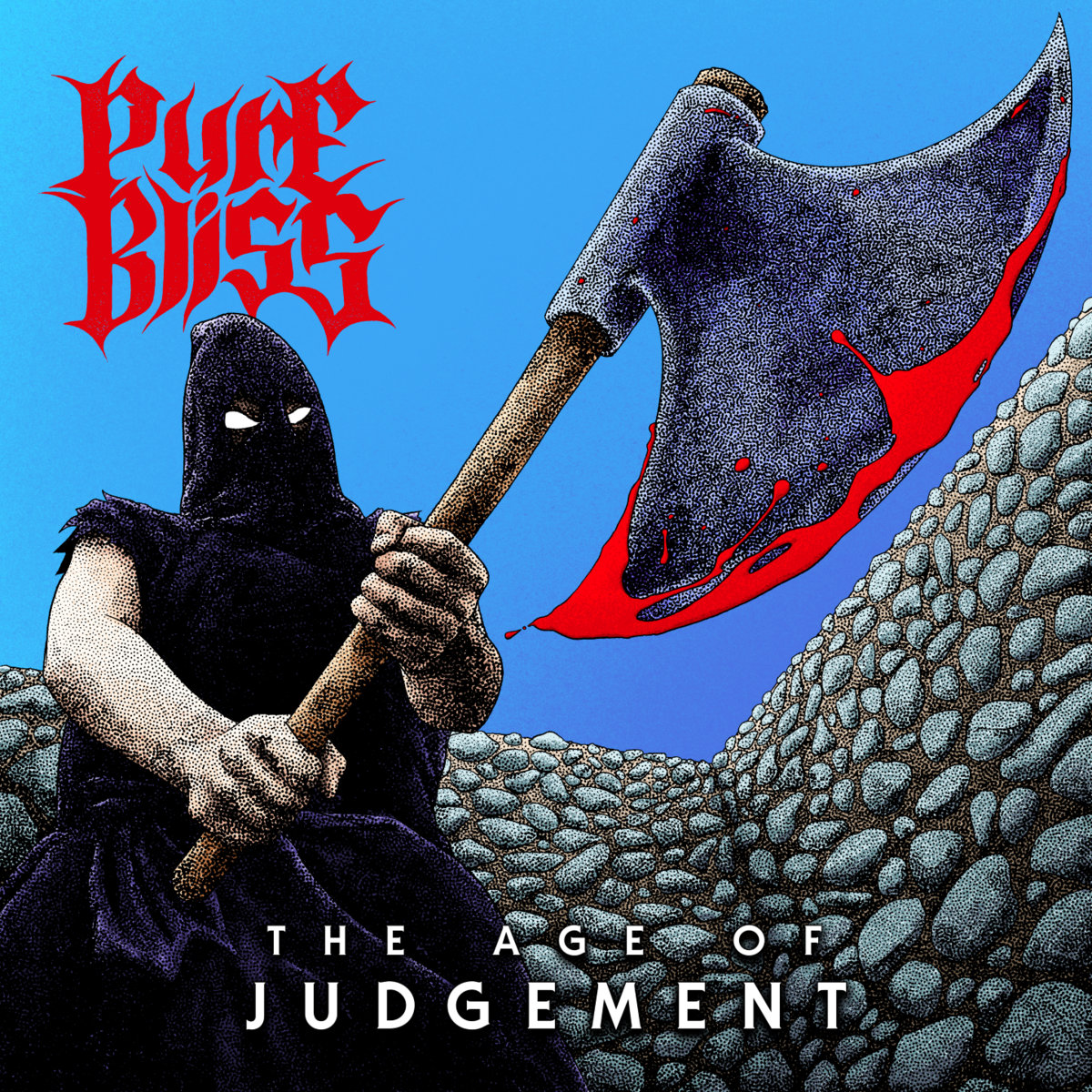 "Before I was getting pretty metaphorical with my lyrics, but I feel like now I'm able to just be a lot more direct and just say what I wanna say as plainly as possible. I'm not trying to be clever like Blacklisted or whatever," explained Brandon on his new lyrical approach.
There's sort of liberation in realizing that lyrics can just say what the person truly wants in the most plain terms, there isn't always a need to mince words especially in hardcore music. With heavy hardcore bands especially it can easily get the crowd moving and clamoring for the mic just by stating your case in the simplest terms you can.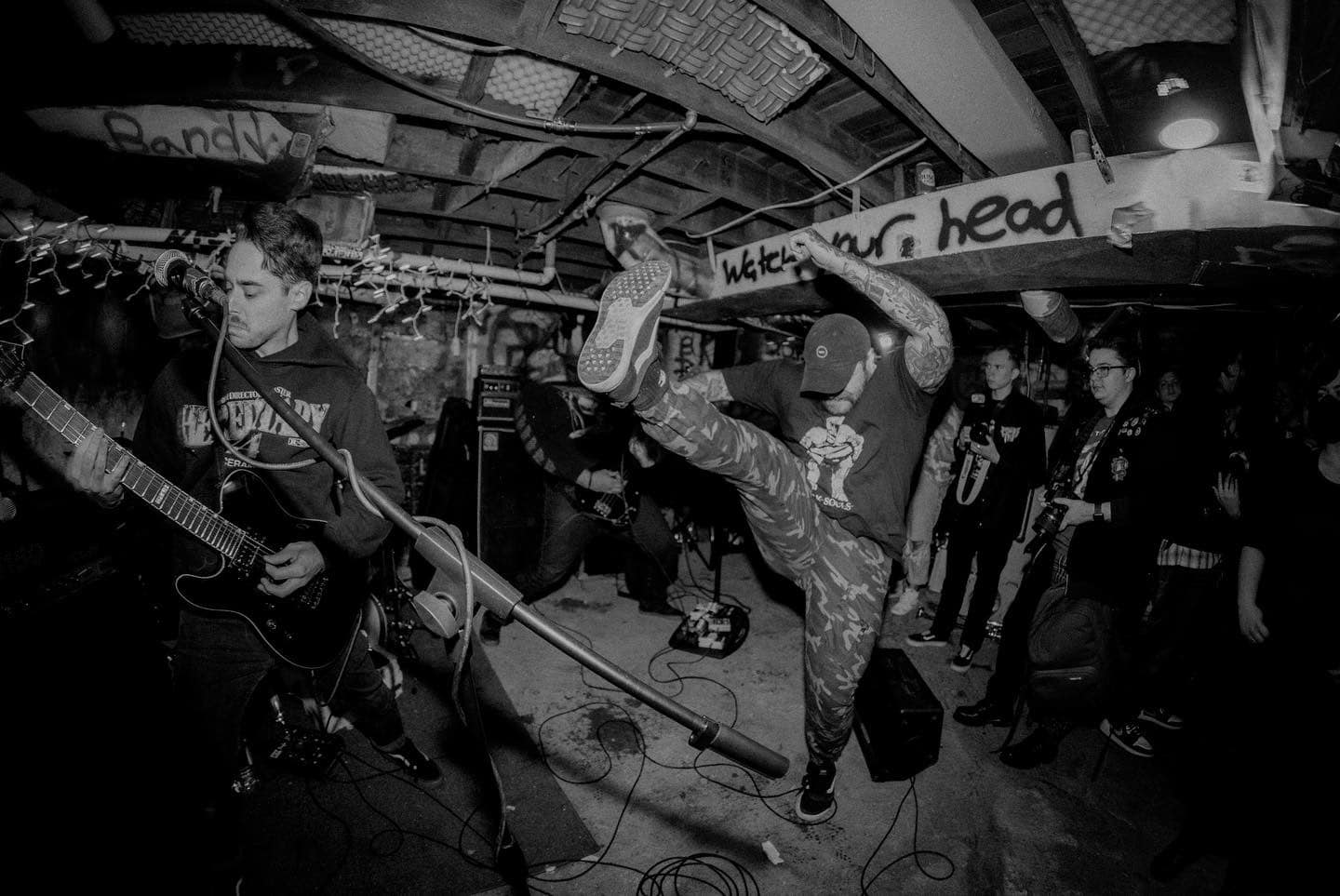 For now, Pure Bliss will be playing some hometown shows, and in April they will be doing a two-week East Coast tour with North Carolina band Regions. The trek will coincide with the EP drop on April 8th. Be on the lookout for Pure Bliss if they're rolling through your town.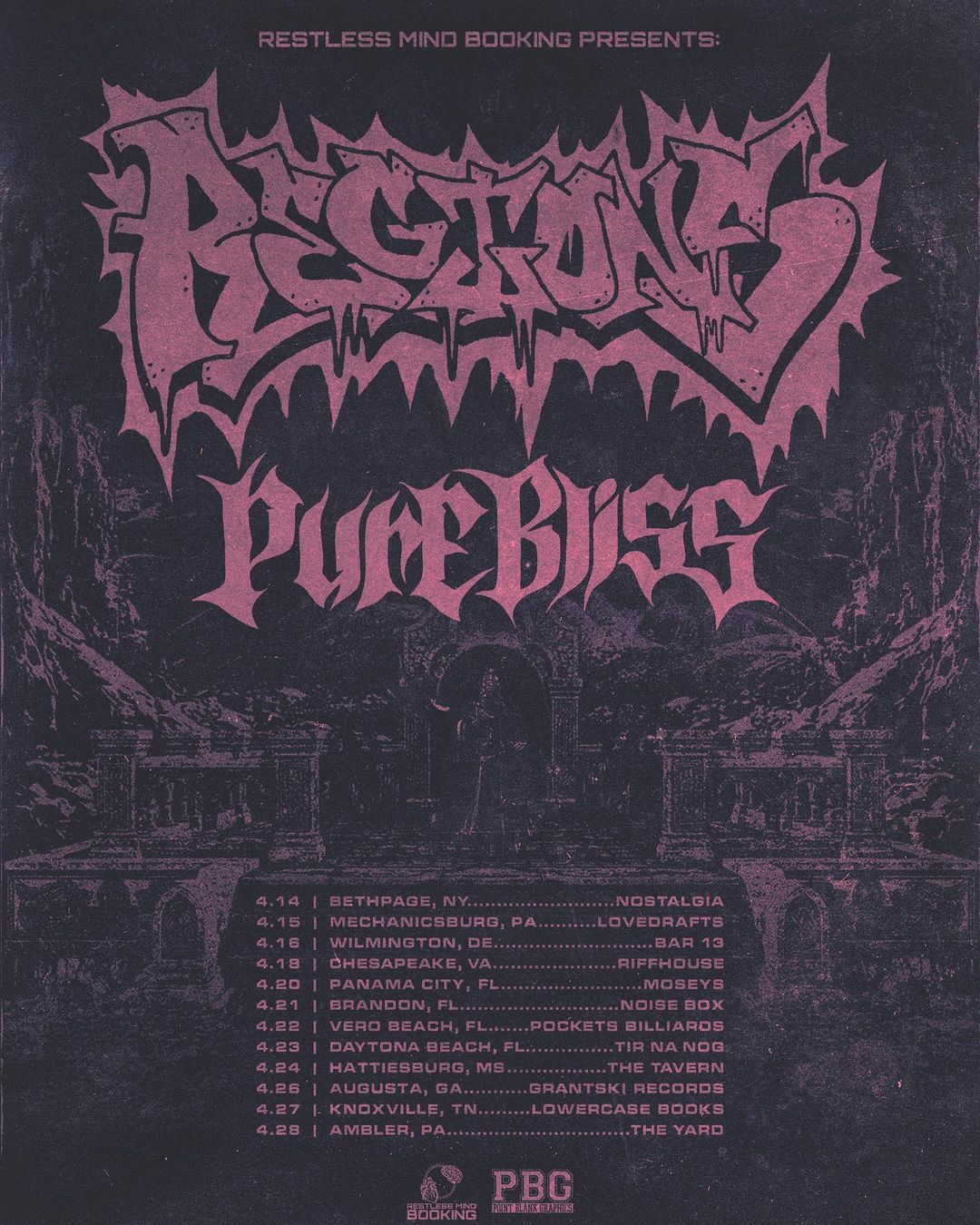 Pure Bliss on social media: Twitter | Instagram
***

Tagged: pure bliss