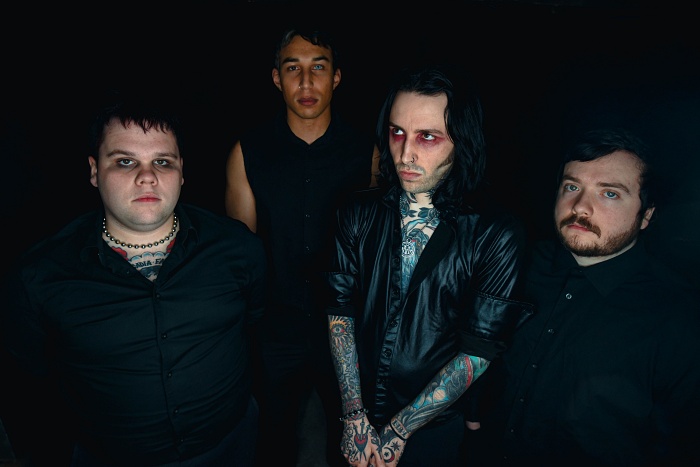 I doubt Wristmeetrazor require much introduction at this point, with the band now moving on to their second album, while a varied and expansive catalog lies in their wake. Boasting a chameleonic sound that has ranged from screamo to nu-metal to varying shade of metalcore, this four-piece, hailing from across the US, refuses to be placed into any one genre box.
Their debut LP, also on Prosthetic Records, 2019's Misery Never Forgets, was a brutal and elegant cathartic love letter to the genre pastiches from which Wristmeerazor draws influence.
While their upcoming sophomore album, Replica of a Strange Love, is no less an homage than their debut, it is also the band's most definitive work yet; a collection that is more eclectic in influence and more assured in its execution. Wristmeetrazor pulls economically from myriad inspirations, namely a variety of artists from the early to mid-'00s.
No one style in particular is given overt representation, rather these disparate genres are twisted and contorted into something terrifyingly, beautifully new. Produced by Knocked Loose guitarist Isaac Hale, Replica of a Strange of Love is a classic darkness given a new form that is gorgeous in its lurid style, while breathtaking in its utter ferocity, and by far my favorite release yet.
In learning more about this exquisite and vicious album, I had an e-mail chat with the band proper in April. In addition to going into detail about what makes their second album so special, down to its art, we got to learn about how this past tumultuous year affected the band and writing the album, and much more. Enjoy.
First I wanted to thank you all for taking the time for this interview. With Replica of a Strange Love nearing release, how did the writing process differ from your first album Misery Never Forgets? Additionally what processes from writing that album carried over into your sophomore release?
Jonah Thorne (guitar/vocals): Thank you for having us. About three years ago Misery Never Forgets was almost entirely written by myself with half of the songs lyrically and vocally arranged by Justin. At the time, and still today, the things that have carried over is the band's authenticity and focus of creating music we want to hear and growing in the process.
On Replica of a Strange Love, we worked with Isaac and he really brought the best out of all of us and pushed our creativity to a new level. Me and [guitarist] Tyler [Norris] wrote "Take Your Shot, Funboy" together and from then to now, you can really hear the progression.
What was your intent when you began writing the new album, was there a specific direction you wanted to take Wristmeetrazor?
Justin Fornof (bass/vocals): No specific direction. We traveled to rural Kentucky with riffs and ideas and just began building. Isaac helped a lot with the foundational aspects, but the record is ultimately just a collaborative effort reflective of how we felt at the time.
How did the current state of the world influence the writing and recording process?

Justin: The record is a mirror that reflects and parallels a lot of current events in not-so-obvious ways. I think over the course of the last year it's become abundantly clear to me that it's the job of musicians and artists to add context to the end times. No one else is going to do it for us.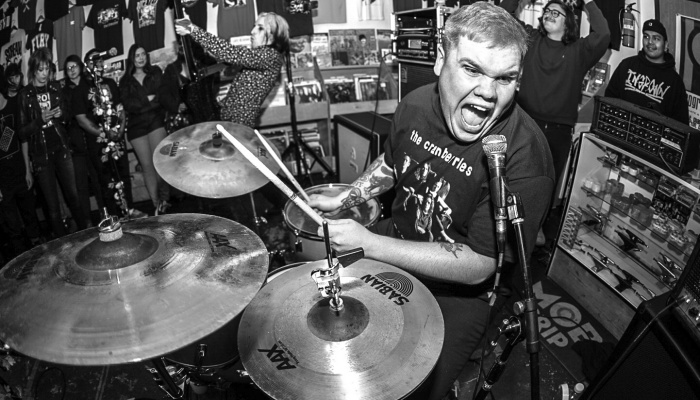 As you mentioned above, the album was produced by Isaac Hale, who's guest vocals on the first single, "Last Tango in Paris," added a vicious edge to an already brutal song. How did this collaboration come about?
Bryan Prosser (drums): Isaac is, and has always been one of the best musicians I've ever known or played with. Bringing him in to write the LP was a no brainer. His input really helped take these songs to the next level. He also has a very unique and scary voice, and getting it over one of the harder parts on the record was the icing on the cake.
How did each of you living in different states affect the writing and recording this time around, especially with Replica being your biggest release yet? What's the general process there?
Justin: It's never been much of a problem for us. Jonah and Tyler work well independently and I write lyrics well independently. We are essentially a group of creative people who never stop creating. The new variable added during the Replica sessions was Isaac. He helped bring everything to life and is an undeniably great producer and musician. He's also a good friend and someone we all really enjoy working with.
What is each of your favorite song(s) off the album?
Justin: "Nietzsche is Dead" or "All the Way Alive."
Jonah: "Anemic" and "Nietzsche is Dead."
Bryan: "A Fractured Dovetail Romance."
Tyler: "A Fractured Dovetail Romance."
Replica of a Strange Love pulls from myriad genres throughout its length, crafting an eclectic album that is metalcore at its...um..core. That being said, what inspirations went into the heavier aspects of the album?
Justin: Everything and nothing. The band will never be summarized concisely enough to package into a neat little box. I don't think we'd want it to be either. It can be whatever you want it to be.
On the lighter side, such as the electronic-based interludes and outro, what surprising non-heavy influences, for lack of a better term, found their way into the writing process?
Justin: The same applies as the last question, though I'd say we all enjoy a lot of industrial and dark wave stuff. We always have. I think we briefly touched on something with "Come on in, the Water's Pink" and "Goodbye Sweet Betty" on Misery Never Forgets that needed to be expanded upon, so that's what we did. In my opinion, those songs on the new record are much less interludes and much more cohesive stand alone tracks.
What does the album's title mean, and from where does it derive?
Justin: The origin of the album title is a bit convoluted. The title itself is a reference I found apropos for human embodiments of emotion. It's like a mental photocopy that's been xeroxed beyond recognition. You want to give a face and name to your pain, but it's merely a faceless entity that exists only in your mind. There were a lot of literal and figurative demons excised throughout the writing process.
What are the emotional themes that run throughout the album?
Justin: Anger, mostly. I guess thematically it's much more nihilistically hopeless than romantically hopeless this time around. That's another topic that I think is best suited to interpretation by the listener.
There is a throwback aesthetic to the album, and much of Wristmeetrazor's overall aesthetic as well, while also staying relevant to current stylings. Traces of Trustkill bands find their way on the album, in addition to dashes of other At the Gates-inspired metalcore bands like early Killswitch Engage, and even nu-metal like Coal Chamber.
What about that era do you find worthy of keeping relevant, and is there any aspect of the early to mid-'00s heavy music scenes that you wish would gain footing again?
Tyler: A common characteristic that I find in that era of American metal/metalcore is having parts that are impactful and serve a purpose. Creating material that has substance should always remain relevant. "Less is more," but not to the point where it becomes uninspiring. Tasteful technicality, but not to where the guitars are mindlessly jumping all around the fretboard. It's why the classic albums from bands like Lamb of God, Killswitch Engage, and Shadows Fall can stand the test of time.
Bands coming out by late '00s/early '10s, and even today, seem to care about pushing the craziest/heaviest envelope more than the quality of their songs. Writing songs that mean something will speak for itself, and people will never stop listening.
The one aspect of the early '00s that I'm really hoping to make footing again is the end of the "horseshoe" crowds. After a year + of no shows I think crowd participation will become more prevalent no matter what size the show/bands are, just like way back when.
Justin: Subtlety is always a necessity when it comes to implementing influences. Like Tyler said, if you write good songs they'll stick around.
To add to that last question, Wristmeetrazor has a history of covering songs from that era, from Zao to Norma Jean. Which of those covers have been your favorite, and are there any songs you'd like to cover once tours resume?
Justin: I've enjoyed them all for different reasons. I think we're going to stick to playing our originals for a while though. We have a lot of new material and a lot to say.
What was the visual inspiration behind the cover art and who designed it?
Justin: We were fans of this Swiss artist named Pipilotti Rist who does these striking video installations and also focuses on glitchy still shots. So, my friend Cecilia Aus Dem Bruch—who appears in our "Last Tango in Paris" video—posed for the cover and Dominic Pabon designed it. It's Rist-esque, if such a thing exists.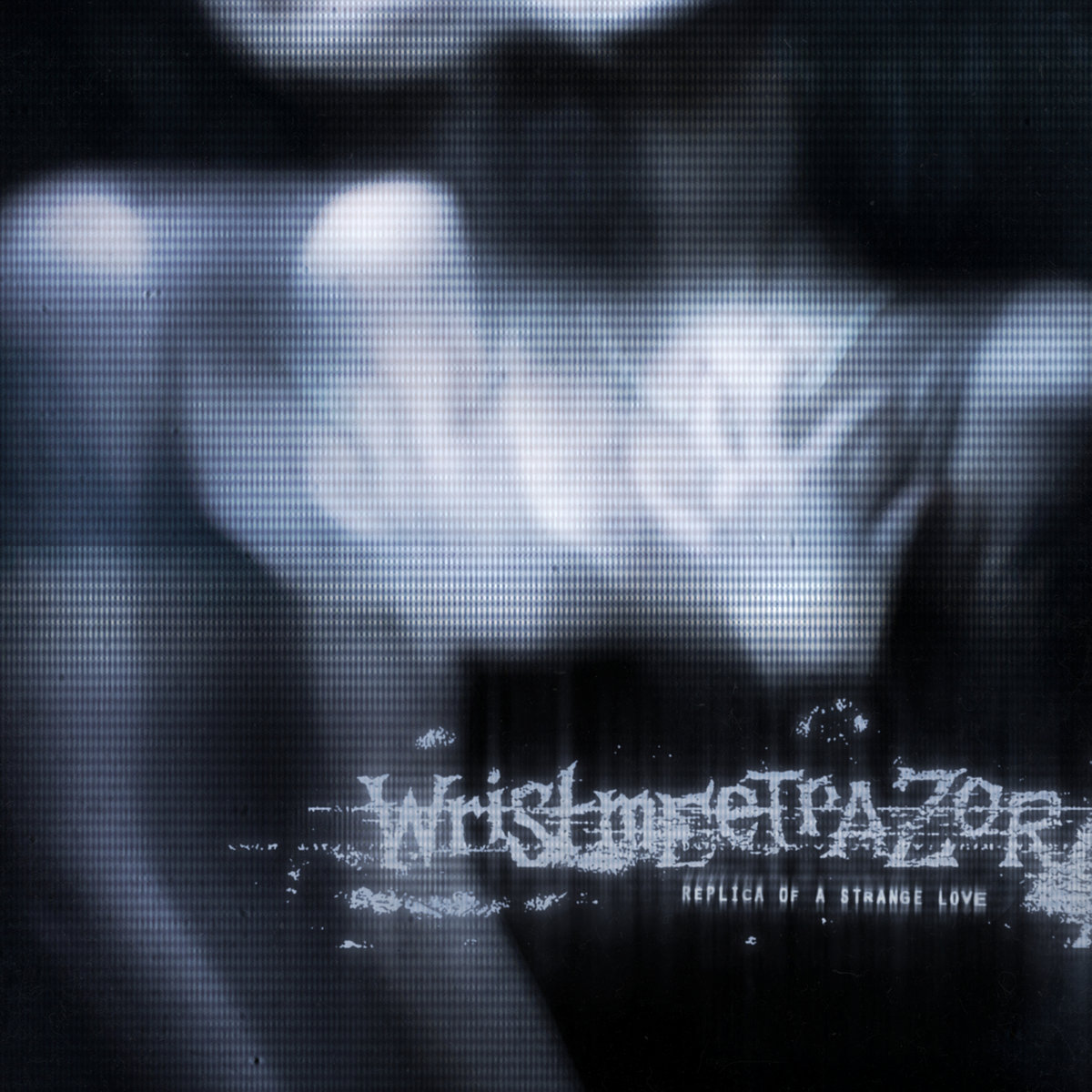 What other visual art and artists have impacted Wristmeetrazor over the course of creating Replica? Additionally, and aside from Nietzche and the like, what novels or other written mediums were an influence?
Justin: As far as Replica is concerned visually, Rist was the main influence. Jonah and I love the work of Dave McKean as well, though he doesn't do commission-based work very often anymore. As for written influence, I've not read much fiction over the past year.
I found refuge in postmodernism and nihilist theory, I wanted to relate some of that to the modern day. More specifically, the year that was, 2020.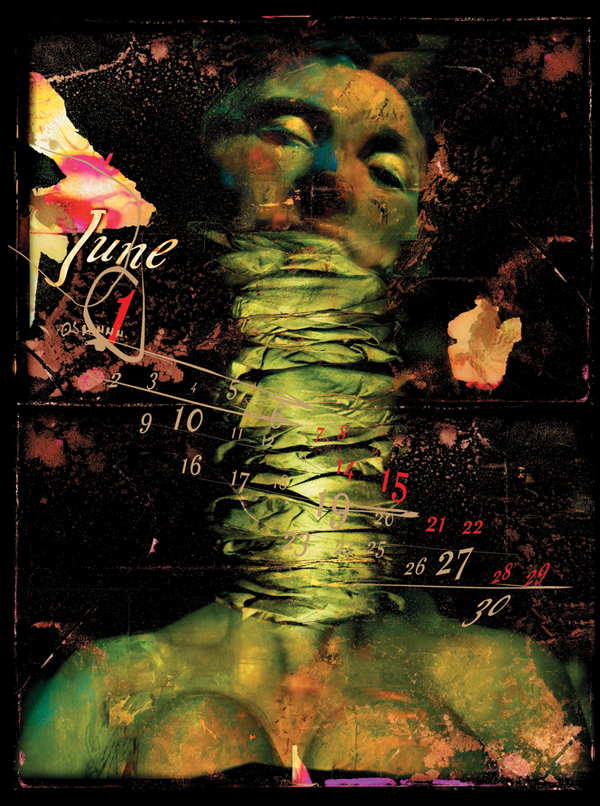 Beyond Replica of a Strange Love, what lies in the band's future?
Justin: More of everything in greater quantity, we hope.
Are there any current bands you think people should be listening to, or any releases that you enjoyed that you feel were overlooked?
Justin: Foreign Hands and God Program. Go check both out now if you haven't yet.
***
Replica of a Strange Love will be released worldwide June 11th via Prosthetic Records, and is available for pre-order here.

***
Help Support What No Echo Does via Patreon:
***
Tagged: wristmeetrazor