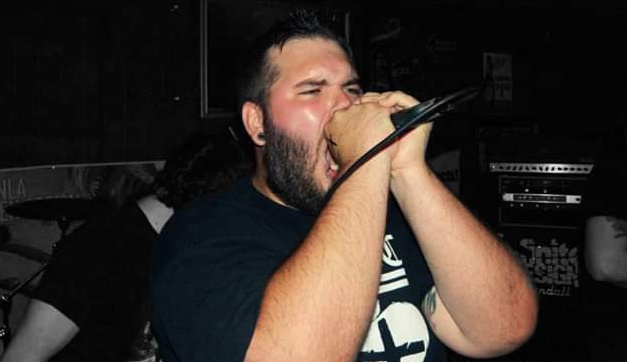 xIron Sharpens Ironx is the brainchild of Larry Passenier, a musician who has played in such bands as Inifinte Design and Time of Plague. Based in Muskegon, Michigan, Larry initially began the one-off project as a solo endeavor, but things have changed since. "What started off as just a one-song recording turned into a full-on project after getting picked up by Under City Records," Larry tells No Echo.
"After seeing the support I received, I've started viewing the band as a way to use it not only as a creative musical outlet but also as a tool for mental health awareness to try and help others get through/face their inner demons."
xIron Sharpens Ironx recently dropped an EP, The Tragedy of Mankind, via the aforementioned Under City Records label:
No Echo asks Larry how he would describe the xIron Sharpens Ironx sound: "I personally call us a blackened hardcore band. We mix the energy and passion of punk/hardcore with the technicality and songwriting components of death and black metal.
"Bands like Lock Up, Nails, Ringworm, Shai Hulud, All Pigs Must Die, and Pig Destroyer are all influences."
Larry offers some thoughts on the theme of The Tragedy of Mankind material: "The whole EP touches on a variety of issues ranging from substance abuse, political atrocities, the straight edge lifestyle, and most importantly, mental health/suicide awareness. I wrote all of the music and recorded it with Exit Door Productions in Muskegon. I recorded every instrument as well as vocals nothing is programmed. It was mixed, engineered, produced, and mastered by Jason Ingersoll at Exit Door Productions."
Seen above, xIron Sharpens Ironx just released a music video for the track "Among Shadows," featuring some of Larry's friends from the underground music scene. "The song focuses on mental health and overcoming mental struggles.
"The music video features people from multiple bands that were all courageous enough to share their struggles, including members of: xrepresentx, 2Minute Minor, AskMeAnything, Enemy of Creation, Guard Rail, Withhold the Blood, and Colt Snuffer and the Dead Horsemen.
The Tragedy of Mankind is available now on Bandcamp. Once physical copies are available from Under City Records, all proceeds from sales will be donated to to the National Suicide Prevention Lifeline.
***
Donate a few bucks to help with No Echo's operating costs:
***
Tagged: xiron sharpens ironx