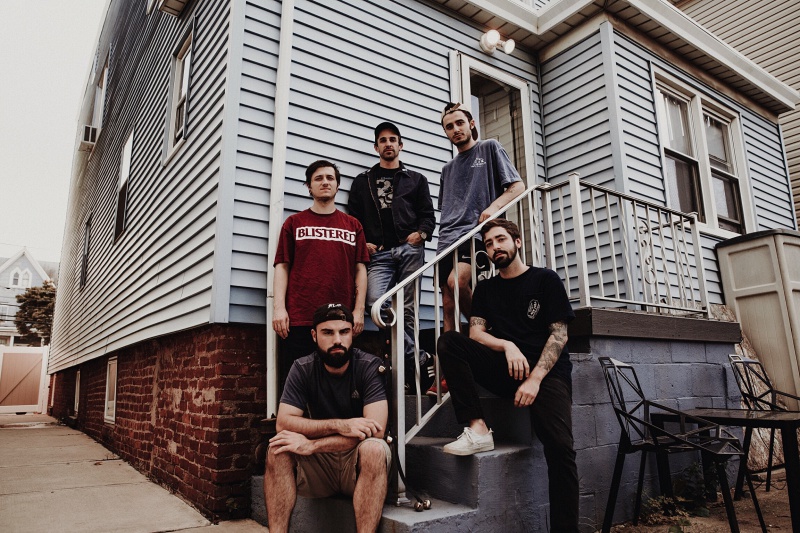 Calling Berkshire County, Massachusetts home, Crafter is a hardcore band that's been doing their thing since forming in 2014. Strongly influenced by the strain of hardcore that was coming out of the New England and California scenes around the mid-'00s, leaning harder into the melodic aspect of what they do over anything else.
2017 saw the release of Crafter's debut album, Embrace, and building on the biggest strengths found in that batch of material, the band is poised for a fruitful 2019 with their next full-length. With songs dealing with everything from war to addiction to mass violence, Lasting Efforts should help Crafter break out and find a much wider audience than their current status in the hardcore scene.
In this exclusive, No Echo is bringing you the premiere of "Collecting Losses," a track from the forthcoming Lasting Efforts LP:
"This is one of the first tracks that I wrote for this record, and is certainly one of the first ideas that floated into my head," Crafter vocalist Kyle Taylor says about the song. "The trickiest part was finding the actual words, because when Dylan sent me the demo, I knew that I wanted to approach the song very much like a Carry On track, and just fill up the fast bits with as much aggression as possible. I had to find a way to match that aggression.
"'Collecting Losses' deals with so much, but the central image is that of the gates of the Oklahoma City Bombing Memorial, and how they are marked 9:01 and 9:03. There's a real symbolic element to that, as well as historical. But basically, having been to that place several times, and always in the earliest, quietest hours of morning, the overwhelming haunts of the place never fail to suck me in to another world, and remind me of how close the war (whatever war we want to call on) really is. There's a fence just outside the perimeters of the memorial tied with ribbons and the pictures of the kids who lost their lives. I just really tried to remember their histories and their voices in the best way possible, and what was known of them before that moment.
"I consider myself a 'post 9/11' person, as someone who was right in the middle of their childhood when that all happened. But it's important to remember that there are indefinite instances of violence and war. With that in mind, there's always this image of before and after reeling in my brain, whereas the youngest kids in the rooms don't really have that perspective when it comes to the main event, 9/11. It's still jarring to me. The wars go on, and many of us just moved on. But I couldn't, for some reason. I think the violence is still tangible. If 9:03 is a moment of healing, as the gate in Oklahoma suggests, then we haven't seen our clocks strike that time yet."
Lasting Efforts will be released in March 2019 via Patient Zero Records, a label founded by Jerry Colvin of Pittsfield, MA, a longtime "hardcore kid" and friend of the band. You can pre-order the album on Crafter's Bandcamp page. Follow the band on Facebook, Twitter, and Instagram.
Tagged: crafter