Comprised of members of One Step Closer, Worn, and Strength for a Reason, Choice to Make write and perform hardcore that touches upon various eras of the style. The street-blessed grit of the Icemen and the more metallic side of late '80s Agnostic Front come to mind when listening to the Pennsylvania-based combo.
It's no surprise the minds at Flatspot Records (Section H8, Rule Them All) connected with Choice to Make to plot their next move. Oh, they also just landed on No Echo's 12 Newer Hardcore Bands to Check Out in 2020 list.
On Valentine's Day 2020, Choice to Make will be dropping a heater in the form of an EP perfectly titled Vicious Existence. So, even though we're over a month out of the record's official release, No Echo isn't patient and we demanded the Flatspot Records folks hook us up with "Disconnect," a bangin' track from the EP:
"The songs is about those who are lucky enough to be born with either financial or emotional wealth but look down upon or are disturbed by those who are in a situation that isn't as good as their own," says Choice to Make vocalist Nate Preschutti. "It's a song that is written in hopes people can see a situation from another persons perspective."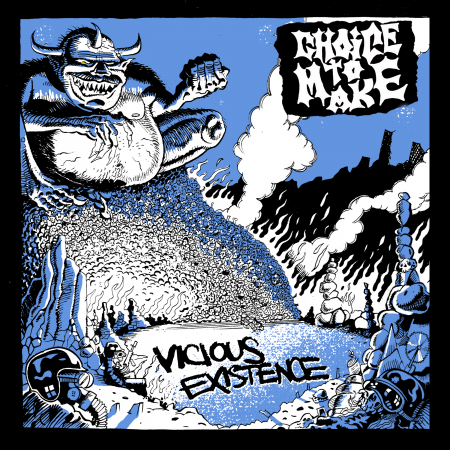 In addition to releasing Vicious Existence, Choice to Make will be heading out on a run of East Coast live dates in January alongside One Step Closer and Wild Side. The tour will include an appearance at FYA Fest in Tampa, FL on January 5th. Check out the tour dates below.
Vicious Existence will arrive in stores on Feb. 14, 2020 via Flatspot Records and can be pre-ordered on both vinyl and digital.
Choice to Make tour dates:
Jan. 2 - Richmond, VA @ The Warehouse w/ Integrity, Fuming Mouth, Wild Side, One Step Closer
Jan. 3 - Atlanta, GA @ The Bakery w/ Wild Side, Magnitude, One Step Closer
Jan. 4 and Jan. 5 - Tampa, FL @ FYA Fest
Jan. 7 - Columbia, SC @ New Brookland Tavern w/ Wild Side, One Step Closer, Trauma X Queen
Jan. 8 - Washington, DC @ The Songbyrd w/ Wild Side, One Step Closer, Depraved Indifference
Jan. 9 - Perth Amboy, NJ @ Copa de Oro w/ Krust, Wild Side, One Step Closer, Nervous Wreck
***
Donate a few bucks to help with No Echo's operating costs:
Tagged: choice to make