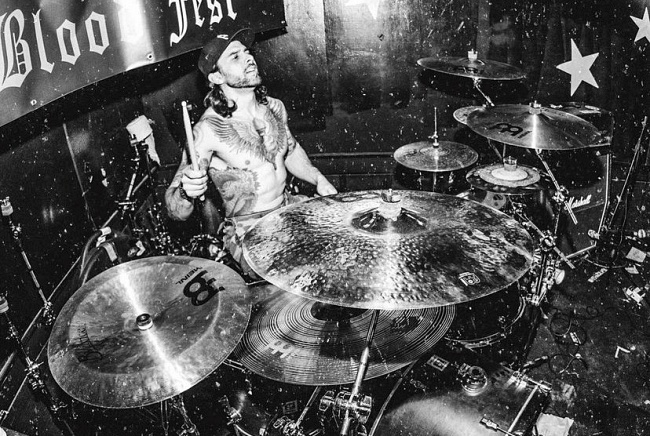 Last time we checked in with Steel Nation, the Pennsylvania hardcore outfit was getting ready for the release of their latest record, The Big Sleep. Throughout their 15-plus years together, the band has kept busy both in the studio and on the road, issuing 4 full-lengths, an EP, and a split release with Crucified.
The Big Sleep was recorded, mixed, and mastered by Len Carmichael (Queensway, Lifeless) and finds Steel Nation bringing forth a great balance of groove and uptempo metallic hardcore. As the track "2 Many Times" below showcases, they also inject melody into what they do:
One of Steel Nation's weapons is the drumming powerhouse Ethan Raese, who has also played with such groups as Unreal City and Those Who Remain.
In this No Echo list special, Ethan talks about some of the drummers who helped inform his playing style.
***
To me, drumming has always been one of the purest forms of self-expression in music. Every musician has those that inspire them and help shape their style, these are a few of the drummers that have impacted mine. —Ethan Reese
Chris Dora (Ringworm, Integrity)
Integrity and Ringworm get talked a lot about for their vocals and riffs, but I think Chris Dora's drumming is severely underrated. I've always loved Dora's fills, playing hertas overtop of double kick. This became a signature of his style that I've taken since hearing Birth is Pain for the first time. I also always loved his ride cymbal sound.
Jason Bittner (Stigmata, Shadows Fall)
I got Do Unto Others... when I was maybe 16 or so and it changed my idea of playing drums in a hardcore band. For me, Jason Bittner made it cool to be into metal and have a big drum kit while still being in a hardcore band. Playing longer fills while throwing in splashes and getting a huge drum sound was something I didn't feel I heard that much in hardcore around that time.
Bittner was able to make cymbals more musical rather than just accents and that is something I've tried to incorporate into my playing.
Darren Morgenthaler (Maximum Penalty, Madball)
Maybe one of, if not the most, underrated drummer in NYHC. I think Darren Morgenthaler is the personification of playing in the pocket. He has always been one of my favorite drummers to watch live. Everything just looks smooth and effortless; that is something I always try to attain with my drumming.
Morgenhaler's beats are always perfect and just make you want to groove. Listen to "Too Little Too Late," enough said.
Martin Kearns (Bolt Thrower)
Martin Kearns' drumming was a straight-up relentless force and that is what I loved about it. In my opinion, he was part of Bolt Thrower's best work and was a big factor of why it was the best. Nothing was ever too flashy or over played, just direct and to the point with lots of double kick.
There never seemed to be too much double kick in a song for Kearns and I feel the same when I approach the writing process.
Abe Cunningham (Deftones)
When I first heard White Pony, it was an entire new level drumming from Abe Cunningham. The dynamics on that album are insane. Powerful, yet also technical, it is a flawless record in terms of drumming.
Cunningham's use of ghost notes through his grooves and doing more than just bashing on his hi-hats were elements I always thought added more layers to his drumming and what I try to do with my own drumming.
Honorable Mentions:

Clearly, there are far more than just 5 drummers that influenced me. As far as hardcore goes, it was hard to leave off drummers such as Earl Hudson, Danny Schuler, Will Shepler and Roy Bates, but I had to draw the line somewhere. I would also like to mention how much reggae drummers such as Steve Nisbett, Carly Barrett, Santa Davis, and Gil Sharone have influenced my drumming. Reggae is such a unique style of drumming that has groove, dynamics, and is a smooth driving force to every song.
***
The Big Sleep is available now.
Steel Nation on social media: Facebook | Instagram | Twitter
***
Help Support What No Echo Does via Patreon:
***
Tagged: steel nation